… I was in the pub last weekend and my friends Hayley and Matt asked me a question they said had been on their minds for a while… 'what do I do with all the food I cook?'  I was a little stumped at first because my initial reaction was.. 'well, I eat it of course'… but then I thought that they probably meant all the cakes and treats I make and truth be told I really don't eat it all myself… the viking and I would be a lot more rotund and in fact probably dead if we consumed anywhere near the amount of cakes I bake… the simple answer is that I give a lot of it away.  My neighbour Tracey will tell you of the half cakes and large slices of treats that land on her doorstep… I even cut a slice out of her birthday cake last week to take a photo of it… quite a bit of cake goes into the freezer too and I do have friends who magically turn up on the same day that i've made a batch of chocolate covered flapjacks…
… we have friends who are turning up for lunch today… I had a little panic last night about what to cook for 2 adults and 2 kids I haven't seen for a couple of years but this morning I woke and thought that crusty wholemeal bread and a large vat of chunky minestrone would be perfect for the six of us and if they don't like that they can chow down on these sickly chocolatey slices of fabulousness…
… the we should cocoa bloggers challenge ingredient this month is honey and anyone who follows my twitter feed will know I had a baking disaster on Wednesday evening with some honey and chocolate cupcakes… they exploded in the oven… so I threw these together instead and I'm so glad I did… we should cocoa was founded by Choclette from Chocolate Log Blog and Chele from Chocolate Teapot… it's a great challenge and I love playing along each month.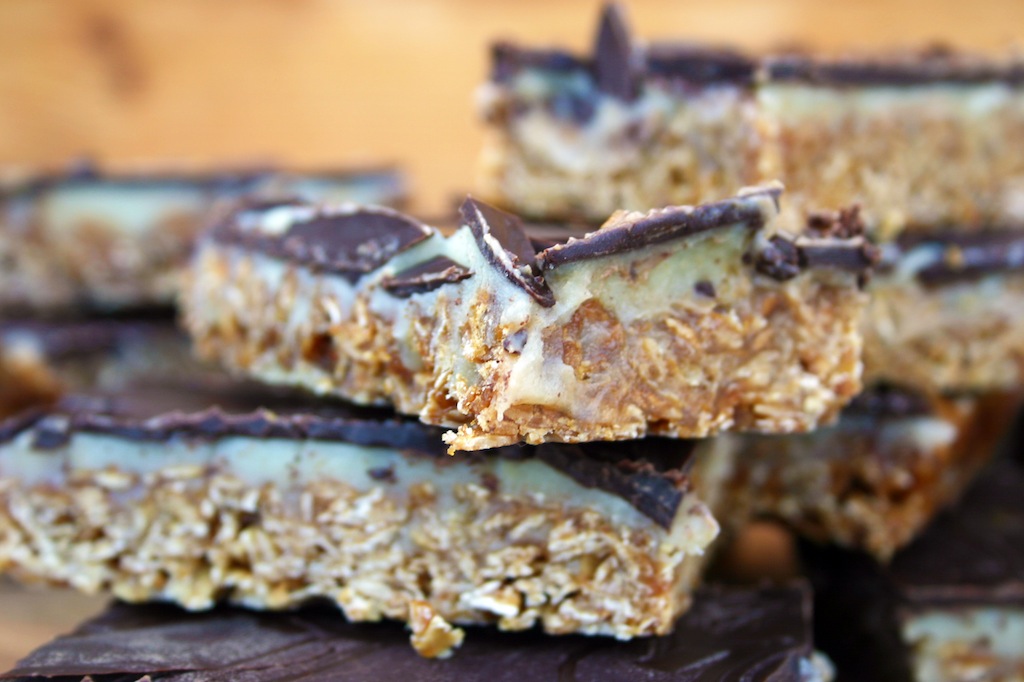 millionaires honey flapjack – we should cocoa
in some bizarre effort to cut down the calorific level of this treat I used a new product called Truvia Baking Blend which is half Truvia, a calorie free sweetener made from the stevia leaf and half silverspoon sugar… which has been specially developed for bakers as it adds the much needed structure to a bake that using only calorie-free sugar wouldn't add… it worked really well and tastes delicious but obviously I only got a pale caramel as it is a white product not the dark brown sugar I should have used.
for the flapjacks
200g soft brown sugar
200g butter
2 tablespoons runny honey
350g rolled oats
for the caramel
397g can of condensed milk
150g dark brown sugar or 75g Truvia Baking Blend
150g butter
200g dark chocolate
1 tablespoon flavourless oil such as sunflower oil
you will need a 22cm x 15cm tray bake tin, lined with foil and greased – pre-heat the oven to 140C
to make the flapjack layer place the butter, sugar and honey into a large pan and heat gently until the butter melts, pour in the oats and stir until combined and fully coated
pour the oats into the tray and spread out evenly.  Bake for 45 mins until golden and bubbly then remove from the oven and set aside whilst you make the caramel
heat the butter and sugar in a pan until dissolved, then add the condensed milk and stir gently until it begins to bubble and turn golden then set aside to cool slightly… it should be thick and thicken further as it cools… pour it over the flapjacks before it cools completely and spread it out evenly then once cooled entirely place in the fridge for at least 2 hours
melt the chocolate with the oil either in a bowl over a pan of simmering water or in the microwave then pour this over the flapjacks and set aside till it's solid… the oil will help cut the chocolate without it cracking
cut into squares, eat and of course enjoy!