… I realise that the words 'horse' and 'burger' may not be best served together in the same sentence on a food blog but these two culinary bed-partners are officially heavenly served side by side… and as you can see i'm talking about horseradish, that often neglected condiment, not an actual horse, which would be very wrong… not that I have an issue with eating horse, I just mean that I don't think horse works particularly well with tuna… plus I know you lot love a pun and thought i'd get it out the way before the heckling starts… sit down at the back!
I thought this burger was suitably summery, which believe me folks, is much needed here in the UK… for a very short moment back in February we thought Spring was finally on it's way… daffodils were blooming, the snow drops were out in abundance… there were even some crocuses beginning to bud on a few south-facing slopes but then suddenly yesterday the wind came, followed by the snow and here we are back in the grips of a bitter winter weekend… lets hope it doesn't last till Easter…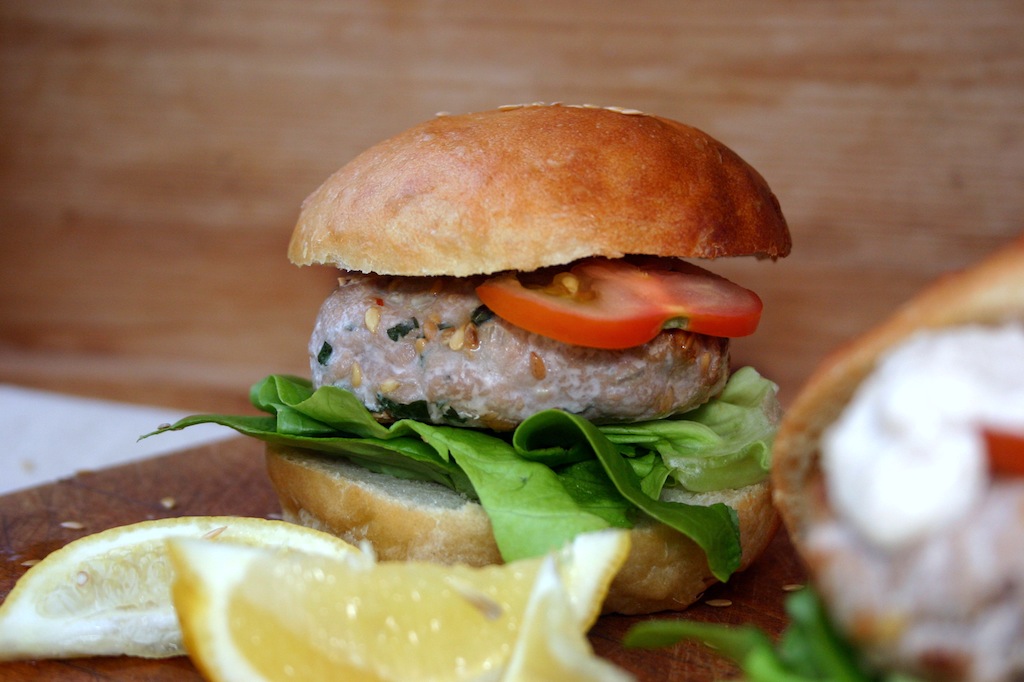 lemon and horseradish tuna burgers
this is a bit of a 'back of the fridge' collection of ingredients inspired by a recipe for coriander and chilli tuna burgers but made with the stuff wot I got… and that included a little honey, soy sauce, horseradish and flat-leaf parsley… an odd combo indeed but they turned out to be real beauties and took seconds to cobble together.  Of course i'm using the tuna sent to me by the lovely Fish is the Dish people as one of my two fish meals per week in order to help me increase my Omega 3 levels so my brain continues to work and my hair looks fabulous… all good if you ask me.
makes 4 burgers which can be frozen as long as the fish was fresh and hadn't been previously frozen.
for the burger
2 fresh tuna steaks (roughly 600g) – diced
the juice and grated zest of one lemon
1 tablespoon chopped flat leaf parsley
1 tablespoon soy sauce
1 tablespoon sesame oil
1 teaspoon sesame seeds
1 very small onion – chopped
1 teaspoon horseradish sauce
for the buns
400g strong white bread flour
300g water
1 teaspoon fast action yeast
1 teaspoon salt
olive oil
pre-heat the oven to 200C fan

put the four, yeast and salt in a bowl, pour in the warm water and stir everything together into a sticky, shaggy mess, cover the bowl with a cloth and leave it for 10 minutes

after 10 minutes, lightly oil your work surface, turn the bowl over and empty the dough onto the surface and very gently knead the dough 8 times (that's 8 classic 'stretch then heel of hand then quarter turn… repeat…) then cover and leave for 10 minutes… repeat this gentle 'knead and leave' technique 3 times

after the last gentle knead return the dough to the bowl, cover with a cloth and leave it to rise for 45 minutes or until doubled in size.

once doubled in size, knock back then cut into 6 equal pieces and shape into round balls, lay them out on a baking sheet and let them rest again for a further 45 minutes after which you bake for 35-40 minutes until golden and ready for your burgers
to make the burgers simply bung the whole lot in a food processor and whizz, then form into balls which you then flatten into burger shapes… pop into the fridge for an hour so they firm up.
grill or fry gently until golden on both sides and then serve with a glorious salad or in a nice home made bun…
eat and of course, enjoy!