… as funny as it may seem to be talking about picnics whilst we're in the throws of this bitterly cold weather but i'm hoping that with Mother's Day and Easter coming soon we'll get a bit of a break and be able to get out and enjoy the countryside soon…
… and as regular readers will know my mum comes up to the cottage on her birthday and without fail we take a big pic-nic to the beach… it's usually a sprawling family affair which is not complete without bundles of blankets, 2 stripy wind-breakers, buckets and spades for the niece and nephew, water bowls for the dogs, bag loads of food and of course enough champagne to sink a small battleship… we can literally fill the back of the pick-up truck with the spoils of one family's day on the beach… and when it comes to food, it's never particularly planned… anything that was previously cooked and not finished goes in alongside the pre-requisite tinned salmon and spring onion sandwiches, sausage rolls, cheese, a punnet or two of cherry tomatoes, crisps, cake, chocolate… oh and did I mention the champagne… and whilst most of us end up rolling around in the sand mum and Eric always manage to bag themselves a couple of beach thrones… it's what we've always referred to as organised chaos… fortunately the beach we tend to frequent is mostly empty, even at the height of summer but if you do see a large family squabbling over the last drop of bubbly, just look down at the sand and give them a wide berth…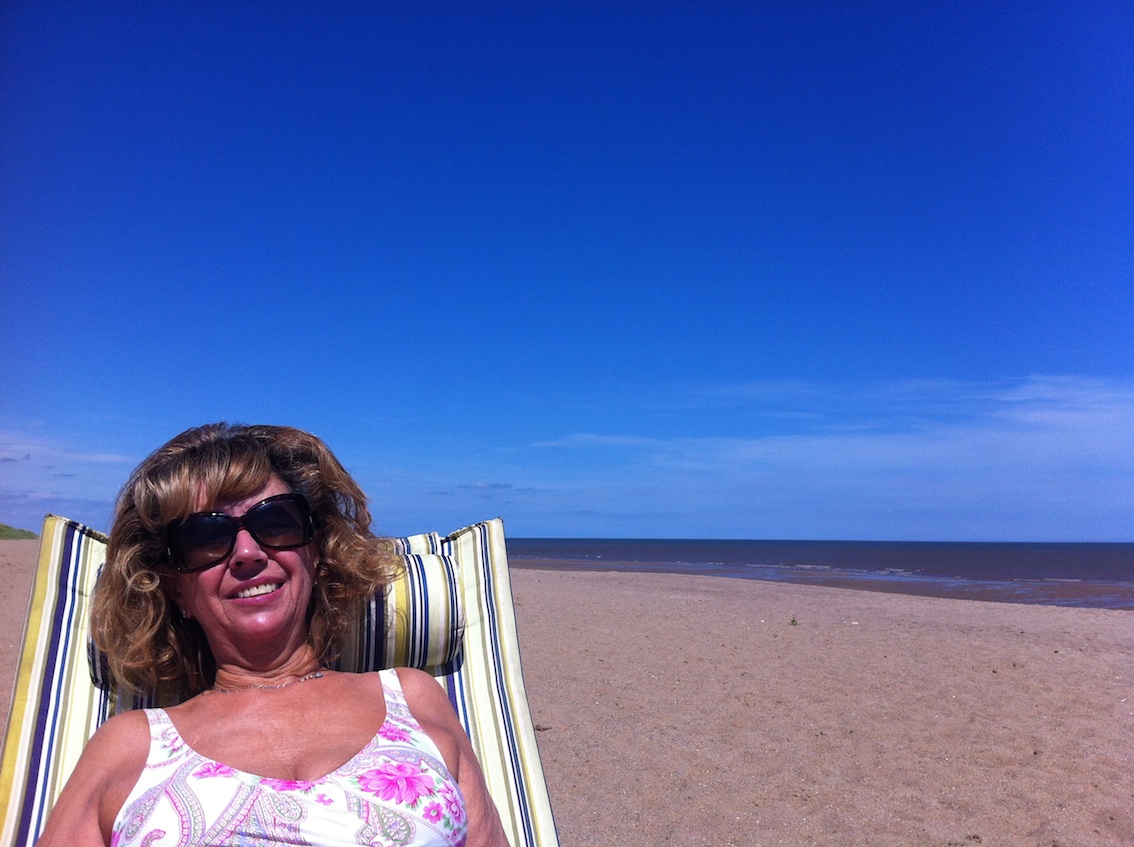 mum enjoying the sunshine on her 68th birthday on the beach in Lincolnshire last summer 
it's a good thing that the nice people at www.hampergifts.co.uk have sent me one of their delightful picnic food hamper for two to review and offer up as a giveaway for you my dear friends… just in time for mother's day too as I think this hamper, packed with a host of delicious, British goodies, perfect for an outdoor feast… and seeing that we're all used to this bitterly cold weather I think this hamper would also make the ideal car pic-nic too… the picnic food hamper for two is part of their Gourmet Food Hampers range which are all rather yummy and would make ideal gifts for mum… or me, if you're feeling generous…
… other than the gorgeous whicker basket itself, what's brilliant about the hamper is that it comes with all the little condiment type things you always seem to leave at home such as a delicious Cottage Delight Poachers Pickle, some divine Beetroot and Thyme Salad Dressing and some potent Cairnsmhor Parmesan and Pepper Oatcakes, perfect for chunks of strong cheddar… it also comes with a set of real china plates, knives, forks and spoons for two people as well as two cups for tea… so everything is there, right in the hamper which means you can cut down on the bundles of stuff and all those journeys between car and beach!… it really is rather a perfect gift and the more I think about it the more i'm getting a bit jealous about giving it away…
the picnic food hamper for two 
… but here it is… and all you have to do to be in with a chance of winning the hamper as a gift for your mum… or maybe as a gift for yourself for being such a great mum… or maybe just because you feel you deserve a lovely treat… is fill out the rafflecopter thingamydoodah below and answer one simple question which is this… what is your favourite sandwich filling?

sadly this giveaway is only open to UK residents but if any of my international readers have friends or family in the UK then please do enter on behalf of them!

a Rafflecopter giveaway//d12vno17mo87cx.cloudfront.net/embed/rafl/cptr.js enjoy!
…and just a few T's & C's I have to let you know about:
Competitions and prize draws are open to UK residents only.
The winner can choose to deliver the hamper anywhere within the UK & Ireland.
No persons under 18 years of age may receive the winning prize if it contains alcohol.
Prizes are non-transferable and there is no cash alternative.
Employees and agents of Hampergifts.co.uk Ltd. and their immediate friends and families are excluded.
The decision is final and will not be entered into.
This promotion is in no way sponsored, endorsed or administered by, or associated with, Facebook. Any information provided is to Hampergifts and not to Facebook and the information will only be used for notifying the winner