… so The Viking says to me this morning… 'we're not doing Valentine's this year are we…?' Take from this what you will… i've given up deciphering his strange words…
… funny how, in just one day, you can cook three things you've never cooked before… and it just seems so odd because I adore this classic Italian dessert.  In fact I think tiramisu gets a bit of a bad wrap and has been sadly relegated to that of naff pudding, which it really doesn't deserve… no, this wonderfully creamy and lightly whipped dessert is quite heavenly and its little drop of rum or whisky is a naughty  hit that finishes it off with a touch of flourish… 
… these little tiramisu pots were the first thing the lovely Florence Knight showed us how to make on the recent
Finish Quantum
bloggers cooking day I blogged about
last week
.  Like most of us, i've seen tiramisu made 'lasagne' style in a big dish but never like this in mini glasses and I think they look so chic and work so well for a dessert that can be slightly too sickly sweet if you take too much… which I always do… anyway, i want to share the recipe with you as it's just too good not to let this one become a popular pudding again…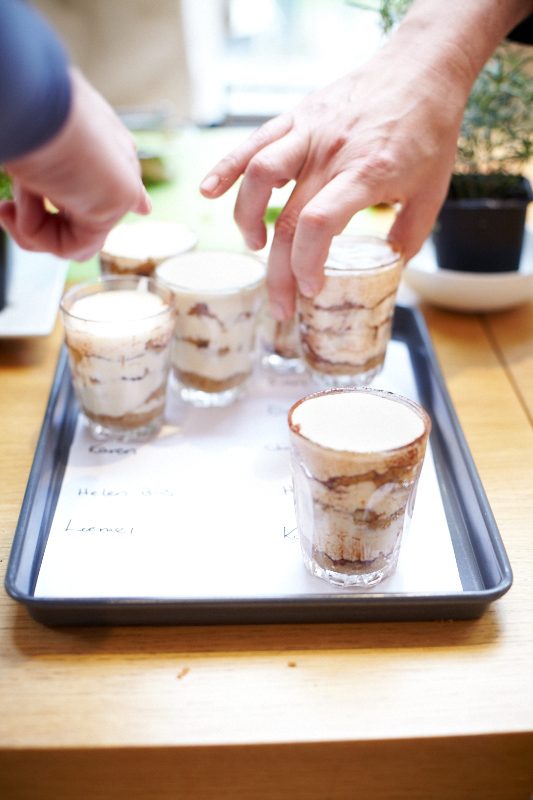 mini tiramisu
one of the things I loved about Florence was her insistence that we make these 'by hand'… she's keen that we all get back to basics in the kitchen and I totally agree… I have really felt over the past few years that we've become distant from our food and rely on our machines much to often and this simple activity of whisking eggs by hand, whilst it may take a little longer, really makes you appreciate and understand the process and makes you connect with the final dish that can only be a good thing… one tip though… the whisking action should be a light flick, worked from the wrist rather than the arm, it may hurt more but it makes for a lighter whip!
this will make 20 mini pots, which may seem like a lot but perfect for a big family gathering… the recipe can be easily halved.
6 large free-range eggs – separated
250g brown sugar
1 200g pot of mascarpone
1 small glass of rum (this can be left out or reduced if serving for kids)
1 packet (6) sponge finger biscuits… or ladyfingers or boudoir cookies as I think they can be called
1 large cup of fresh espresso coffee
1 tablespoon cocoa powder
a selection of mini glass cups – any odds and sods will do, wine glasses are nice, or even small jam jars.
separate the egg yolks and egg whites into two very large bowls
add the sugar to the egg yolks and whisk hard until they become pale and a little fluffy… should take about 5 mins
whisk the egg whites till stiff peaks… this could be a job for sharing with a loved one and should take no longer than 5 mins at a good steady pace.  they will be ready when you can hold them above your head without them falling out… try it, it's fun.
next take a large metal spoonful of mascarpone and gently fold it into the egg yolk and sugar mix combining it with a gently figure of eight movement and once combined do the same with a large spoonful of egg white… continue until it's all used up and you have a large bowl of fluffy fabulousness.. then add the rum and stir in gently
make up your coffee and dip your finger biscuits into it… they only need a very brief dip… then set aside
now you want to begin the layering process… so start with half a coffee-dipped biscuit which you can squish into the bottom of the glass, followed by a sprinkling of cocoa powder and a tablespoon of the fluffy egg mix, continue this way two more times, ending with a layer of fluffy egg mix.
place the glasses into the fridge to set for at least 2 hours, then sprinkle the top with cocoa powder just before serving
florence hard at work with her whisk and bowl…
eat and of course, enjoy!