on the 11th July TOTAL Greek Yoghurt are launching a new collection on their website called 1000 ways to LOVE your TOTAL which is actually quite a nice way to show some yummy recipes and suggestions of how to use their gorgeous creamy yoghurt… and the lovely people at TOTAL invited me to a launch event in the big smoke… a cookery masterclass with the rather gorgeous chef Paul Merrett no less… and you know me, I could hardly refuse the opportunity to eat good food and maybe pick up a tip or two in the process!
the day started well with this TOTALLY creamy panna cotta
… it's also important for me to let you know that I don't take these kind of invitations lightly… i'm not about to start promoting a product that I don't use or don't like… as it happens I don't eat or cook with yoghurt very often but when I do I always use TOTAL Greek Yoghurt… it is particularly thick and creamy and has a wonderful tartness that I love… I grew up in suburban London surrounded by myriad of cultures one of which was Greek and many of my Greek friends mums always extolled the virtues of this excellent and authentic yoghurt… if you haven't tried it or used it yet then you must… it has been on the supermarket shelves since the 1980's and is now an international product…
isn't he dreamy…?
… after a swift haircut the day started as I arrived early at the La Cucina Caldesi Cookery School in Marylebone… it was just me and the lovely Paul for about 10 minutes, which was nice because we could chat and gossip about food, cooks and the appalling state of British cookery television… but once everyone else had arrived we were split into groups and told that WE would be doing the cooking for the day… this was a great idea and meant we'd all get to be truly involved in the process…
…Paul had devised a full meal for us with starter, main course and dessert… all using the lovely yoghurt in the recipes as well as accompanying them…
m'bitches
you looking at me looking at you… Gill Bland
… I was teamed with the delightful Fleur from Homemade by Fleur a blogger I follow and a regular contributor to random recipes and mummy blogger Liz from the brilliant Me and My Shadow… although the day was not in any way a competition and others may tell you differently, our team was clearly the best and our food the tastiest!… I had an absolute blast with them… and amazing food aside it was a brilliant day…
butternut squash tagine with the now infamous cauliflower couscous
mmmm… cake…
as there were three distinct and delicious recipes I'm going to split this post into three and make you wait patiently for the piece-de-resistance (as far as I was concerned anyway) – the dessert… but the three course meal went something like this… we started with a Fresh and Smoked Salmon Rillette with Wholemeal Toast followed by a Spiced Butternut Tagine with Roasted pepper and Tomato & Toasted Fennel Seed Yoghurt, served with Cauliflower Couscous… let me tell you here and now that the Cauliflower Couscous was a revelation and will be making many an appearance on this blog, in fact I would go as far to say the whole trip down to London was worth it for this dish alone… the meal was finished off with a stunning Semolina Sponge Cake with Almonds, Hazelnuts, Greek Yoghurt and Honey…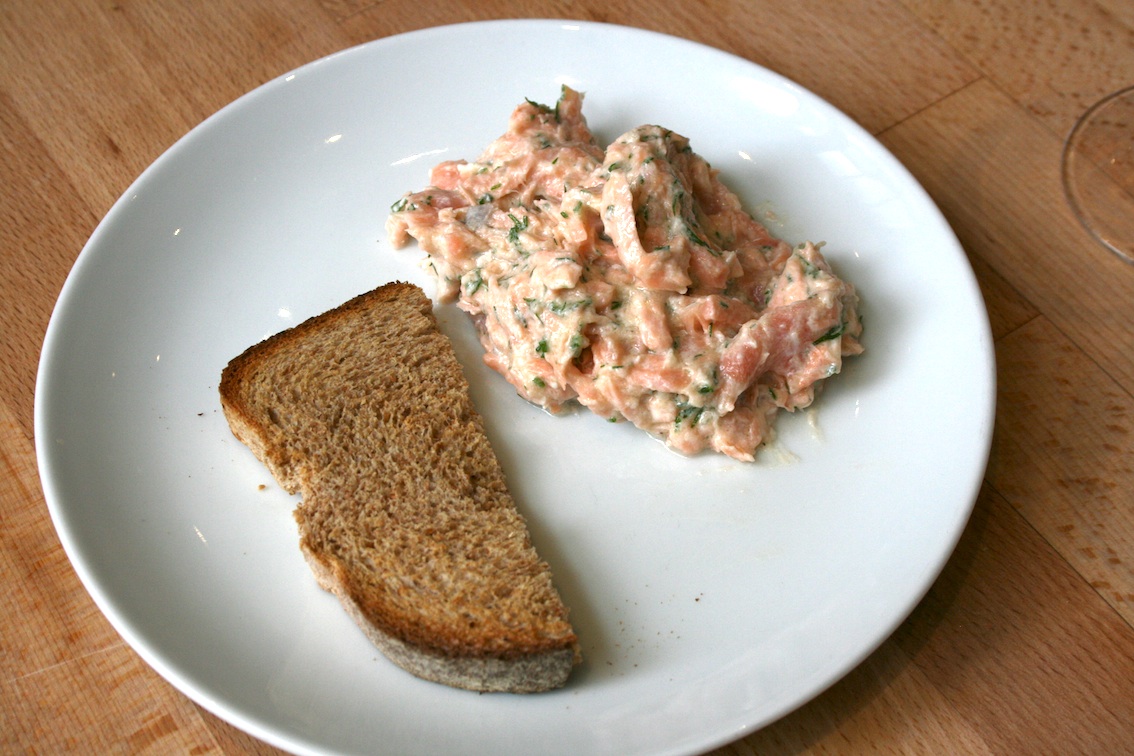 so we'll start today with the Fresh and Smoked Salmon Rillette with Wholemeal Toast
i'm a HUGE salmon fan and could have eaten this by the bucket full…
2 tablespoons TOTAL Greek Yoghurt
200g fresh salmon
1/2 lemon – juiced
60g diced and very softened butter
1 dessert spoon fresh dill – chopped
2 teaspoons horseradish relish
75g smoked salmon – shredded
pepper
– place the salmon in a small oven-proof dish, cover in foil and bake in a gentle oven (170C) for 6 or 7 minutes (the trick is to get it barely cooked)
– let the salmon cool and then flake it into a bowl
– add the rest of the ingredients and gently fold them together but be careful not to break up the salmon too much
– chill in the fridge for at least an hour before serving with a slice or two of brown toast
… there will be more from me and
the yummy TOTAL Greek Yoghurt over the next few days but until then don't forget to…
eat and of course, enjoy!