… it seems the middle is a nice place to be if you're a cook or a cookbook writer… much less random than the first or the last and all rather yummy… once again a wonderful selection of submissions to random recipes for which I am ever grateful… and some more virgins to add to the pyre too!
book: Bill's Sydney Food by Bill Granger
recipe: Grilled Chicken Club with Avocado Mayonnaise
Jennifer kicks of the middle this month by NOT cooking the sardine recipe found in the first random choice cookbook she picked but the second… I do understand, if you're not  fan of sardines and anyway, will you look at this club sandwich… is it not perfection?
recipe: Aromatic Pork Belly Hot Pot
Lou got meat… quite literally… this is an amazing book both beefy in weight as well as content but the recipes are fantastic and i've actually made this myself so I know how good it is… 
book: Gorgeous Greens by Annie Bell
recipe: Pea Risotto
I was actually leafing through this very book myself the day that Jean's post came through and was admiring this very same dish… and as if by magic…
book: River Cottage Veg Everyday
recipe:
Vegetarian Tartiflette
how could you not love a tartiflette… both Karen and I are self-confessed tartiflettes… tartiflette… i'll say it again… tartiflette… oooh the tongue is warm!
book: Leiths Cookery Bible
recipe: 
Roast Chicken with Bread Sauce
Claire couldn't find a woodcock in SA so had to settle for a simple roast chicken but just look at the beauty!… perfection personified…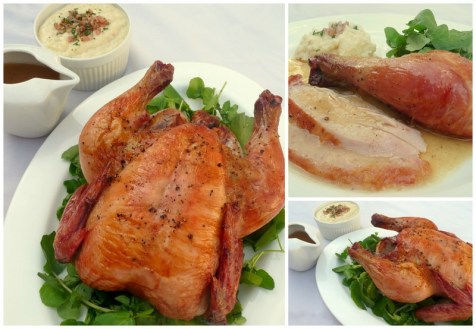 book: Moosewood Restaurant Cooking for Health
recipe: 
Chinese Cabbage and Five Spice Seitan with Fermented Black Beans
Janet reminisces about Chinese take-outs and Chinese food in this lovely post and cooks from the brilliant Moosewood book… I really need a bowl of this right now!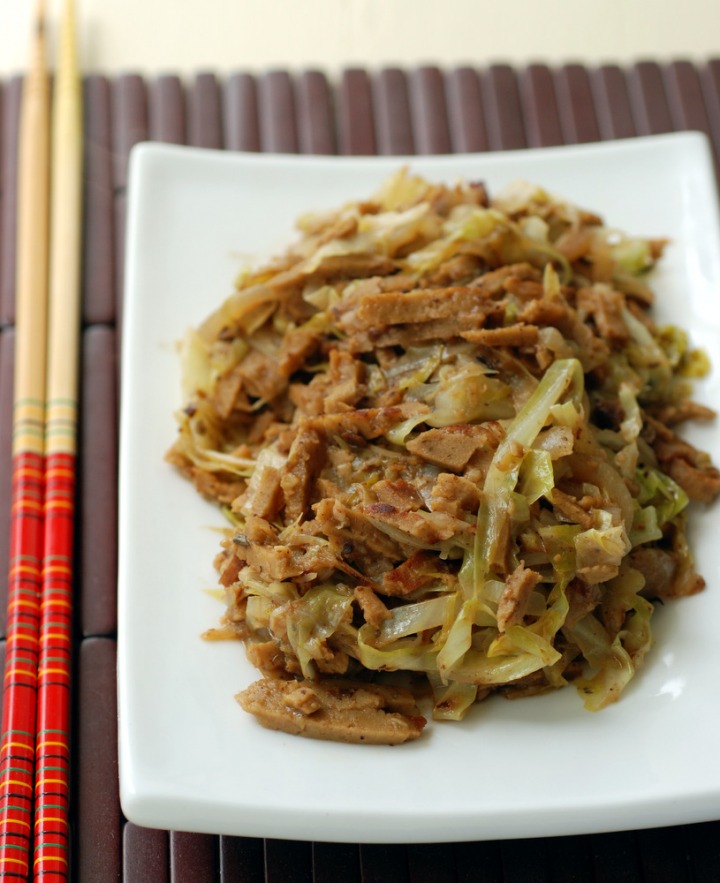 book: Make Bake and Celebrate by Annie Rigg
recipe: 
Malted Chocolate Cake
Ros uses a colleagues birthday at work to bake this stunning cake… which means we don't get to see how fabulous it looks inside… but if the outside is anything to go by that was one very lucky friend!
book: Jenny Baker's Cuisine Grandmere
recipe: 
Far aux Pruneaux
Phil goes all French on us yet again with his randomness and comes up with this delight… Prunes may not be to everyone's delight but I love 'em (as does Phil)… and that's all that really matters…
book: 100 Sweet Treats and Puds by Mary Berry
recipe: 
Chocolate Rum Cake
poor Gary is left hugely disappointed and a little deflated with Mary Berry and her oh so clever egg separation situation…it's clearly her fault and not yours… walk away from the kitchen Gary… walk away from the kitchen…
book: My Abuela's Table by Daniella Germain
recipe: 
Albondigas
a mexican meatball from a Brit living down-under… don't you just love the blogging world… Lucy makes Grandma's finest Albondigas taken from the middle of the book that was in the middle of the book-shelf!
book: Supper with Rosie by Rosie Lovell
recipe: 
Grilled Mackerel with Pomelo Salad
love love love me a bit of Mackerel… divine fish!… and thankfully so did our Random Recipes Virgin Chris and his lovely new blog Cooking Around the World… please welcome him nicely to the gang!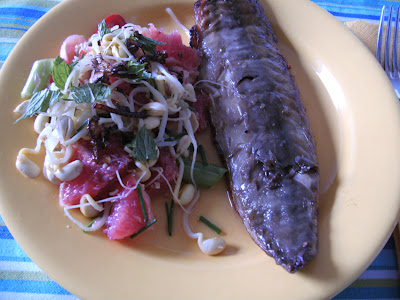 book: A Treasury of New Zealand Baking
recipe: 
Greek Yoghurt and Honey Cake
Mel tells us all about how she 'borrowed' her mums whisk… didn't we all… but how lucky she was with all the whisking she had to do to make this glorious cake…
book: Fast and Rich Marie Claire Cook Book
recipe: 
Seared Scallops on Lemon and Red Pepper Risotto
Naz is back to work soon… can you believe her maternity is over already?… but this dish of wonderfulness must be a little comfort for her… would be for me!
book: Essential Pasta Cookbook
recipe: 
Pasta with Anchovies and Broccoli
another RRV this month, which is so lovely, especially from someone lovely like Amanda who's been a longtime follower but never taken the random recipes plunge… and another lovely dish to kick her off…
recipe: 
Creamy Rice Pudding and Strawberry Jam
lucky Denise to have chosen this yummy dish too!… and to get to make strawberry jam as well… I love it just for that… it could have been a lot worse… spiders webs on toast anyone?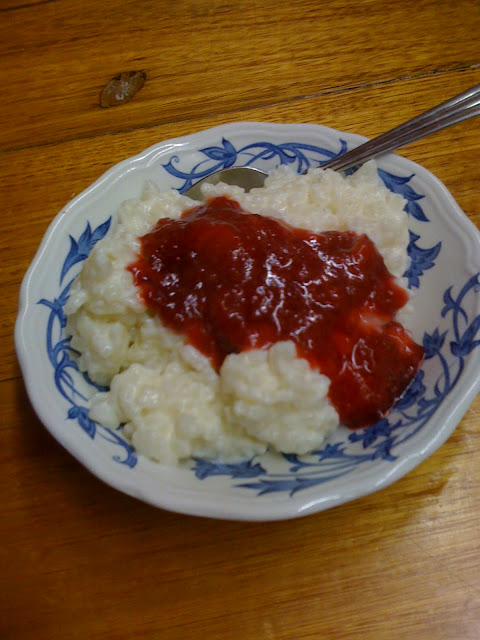 recipe: 
Mini Mississippi Mud Pies
Laura goes all out fabulous again with these divine mini creations… and uses baking beans for the first time… couldn't you just sink your teeth into them…
book: Mornflake Oat Cuisine
recipe: Oaty Pancakes
Ruth experiments with upside down pineapple pancakes with a book she 'rescued' from the charity shop… and comes up trumps with some delightful looking fabulousness yet again… I wish breakfast at my house was this yummy!
a couple of late additions…
book: Sheila Lukins All Around the World Cookbook
recipe: Spicy Peanut Sauce
Susan goes all Italian with her Thai food and this rather fancy thai sauce with bowtie pasta… but you know… it's all food!
book: The Big Bean Cookbook by Nicola Graimes
and that's it for this month… I have an exciting, simple and hopefully fun idea for next month, so do tune it on Sunday for the next exciting instalment…