… every couple of months I write a 'Food Heroes' article for

Lincolnshire Life Magazine

… this month it's all about Duffy Sheardown and his incredible chocolate… there's also a naughty Hot Cross Bun recipe for you too!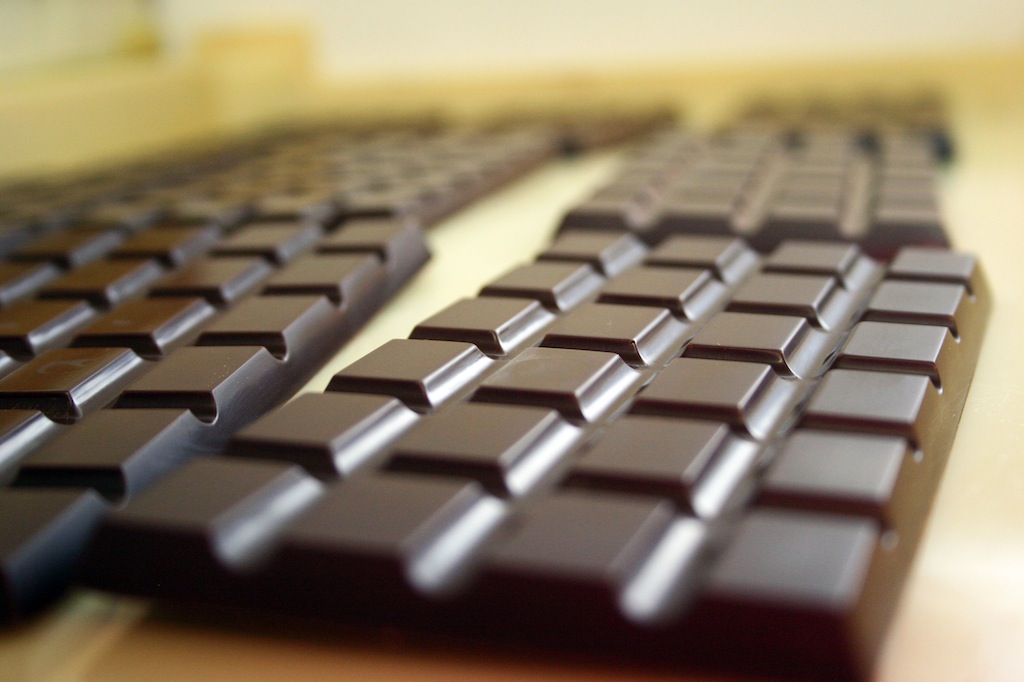 Imagine a magical place where the heady aroma of dark chocolate permeates the air, where roasted cocoa beans and the bittersweet scent of the hot melted cocoa butter fills your senses.  Welcome to Cleethorpes!
Yes, you did read correctly, for this unsuspecting North Lincolnshire coastal town is the home of Duffy's Red Star Chocolate.  Founded in 2007 by motor-racing manager Duffy Sheardown, this artisan producer is now heralded as one of the best chocolate producers in the UK winning multiple awards for his incredible chocolate. Set in a rather plain warehouse, on an un-presuming industrial estate just off the A16 not far from Grimsby, it's not exactly what you'd imagine to be as the home of such wonderful delights but it's here that the magic really does happen.
It was whilst listening to The Food Program on BBC Radio 4, where it mentioned that Cadbury's was currently the only chocolate manufacturer in the UK who makes chocolate direct from the bean, rather than buying it in paste form – which most chocolatiers do, that inspired Duffy Sheardown to pack his bags and take a trip to Guatemala to find out just how hard it could be. It was a challenge that this Scunthorpe born chocolatier told his wife would make him produce the finest chocolate in the world. Duffy says 'she didn't scoff out loud but I knew she thought I was dreaming,' and it's testament to them both that his chocolate is indeed now in high demand on an international level.
To say that Duffy is a perfectionist is an understatement.  If you liken chocolate making to wine making and think of the delicate intricacies we all know that go into that process, along with the finesse and complexity of the finished product, then you are some way into imagining what its like to produce fine chocolate.  And Duffy's is a true artisan manufacturer.  This is industry on the smallest of scales, with just himself and sometimes one or two others to help turn out 300 chocolate bars a week. 
Finding a willing supplier is not cheap and has not always been easy.  Duffy has had to travel far and wide throughout South America to find cocoa bean farmers who can provide the small quantity of beans he requires.  To keep quality at a premium he uses beans from a single crop to go into a single batch of bars and sourcing this can sometimes prove tricky.  He has even purchased an entire crop from one small island to create his chocolate.  Over time he has built up a list of trusted fair-trade suppliers.  He has even been instrumental in the setting up of Direct Cacao a new organisation launched to help those people working in the chocolate industry support the growers supplying the cacao. It's this dedication to quality that can be tasted in the finished product.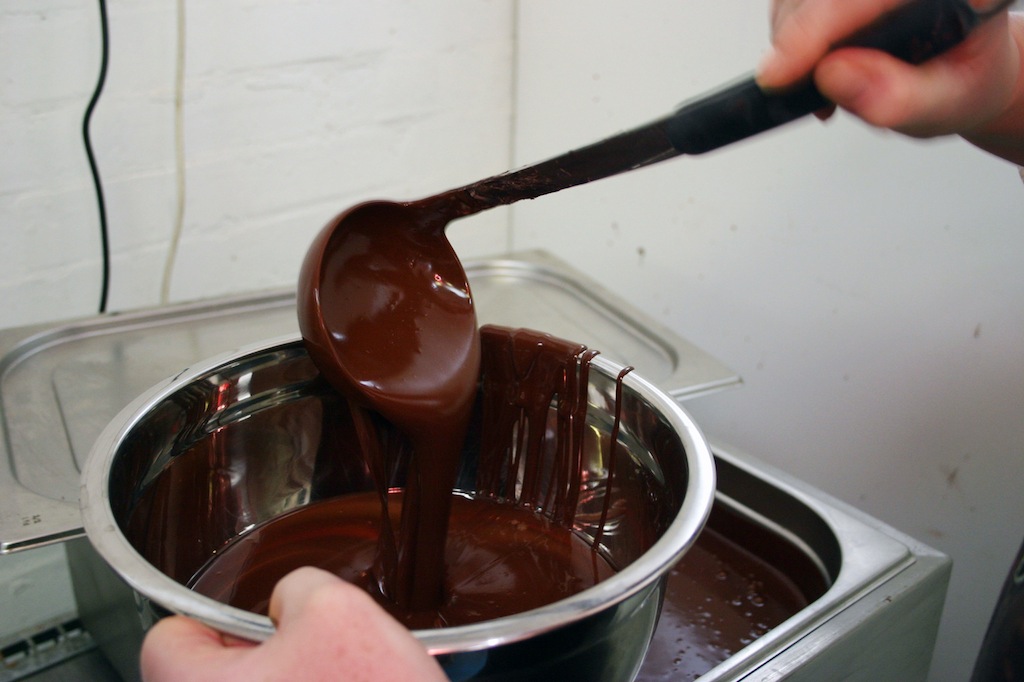 Because of the purity of the finished product the process itself is actually quite simple, from the delivery of the finest beans, which then get roasted and grounded.  The shells are then removed and the remaining 'nibs' are then ground again for 12 hours at which point they turn into a liquid cocoa ready for the finely ground sugar to be added.  This process is called conching and takes a full 48 hours. The cocoa is then poured into the tempering machine, which heats the chocolate to a secret temperature before being poured into the moulds, which are then cooled.  It's this final step that is most tricky and should produce the perfect 'snap' that a high quality chocolate should have.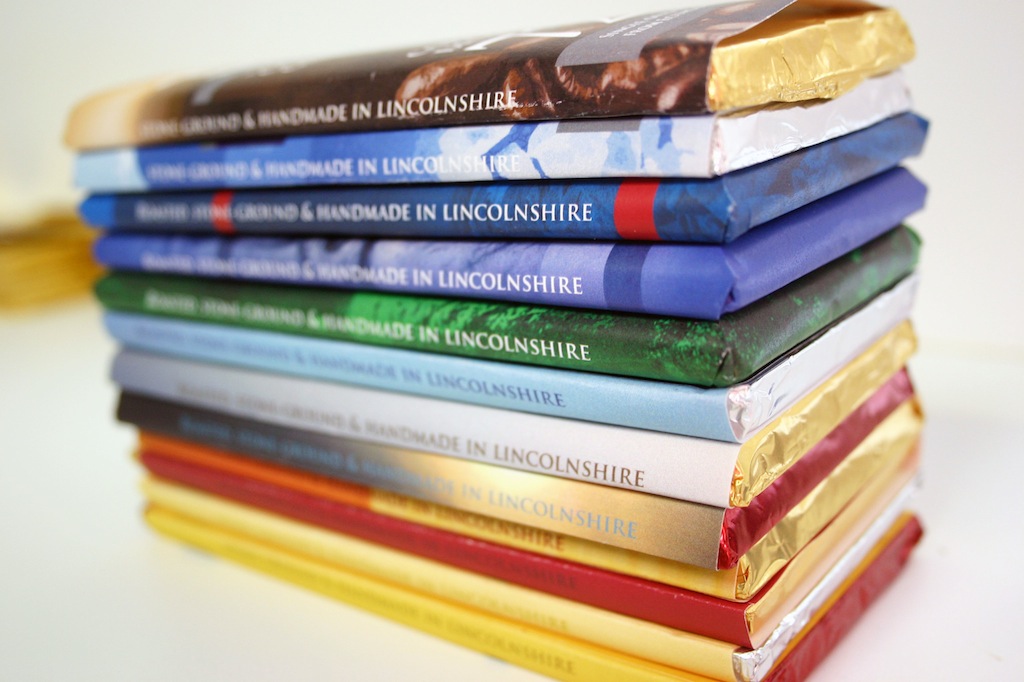 Duffy now produces a range of 12 chocolate bars from the deeply rich Corazon Del Ecuador 83% Dark to the roasted earthiness of the Cocoa Nibs and Ground Coffee and my absolute favourite Cocoa Nibs and Oak Smoked Salt Corazon Del Ecuador 43% Milk Chocolate with its subtle salty taste setting cocoa flavoured fireworks off on my taste buds!  All available from a variety of on-line and high-street retailers across the UK from Royston's Deli in Louth to Fortnum and Masons in London.
Sometimes, when I mention to people that I write about food, many say that I must love my job because I get to meet so many wonderfully
passionate producers and visit some incredible places, getting to try all sorts of culinary delights and I have to say that my visit to Duffy's chocolate factory, learning about the manufacturing process and of course sampling the divine chocolate was a privilege.
Remembering a job I had as a teenager working in a chocolate shop with chocolates of an obvious far lesser quality, where I would go home at the end of the day hating the stuff, I asked Sue, the lovely lady responsible for pouring the chocolate in the moulds, if she ever tired of being surrounded by chocolate and her response was an immediate and resounding 'no!' and I can understand why!
More information about Duffy's chocolate including a detailed list of stockists and an on-line shop can be found at

www.redstarchocolate.co.uk
Is there anything more satisfying than butter melting on a warmly toasted Hot Cross Bun as the scent of mixed spice and caramelised candied peel wafts through the kitchen?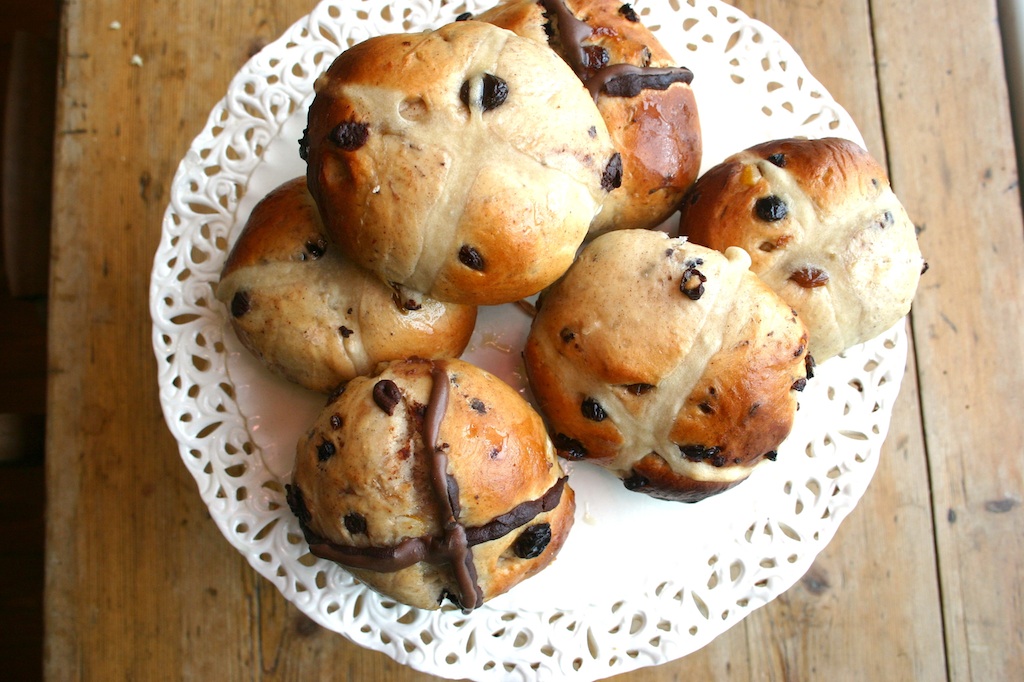 To celebrate Easter in style I've added some chunks of Duffy's wonderful Corazon Del Ecuador 83% Dark Chocolate to these traditional sticky buns.  I've used the milk version The subtle citrus flavours within the chocolate work perfectly with the spices and peel that are mixed into the dough, and to keep with the South American theme I've used a wonderful Mexican Orange Blossom Honey as a glaze. Divine!
625g strong white bread flour
11/2 tsp fast action dried yeast
4oz chocolate – roughly chopped
a little extra chocolate (if doing chocolate crosses)
1 tbsp honey – gently heated
– mix the flour, salt and mixed spice in a large bowl, rub the butter in, then add the sugar, lemon zest and yeast.
– beat the egg, add it to the tepid milk (microwave) and then add this to the flour mixture, bring it all together to form a soft, pliable dough
– turn the dough out onto a lightly floured surface and knead lightly, sprinkling the mixed fruit in to the dough in batches, work for 5 minutes or until smooth and elastic.
– place the dough in a large oiled bowl, cover with a tea towel and put it somewhere warm for one hour to prove
– after an hour, knock back the dough, knead for a minute or two and then back into the bowl and warm place for a further 30 minutes.
– once it's doubled in size, turn it out onto a floured surface and divide into 12, roll into balls, flatten slightly into a bun shape and place these on a lined baking tray
– get a large plastic bag and place the buns and tray into the bag, tie the end so no air can get in and leave them to rise once more for a further 40 minutes.
– pre-heat the oven to 240c
– now make the topping by combining the water and flour until you have a thick paste (if you're going for chocolate crosses, add the melted chocolate to the paste but don't pipe on until after the buns are out of the oven)
– once the buns are ready, pour the topping into a piping bag and pie crosses onto each bun and then bake for 8-12 minutes until dark golden.
– the moment they are out of the oven, brush them with the honey which you have heated gently in the microwave.
eat and of course, enjoy!