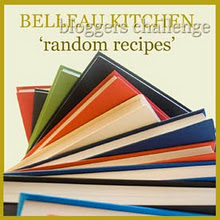 … i'm down in that there London this week and things are looking rosy… in my other life as a persuader we have won a lovely bit of business that should see us nicely through the year with a big event on in October… so it was out of the apron and wellies and into the sharp suits to meet clients… we also got the chance to go and see the new David Hockney exhibition at the Royal Academy which was breathtaking… I also had the best turkey, bacon and egg club sandwich in a little greasy spoon on Brewer Street… all these fancy new-fangled restaurants have no idea how its done…
… on to this months Random Recipes and to celebrate going into my second year I have a double book give-away for you all… the lovely people over at DK Books have kindly given me a copy of Mary Berry's Supper For Friends and Mary Berry's Kitchen Favourites to give to 2 lucky winners… that's one book for each winner… all you have to do to be in with the chance of winning is take part in this months challenge…
… which is brought to you this month by Choclette from Chocolate Log Blog… so if any of you have an issue, the blame is firmly laid on her shoulders….
… I asked her to count her cookbooks and then randomly select a number… she chose to ignore this and go for her lucky number 17… which is where you should look now… very simply count your cookbooks from left to right and stop at number 17… and its from this book you should randomly select a recipe…
…being in London I cannot tell you what my selection is, so it's going to be as exciting for me as it is for you…(I know!!) but go an count now and tell me your book… i'd love to know!
so the rules are simple:

1. randomly select cookbook number 17
2. randomly open the book at a random page
3. cook the EXACT recipe on that page
4. do NOT cheat… you are only cheating yourself… blah blah blah…
5. write up the whole thing on your blog, linking back to my blog and use the logo too
6. email the link to me at dominic@belleaukitchen.co.uk
7. and finally… as a mark of respect to your cookbook authors bank balances, please don't copy the recipe verbatim into your blog… change it up a little, encourage others to purchase the book… maybe add a little link to Amazon…
I will pick a winner at random from the entries… good luck and happy random recipe selecting!