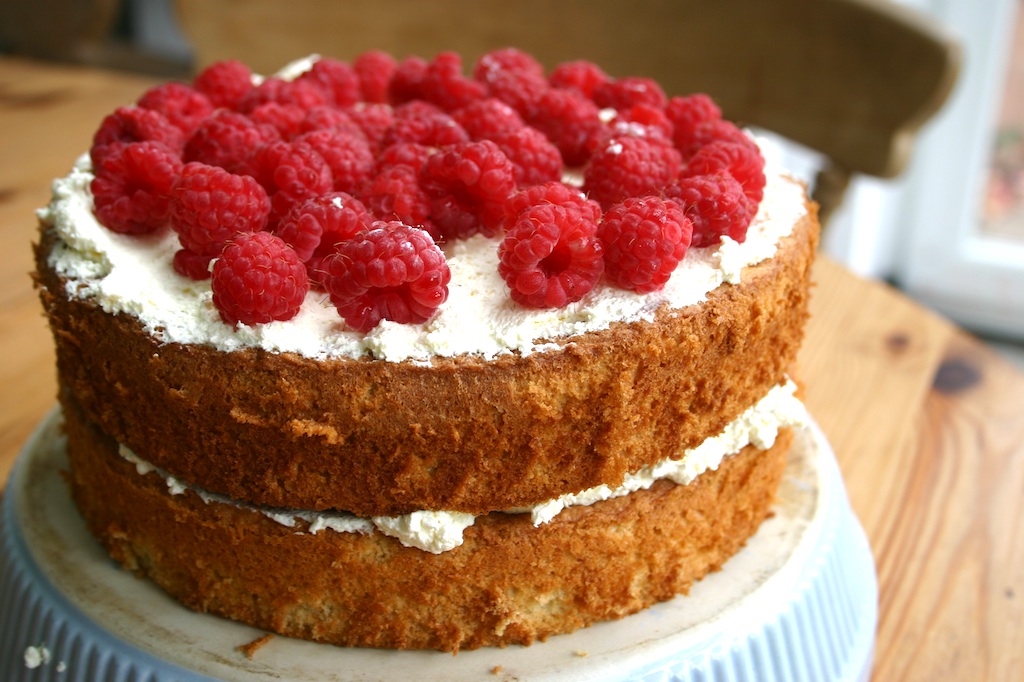 sometimes, when you're baking a cake, you can tell it's going to be fabulous… well at the very least I can tell if it's going to be a dud… so when I started to make this cake I knew, at every stage, that it was going to be a winner.  The batter mix was outstanding, gently fluffy and light with a hint of vanilla… I could have eaten the whole thing raw… and as it stated to bake in the new oven I could see it rise and turn golden and I just knew…
… if i'm honest, i've been having a spot of bother with the new oven.  It's excellent but very very efficient. I'm used to my old oven, which worked perfectly fine but it was like shouting into the wind… with this new beast however, the right-hand side turbo oven is hot and fast.  The regular oven is also quick but I think i've just about tamed it… well it baked this cake to perfection at any rate…
… the original recipe called for slathering it with a sickly sweet raspberry-ripple frosting, which sounds divine but when I saw the sponge I just wanted to eat it as plain as possible, so I could savour its lightness… and so a simple filling and topping of whipped cream and fresh raspberries was the perfect answer.


Raspberry and Cream Cake


This is the 3rd recipe i've taken from Edd Kimber's new book.  You can tell I've been impressed but I feel if I give you any more he may ask me for a royalty cheque… Check it out for yourself, you wont be disappointed.
Edd suggests you bake this as a triple layer cake.  I did some clever calculations and reduced it by a third, which is the recipe I give you here.
224g butter (works out to be about 12oz)
224g plain flour
2 teaspoons baking powder
266g caster sugar
4 eggs – separated
1 teaspoon vanilla extract
123ml whole milk
half a pint of whipping cream
a heck of a lot of raspberries
– preheat the oven to 180c or 160c fan and lightly grease and line 2 20cm round cake tins.
– sift the flour and baking powder into a bowl
– beat the butter and 2/3rds of the sugar until light and fluffy, about 5 mins, then beat in the egg yolks one at a time, followed by the vanilla.
– turn the mixer to low and add a third of the flour, half the milk then continue like this until all the milk and flour is well incorporated into the batter.
– whisk the egg whites until they form soft peaks, add the remaining sugar and whisk again until stiff, glossy peaks are formed. fold this into the batter
– divide into the two cake tins and bake in the oven for 30-35 mins or until an inserted cocktail stick comes out clean.
– leave to cool in the tin for 10 mins, then take them out of the tins and leave to cool completely.
– whip the cream into a frenzy and slather it thickly onto one of the sponge cakes, sprinkle liberally with raspberries, sandwich the cakes together and repeat with the top of the cake.
eat and clearly enjoy!