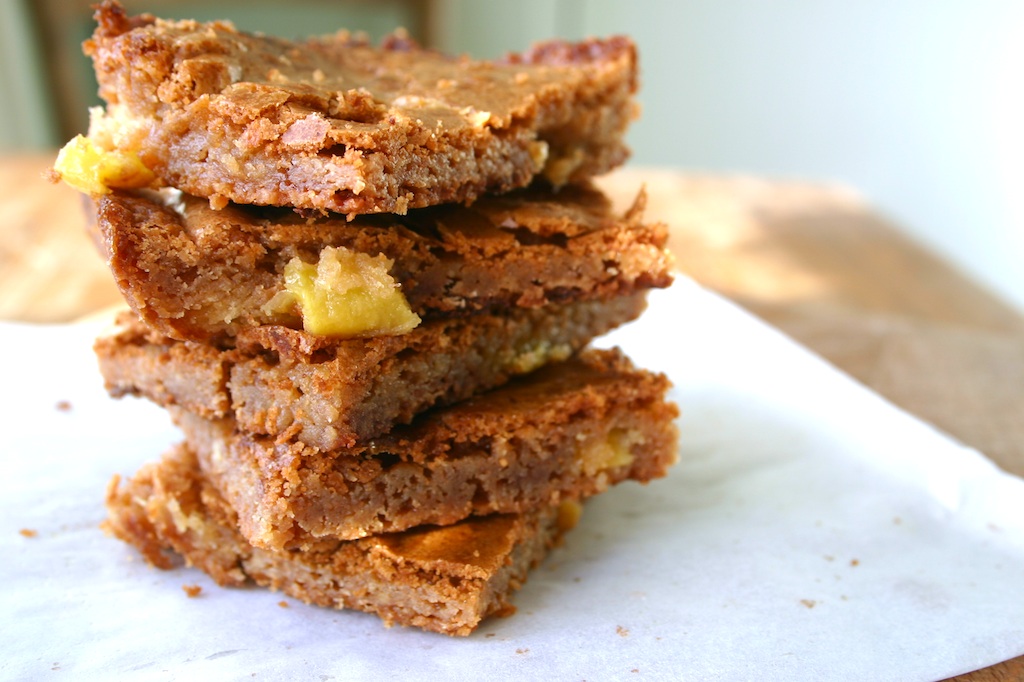 boy, did I have a sweet tooth when I got home last night… it was a long day but I was almost shaking with the need for sugar… I ate a peanut butter and blackcurrant jam sandwich whilst I was waiting for the left-overs of my sausage casserole to heat up…! and then once I had polished that off I still wanted more… maybe i'm sick… maybe i'm just a fat greedy bastard… who will ever know…?
… still on my 'I can't believe i've never made brownies before' trip I decided that blondies were next on my list and the wonderful Edd Kimber and his brilliant book The Boy Who Bakes came to the rescue… I have adapted the recipe slightly by adding some teeny chunks of a left-over bit of pineapple The Viking left in the fridge… don't worry, he'll reap the benefit…
… and after-all I deserve something lovely… it is my birthday tomorrow… and also The Viking's… on the same same day… yes, I know!
Pineapple, Chocolate and Mixed Spice Blondies


225g unsalted butter
1 teaspoon mixed ground spice
1/2 teaspoon ground ginger
400g light brown sugar
2 eggs
250g plain flour
1/4 teaspoon salt
1 teaspoon baking powder
80g milk chocolate – roughly chopped into chunks
80g finely diced pineapple
– pre-heat the oven to 180c or 160c fan-assisted
– grease and line a 23cm x 33cm baking tin
– melt the butter in a pan over a medium-high heat, add the spices and cook for a couple of minutes
– add the sugar and cook for a further 5 minutes, stirring constantly.  take the pan of the heat and let it cool for at least 5 mins
– then whisk in the eggs, then fold in the flour, salt and baking powder
– stir in the chocolate and pineapple chunks then pour it all into the prepared tin and bake for 30 mns
– the blondies take a few hours to firm up, so for ease, leave in the tin overnight before cutting into squares
and can I just say, they were bloody amazing… spicy, warm, crisp, fruity, chocolatey… heavenly!
eat and of course, enjoy!