… other than 'ooh, isn't Lincolnshire really flat?' the most common phrase that people say to me when I tell them where I live is..' ooh, nice sausages!'… and yes, they are nice sausages… well, sometimes.  I guess it depends on who's making them.  There are a lot of herbs in a traditional Lincolnshire sausage. Get this bit wrong and you end up with a dry, fiercely aromatic, unpleasant link… get it right and you end up with a gentle kick that subtly reminds you that you're not just eating any old banger!
So good is the Lincolnshire Sausage it even has its own Festival, now in it's 9th year, taking place this year in the grounds of Lincoln Castle on the 29th October.  It celebrates everything sausage, with cookery demo's, tastings and lots of fun stalls.  People have been known to make cross-continent pilgrimages to visit!
oh and by the way, I live in The Lincolnshire Wolds.  'Wolds' is old English for 'Hills'… they have them in the Cotswold's and no one would accuse them of being flat… honestly, it couldn't be more hilly if it tried…
Simons of Spilsby is a wonderfully modern kind of butcher/deli hybrid.  He has an extensive, high quality meat counter but also makes a lot of his own sauces with which you can marinade, stew or bbq your meats… he makes glorious pies and genius 'TV Dinner' style ready meals… he also makes a mean Lincolnshire Sausage which i've used in this warming, hearty, Autumnal family meal.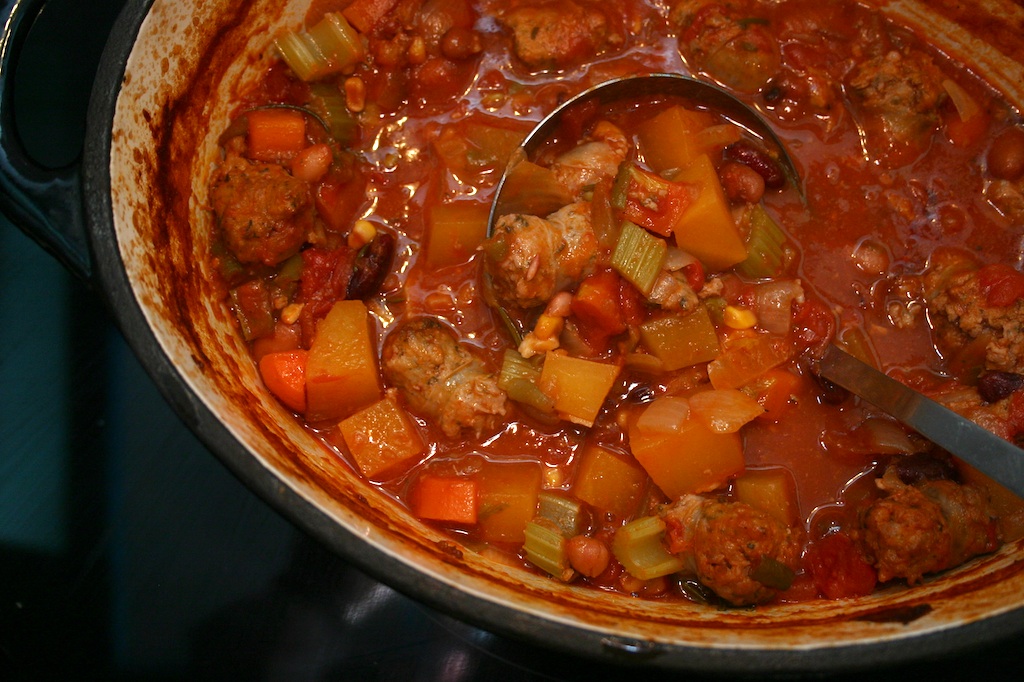 Lincolsnhire Sausage and Mixed Bean Casserole 


6 lincolnshire sausages – sliced into chunky pieces.
a medium onion – finely chopped
1 stick of celery – finely chopped
1 medium carrot – finely chopped
2 cloves of garlic – crushed
half a medium sized swede – diced
1 tin of chopped tomatoes
1 tin of mixed beans – drained (or any beans of your choice, borlotti or canelinni would work well)
a mix of fresh herbs and seasoning
half a glass of red wine (optional
half a pint of stock
– in a casserole dish you can transfer to the oven, saute the onions in some olive oil and butter until translucent, add the sausages and brown gently for about 8 minutes. Remove the sausages from the dish and set aside.
– add the rest of the veg and saute until nearly tender, then add the tomatoes, beans and the stock and wine followed by the browned sausages.
– give it a good stir and then transfer it to a gently hot oven, 190, for a good 30-40 minutes.  Let it cool slightly before serving either on it's own or over some creamy mash.
eat and of course, enjoy!