one of the many 'food' idiosyncrasies that I have picked up from my mother is eating cheese with honey or jam… our favourite combination is either Double Gloucester with Blackcurrant Jam or Cheddar with Honey… I know it's a bit odd but it's damn good… it's the sweet with the sharpness of the cheese that we love… oh and it's usually eaten on toast, preferably which has gone slightly cold… I know.


so when I thought about baking bread today I was looking for ingredients to spice up my basic farmhouse loaf and I hit upon the idea of combining my love of cheese and honey directly into the bread itself.


the honey is from the hives here at Gunby Hall and it's amazing stuff, thick, sweet and cloudy and made by a lady called Anita Carrot… yes, her name sounds like a crazy children's cartoon character and she pretty much fills those boots… and of course the Lincolnshire Poacher is direct from source… or can be bought on-line from the delightful Cheese Shop in Louth.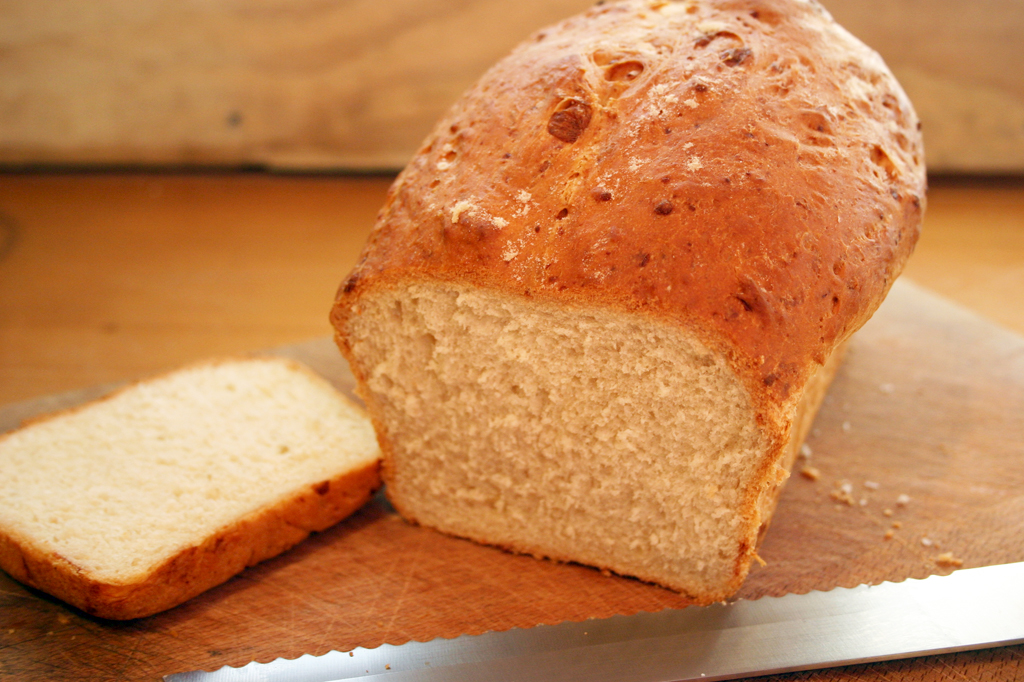 Gunby Honey and Lincolnshire Poacher Bread





450g strong white bread flour
1 teaspoon fast action dried yeast
200ml hand-hot water (the recipe called for 300ml water but i've reduced this slightly and added milk)
2 tablespoons coarsely grated Lincolnshire Poacher
– put the flour into a large mixing bowl and stir in the oil, honey, salt and yeast.
– pour over the water/milk and gently bring together, turn it out onto a lightly floured surface and knead for 10 minutes.  You should end up with a really soft silky dough. After 10 minutes spread the dough out slightly and grate the cheese directly into the dough, then knead again for another minute or so until the cheese in combined.  You don't want to over knead this as you want cheesy lumps!
– place the dough in a large bowl, cover with cling film and let it prove in a warm place for at least and hour or two until it has doubled in size
– knock back the dough for 2-3 minutes, then shape it into a rough oblong and place it into a greased bread tin, cover with a tea-towel and let it rise again for a further 45 minutes or until it has doubled in size.
– preheat the oven to 230c, score the top of the loaf with a sharp knife and dust with a little flour, bake for 30-35 minutes until golden.  
If you want a really crispy crust, take the bread out of the tin and place it back onto the oven shelf for a further 5 minutes.
eat and of course, enjoy!