ahhh Sunday… truly a day of rest… a day of lazy lounging, no-braining, thinking about nothing but perhaps what may be the next thing into your belly… and that next thing should not mean you rushing around like a loony preparing meat, chopping veg… steam and your temper rising from the oven… no, Sunday should be slow and languid and very, very tasty.
  one of the fabulous things that came with the recent Sainsbury's delivery was a shoulder of pork…it wasn't the best or prettiest cut of meat in the world but I don't want to sound ungrateful… i'm not a huge fan of pork like this but I do love pork belly and any kind of crackling so I've mixed up this traditional Sunday roast with a few spices to add a bit of zing… the original recipe called for cider but I had a jar of freshly squeezed apple juice made from the lovely Gunby apple hoard, so i've used this instead…
Spicy Roast Pork with Gunby Apple Juice Gravy
other than making the spicy rub there's very little to do here but turn on the oven…
for the spice rub
1 tsp fennel seeds
1 tsp dry chilli flakes
1 tsp black peppercorns
1 tsp cardamom pods
3 tsp salt
3 cloves garlic
zest and juice of one lemon
for the pork
1 shoulder of pork (mine was just under 1kg) with skin scored
1 large carrot – cut into thick batons
1 large red onion – cut into wedges
2 apples
1 large glass of apple juice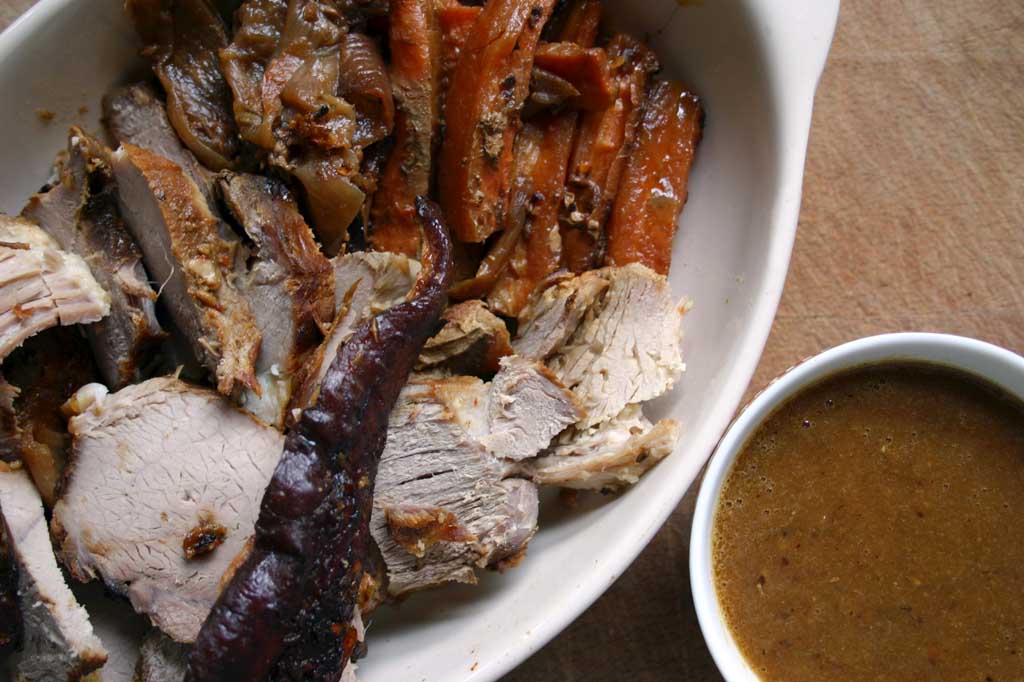 – crush the dry ingredients for the spice rub with a pestle and mortar, then add the garlic and lemon and crush again into a paste
– place the veg into an oven dish and lay the pork on top, rub the spice paste onto the pork, sprinkle the whole lot liberally with olive oil.
– place into a hot oven (220c) for 30minutes, then turn down the heat to 140 for a further 2 hours, basting  every half hour
– after 2 hours cut up the apples into wedges and throw them into the dish along with the apple juice and roast for a further hour (you could also throw in some small, un-peeled new potatoes at this stage too)
– after this last hour take the roast out of the oven and remove the pork and carrots and let the pork rest while you make the gravy
– for the gravy simply whizz the juices, onions and apples with a hand-held blender to create a thick apple gravy
I served it all with some of these heavenly roast new potatoes…
simply divine… eat and of course, enjoy!