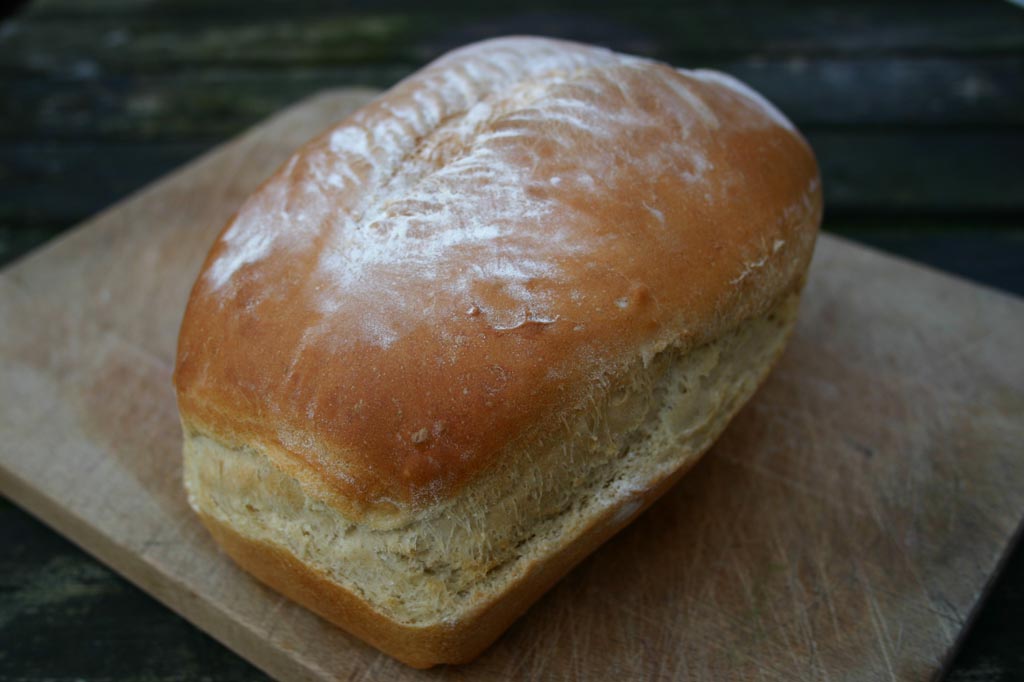 i've been having a bit of a non-sourdough moment of late… I made some delightful
Hot Cross Buns
a few weeks ago which were soft and doughy and they made me yearn for that in a loaf… don't get me wrong, I do love Lucretia and all she brings to my world of bread but sometimes, what you really want is a classic, soft dough, crunchy crust, white loaf… and so I refer you to my WI book of bread by Liz Herbert… I don't think I could get any more classic than their Farmhouse Loaf… and it's remarkably easy to make too, perfect for a first time bread maker…
… I also just found out that a 'white loaf' will be one of the categories in this years Aby Village Show, so it's a good thing i'm getting my practice in early eh?
Farmhouse Loaf
450g strong white bread flour
25g butter
1 teaspoon sugar
1 teaspoon salt
1 teaspoon fast action dried yeast
200ml hand-hot water (the recipe called for 300ml water but i've reduced this slightly and added milk)
100ml milk
– put the flour into a large mixing bowl and rub in the butter then stir in the sugar, salt and yeast.
– pour over the water/milk and gently bring together, turn it out onto a lightly floured surface and knead for 10 minutes.  You should end up with a really soft silky dough.
– place the dough in a large bowl, cover with cling film and let it prove in a warm place for at least and hour or two until it has doubled in size
– knock back the dough for 2-3 minutes, then shape it into a rough oblong and place it into a greased bread tin, cover with a tea-towel and let it rise again for a further 45 minutes or until it has doubled in size.
– preheat the oven to 230c, score the top of the loaf with a sharp knife and dust with a little flour, bake for 30-35 minutes until golden.  
If you want a really crispy crust, take the bread out of the tin and place it back onto the oven shelf for a further 5 minutes.
eat and of course, enjoy!