perfect cake for a Royal Wedding eh?
so this is quite literally the easiest chocolate cake ever made… i promise you, other than the hour it takes to bake in the oven and the decoration (your choice… you don't have to decorate, you could just eat whilst its still warm…) it takes about 3 minutes from counter top to oven… and I invented it!
… as you know I've been baking cakes for the Gunby Hall tea room and I've been looking for a way to reduce my baking time, without compromising on taste and I've been messing around with different recipes and after much tasting and baking I think I've finally discovered the way to do it… this cake is kind of like an 'all-in-one' sponge with some added pizzaz in the form of some luxury chocolate spread… I've also included a layer of home-made marzipan, just this once, so that i can submit it for the we should cocoa challenge, although I quite like this marzipan layer, we'll have to see how it goes down at the tea room…
Easy Chocolate Cake with a Marzipan layer 


first make the marzipan as it needs to sit in the fridge for an hour or two before using…
200g ground almonds
200g golden caster sugar
1 egg – beaten
1 teaspoon almond essence
mix the almonds and sugar, then add the beaten egg and almond essence and fork it through until it comes together, then get your hands in and knead it into a ball.  wrap it in cling film and pop it in the fridge for at least an hour.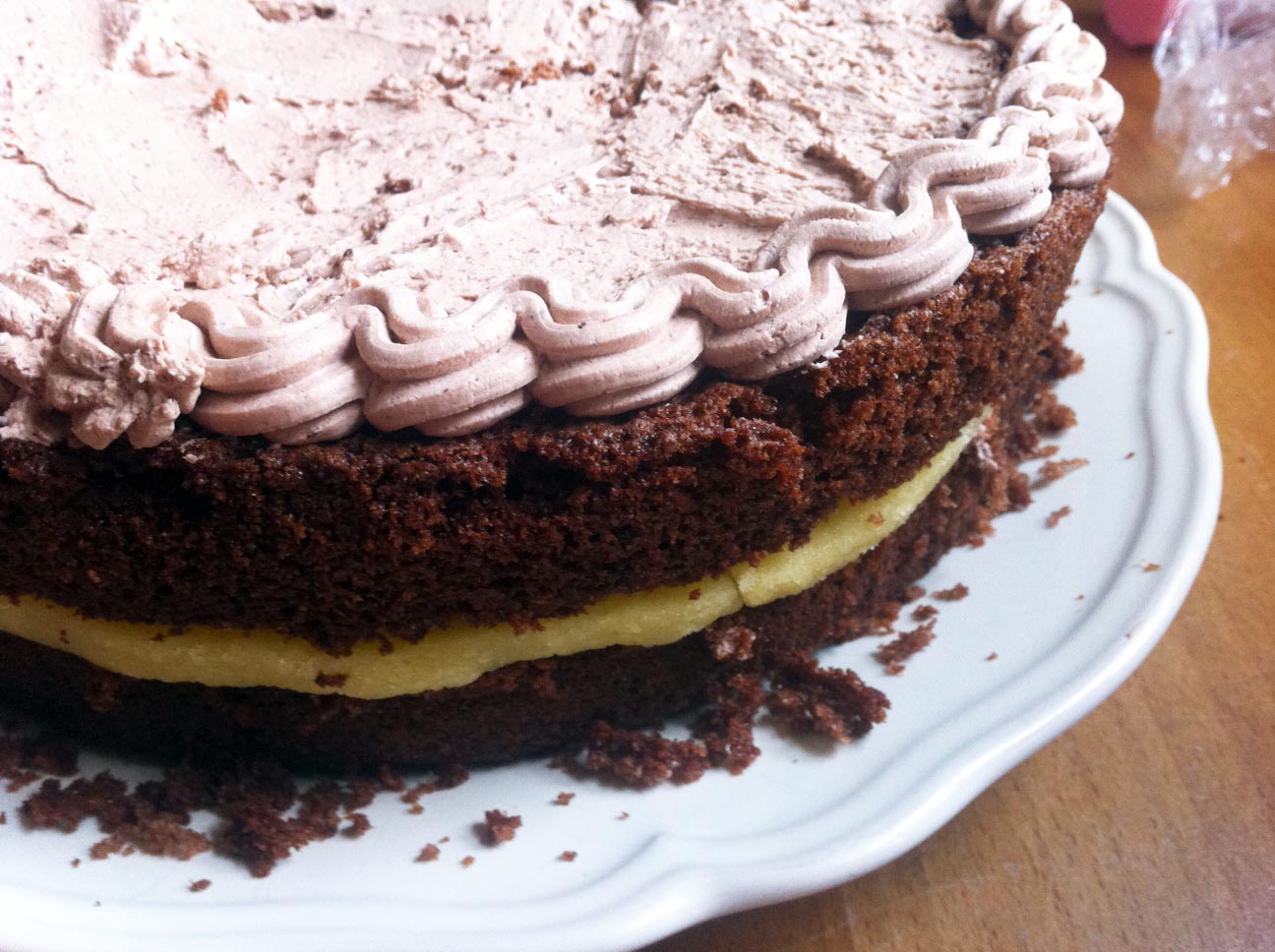 next make the cake… are you ready… this is going to be fast!
175g margarine
175g sugar
3 eggs
200g self raising flour
1tsp baking powder
2tsp cinnamon
4tbs milk
4tbs luxury chocolate spread (you could use Nutella)
– quite literally bung it all into a bowl and whisk it into a frenzy for about 2 minutes.  pour it into a prepared cake tin (i used a 22cm round) and bake for 1hr on 160C
– once it's cooled you can decorate it… obviously I've layered the centre with a spreading of icing and Marzipan, but you can do as you wish
– I've iced it with this icing, to which I've added 3 teaspoons of cocoa powder
eat and of course, enjoy!