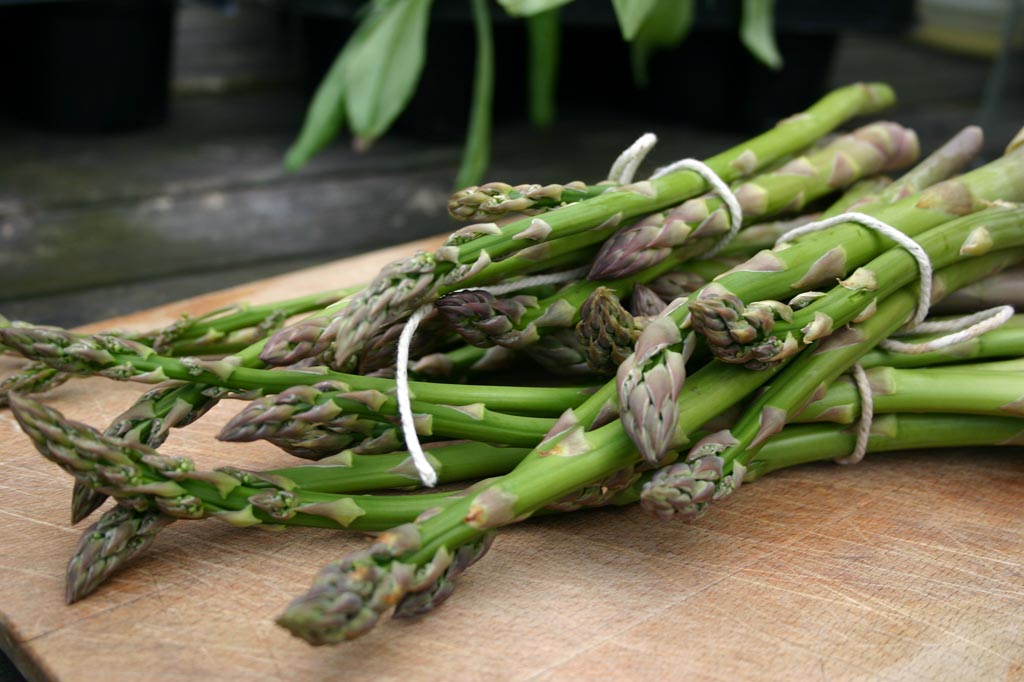 this unseasonal warmth has done some bizarre things to the flora and fauna of the Lincolnshire wolds… we have bluebells still opening whilst the delphiniums are beginning to stretch and turn pink, two flowers which never usually see each other bloom!… the swallows are many and nesting early, they fill the sky, busy with their mid-air insect catching… and boy do we need them as the flies and mosquito's are already making a nuisance of themselves… and then there are the veg… everything seems to be bursting at the seams… like one of those time-lapse films, only happening in real time as they expand and shoot before our eyes.
Our trip to Gunby Hall yesterday took us on a tour of their extensive gardens, part of which are turned over to vegetable and fruit growing and it was with much envy that I spied their asparagus, already shooting healthily out of the not particularly glamorous pile of manure… a whole bed of asparagus…
…but when I turned up this morning to deliver my cakes, lovely Gareth handed me an armful of the stuff… enough asparagus to feed a small platoon…bless him.
Like rhubarb, the humble asparagus has many applications in the kitchen, from the simple steamed and served with melting garlic butter… to the pretentious, wrapped in Parma ham and baked with an egg… and other than the rather obvious perfume of it's after effects, it is a pleasant and delicate little vegetable, more than welcome at this time of year.
… today I've made two classics… an soup and a quiche… using the same base for both, which both saved time and pans!
Spring Green Soup with Asparagus
This soup essentially uses any green veg that you may have lying around but it's not an old veg soup, these should be fresh Spring green veg bursting with flavour… and the soup shouldn't be over cooked, just simmered gently and then blitzed to combined the flavours and served immediately…
6 large spring onions – finely sliced
half a large leek – finely chopped
2 bunches (roughly 20 stalks) of asparagus (chopped)
a handful of fine green beans – finely chopped
a handful of baby spinach
a handful of garden peas
– in a heavy pan melt some butter and olive oil and on a medium heat add the onions, leeks, asparagus and beans and let them saute a little before placing the lid on, turning down the heat and let them sweat for 8 minutes or so until tender
– season and then, when soft remove about 1 third of the vegetables and set aside for the quiche
– now, add the spinach and peas and combine before pouring over a pint and a half of vegetable stock.
– let it simmer gently for 10 minutes and then blitz with a hand-held and serve in small cups with a dash of cream.
Asparagus Quiche


as mentioned, this uses the base vegetables from the soup so you can make it at the same time with very little effort… I was also given 6 fresh hens eggs from a my good friend Judy in the village, 3 of which have gone into this, giving it the most delightful yellow colour… so it's been a good day for free trade!
– you'll need a plain shortcrust pastry for this… you'll find a simple recipe for it here
– you'll also need the sauteed veg you've set aside from the soup but you could simply start from scratch, this goes first onto the base of the pre-baked pastry case
– added to this you'll need 1 extra bunch of asparagus and 8 or 10 fine green beans and a handful of garden peas all of which you gently steam until just tender
– for the filling I used 3 large eggs and a cup of double cream, which you whisk together with seasoning and pour into the pre-baked pastry case, then arrange the long stems of the asparagus and beans on top, sinking them gently into the mixture before baking on 180 for 30 minutes or until golden.
… oh and just an update on my cakes for Gunby Hall campaign… I have another order for this coming weekend, double the amount from last weekend!… i'm gonna be busy!
eat and of course, enjoy!