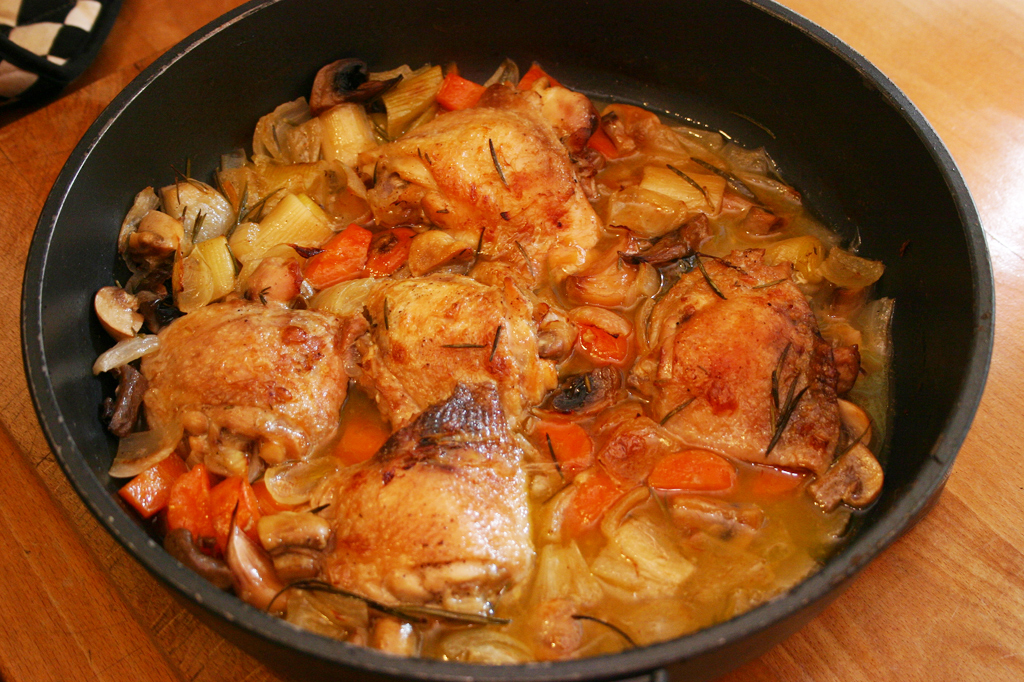 … a little mid-week Belleau Kitchen relief to lift the spirit…
… and before you bang on about me using chicken thighs AGAIN… they are cheap, packed with flavour and I am trying to present a different recipe every time…


It's funny how tastes change over the years isn't it?  I used to loath anything even vaguely resembling aniseed or liquorish but now, although i'm still not a huge fan of the confectionary itself I love aniseed flavour in cooking …fennel …star anise …chicory … and most of all the deep heady aroma of Pernod! … this dish is good without it but it's seriously spectacular with it and turns an ordinarily suburban dish into something a little bit inner-city…. naughty!
… oh and this dish may seem a bit laborious but actually its really simple and it's well worth it … plus you can always do one bit in the morning before work and finish it off in the evening when you get home… that's what i did anyway…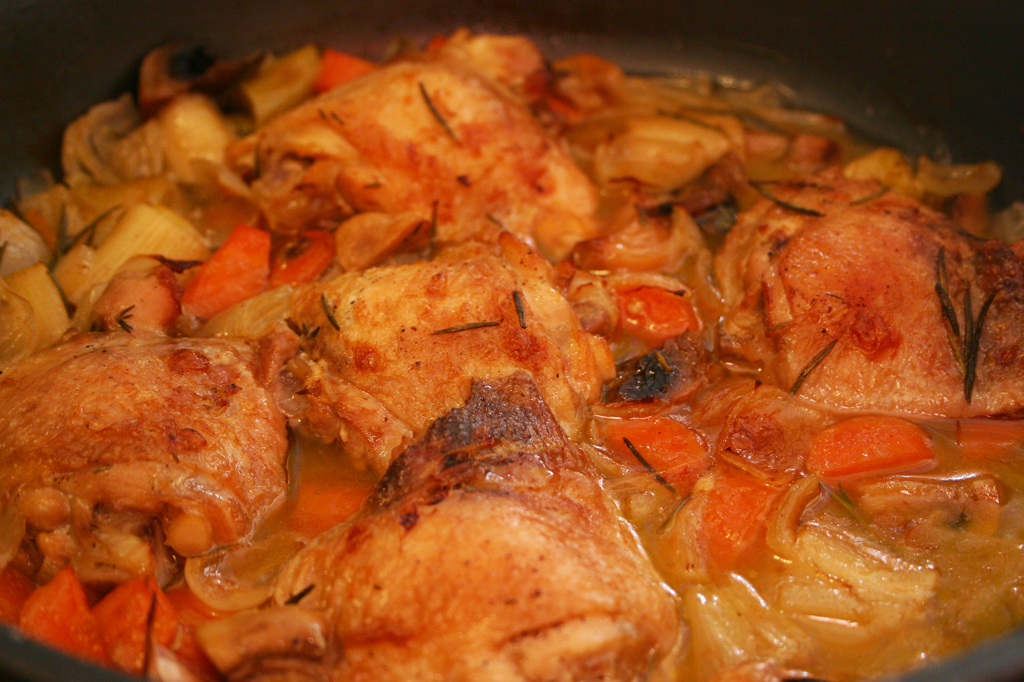 Pernod Chicken
6 chicken thighs (oh how I love my chicken thighs)
1 onion – roughly chopped
1 carrot – roughly chopped
1 small leek – roughly chopped
a few button mushrooms
4 garlic cloves (whole with skin on… who can be bothered?)
2 glasses of white wine
half a pint of water
a splash of Pernod
seasoning
If you're doing this in the morning let's make this really easy shall we and prep everything up front so we're ready to go… and to make this extra easy you need to use one of those pans you can transfer from stove top to oven… it saves time and effort (always the best combo in my book!)
– heat up a large pan on the stove, add some oil and brown the chicken thighs till golden, remove from the pan and set aside
– saute the rest of the veg in the chicken juices and oil till brown and sticky, add some fresh herbs of choice then return the chicken to the pan add the wine and Pernod and enough water to barely cover the chicken, cover the pan with its lid and then simmer for an hour – don't forget to turn off the hob when you leave the house for work.
– when you come home turn the oven on to it's highest, take the lid off the pan and place it into the oven for 30 mins till the chicken is golden and the stock has reduced to an incredible unctuous gravy… you will not regret making this dish… I promise!
eat and of course, enjoy!
… and don't forget to enter into my Lincolnshire hamper giveaway!