… and whilst life continues… it's been nearly a 8 months since I wrote my first food and me post, so thought it was high time to continue the story…


…Nigella may be a 'domestic goddess' but as far as I am concerned, if you're stuck for a recipe, or you just need to know how to make a certain dish… perfectly, then there are three words – a mantra, if you will, that will save you every time…'DELIA IS GOD…' go on, repeat it a few times… now, see how comfortable it feels as it rolls around your tongue…
Her 'Compete Cookery Course' is the bible on my shelf of extensive cook books. Time and time again, when I tire of Nigel, or grow wearisome of Gordon, or become annoyed with Jamie, hers is the cookbook I  turn to.  It simply has everything in it and an answer for everything and if you follow it, to the letter, you cannot go wrong.
Leaving home to go to University was such a great time for me as it meant I could cook and experiment in my own kitchen and I think Delia made it easy for me to impress.  My flatmates will tell you of the fun times we had in various kitchens, cooking up a storm of risottos, lasagnes, pies and roasts… with Delia as my guide I would bake and fry and griddle… they called me Domelia in homage to my heroine!
My scones are her scones.
I was good (and still am thank you) at making soups… all kinds of soups.  It's funny because people seem to be so easily impressed by a bowl of soup and really they're so easy to make.  Anyway, they were a staple in our student household for years.
It didn't always go well though… i think the word 'experiment' pretty much sums up a lot of the cooking…
…I was trying to impress a friend once with my culinary skills and wanted to cook a rich duck dish that i'd read about… only thing was that my friend was on the brink of turning vegetarian, and anything he could associate with a cute cartoon character was not going to work…so Daffy was definitely off the list!…now as you'll know, duck is really rich and fatty… all essential to the cooking process and also makes it good to cook with sweet, fruity flavours as they cut through the richness…so the recipe i'd found for duck with red grapes sounded perfect but I had to substitute the duck for plain old chicken and for the life of me I couldn't find red grapes and had to go with green…the bland, pale, listless, taste-free nightmare I presented to him did not impress and it was only after that he told me he didn't care much for 'mains and pudding' on the same plate!  The fact that he's still my best friend is testament to the fact that my cooking has clearly improved… or my 'experiments' have stopped.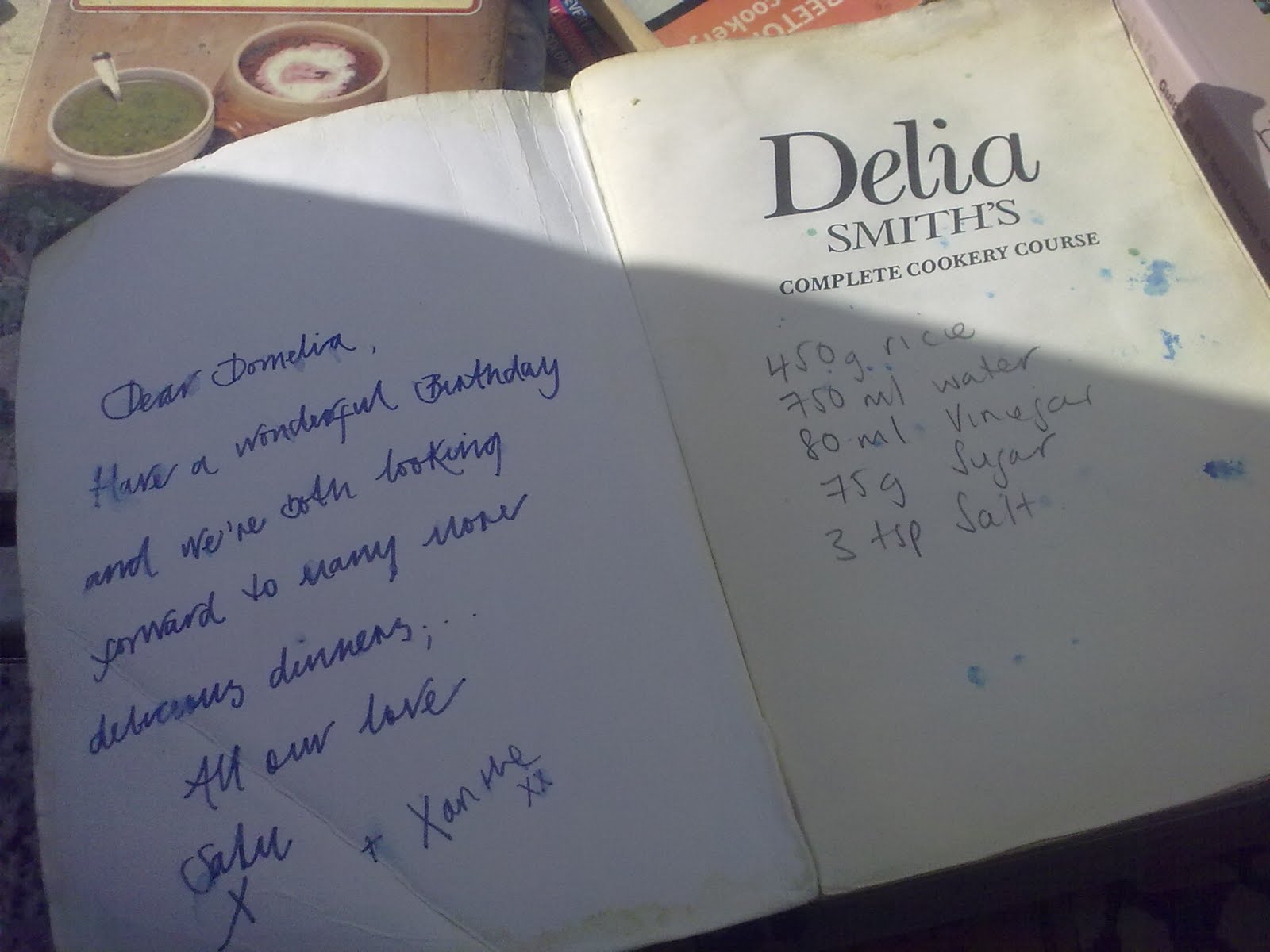 a birthday present from my flatmates…plus a hand written recipe for sushi rice
It was around this time that I found myself attending a 'cooking for cash' course at The Westmintser University.  It was a 8 week course, teaching us how to prepare food for catering or entertaining.  We were taught how to budget for parties, what to buy and then how to cook it.  It was quite a basic course but so interesting and I did learn some techniques that I would never have picked up if I had not attended.  I learnt how to make sushi… which was a godsend for me (and my flatmates) who got to eat whatever we'd cooked that evening.  I think I probably made sushi once a week for about 5 years after that, which was quite impressive not only for party guests but for my waist-line too!  As you can see from the photo above, i even wrote the recipe down on the inside cover of my much beloved Delia's Complete Cookery Course!
Other than her scones and shortbread recipe, one of my favourite Delia dishes is her Thick Onion Tart.. so simple, a classic really, but here it is for you.
Thick Onion Tart


for the pastry
2 oz self-raising flour
2 oz wholewheat flour
a pinch of salt
1/2 teaspoon mustard powder
2oz margarine or butter
1 1/2 oz cheddar cheese – grated
cold water to mix


for the filling
1 1/2lb onions – chopped fairly small
2 oz butter
2 eggs, beaten
4fl oz double cream
1 tblspn grated cheddar cheese
s and p
– pre heat the oven to 180 and grease an 8inch fluted flan tin
– first make the pastry by sifting the flours, mustard and salt into a bowl, then rub the fat in till it resembles breadcrumbs.  Finally bring it together with a small amount of cold water.  Once it forms a dough wrap it in cling film and put in the fridge for 30 mins
– melt the butter in a large heavy pan and add the onions then saute gently for 30 minutes until they have caramelised and gone a dark mahogany brown… stir them regularly though to avoid burning.
– roll the pastry out really thinly and line the fluted tin, prick with a fork and then bake in the oven for 15 mins.  Brush with a small amount of the beaten egg and then back into the oven for another 5 mins
– spread the onions over the bottom of the base of the tart, add the mixed cream and egg mixture and sprinkle the top with some grated cheese.
– bake for 30 mins until golden and risen
perfect!… but it is Delia after all.
eat and of course, enjoy!