warning… this is a mega-long post… but I make no apologies… go make a cuppa and come back!…
mini victoria sponge lamington with flaked almond coating
… so about 2 months ago the wonderful Edd Kimber alerted us all to the fact that the BBC are now looking for contestants for The Great British Bake-Off 2011 and he suggested that we apply… and with my ongoing plan for world domination, the fool that I am, applied… and have now been invited to round one of auditions, which takes place next Friday in London…
… they have asked us to create one sweet and one savoury dish and as you can imagine I have been racking my brains thinking of what to bake… I want to showcase my traditional and local passion but also show them a bit of flair for something different…
… and after much debate I have decided to go for a
leek and cote hill blue cheese tart
(based on the Delia caramelised onion tart I made a couple of weeks ago)… and either 
beetroot and chocolate cake Lamingtons or Mini Victoria Sponge Lamingtons… 
… hopefully I'll wow them at the auditions with these creations… amazingly they will tell us on Friday if we've made it through and then either go immediately into a screen test… or be sent home… (blimey!)
so i'm rehearsing this weekend in Belleau Kitchen and will then make these again on Thursday in mum's kitchen… (god bless her… I don't think she realises quite how messy these Lamingtons are going to be!)
… let's start with the tart (ooh err!)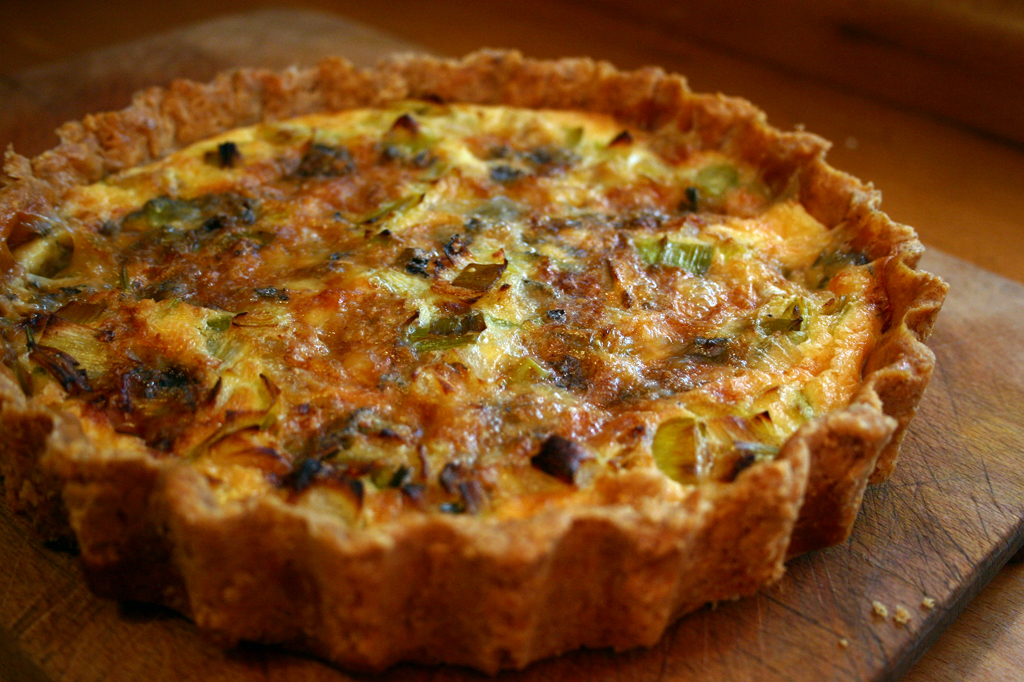 leek and cote hill blue cheese tart with a Lincolnshire Poacher cheese crust
for the pastry
2 oz self-raising flour
2 oz wholewheat flour
a pinch of salt
1/2 teaspoon mustard powder
2oz margarine or butter
1 1/2 oz Lincolnshire Poacher cheese – grated
cold water to mix
for the filling
3 medium leeks – chopped fairly small
a wedge of Lincolnshie Cote Hill Blue Cheese – cut into chunks
2 oz butter
2 eggs, beaten
4fl oz double cream
1 tablespoon grated Lincolshire Poacher cheese
s and p
– pre heat the oven to 180 and grease an 8inch fluted flan tin
– first make the pastry by sifting the flours, mustard and salt into a bowl, then rub the fat in till it resembles breadcrumbs.  Finally bring it together with a small amount of cold water.  Once it forms a dough wrap it in cling film and put in the fridge for 30 mins
– melt the butter in a large heavy pan and add the onion then saute gently until they soften, then add the leeks and let them soften till translucent… stir them regularly though to avoid burning.
– roll the pastry out really thinly and line the fluted tin, prick with a fork and then bake in the oven for 15 mins.  Brush with a small amount of the beaten egg and then back into the oven for another 5 mins
– spread the leek and onions over the bottom of the base of the tart, add the mixed cream and egg mixture and sprinkle the top with the chunks of blue cheese, then some grated cheese.
– bake for 30 mins until golden and risen
… and now onto the Lamingtons
beetroot and chocolate cake and vanilla sponge mini square and round Lamingtons… 
… first you make your cake… i've searched high and low for a good beetroot chocolate cake and think I found one on
Choclette's
lovely blog… (we'll soon find out… and it gives me someone to blame!)
beetroot and chocolate cake
250g plain chocolate broken up
3 large free range eggs
200g light muscovado sugar
100ml sunflower oil
1tsp vanilla extract
100g self raising flour
1/2 tsp bicarb
1/2 tsp baking powder
50g ground almonds
250g raw beetroot (finely grated)
– melt the chocolate (i did it in a microwave but a double boiler is the traditional way)
– whisk together the egg, sugar and oil until smooth and creamy, stir in the vanilla extract then fold in the flour, bicarb, baking powder and ground almonds
– grate the raw beetroot, squeeze out the liquid and fold it into the cake mix along with the cooled melted chocolate
–
pour the mixture into you cake tin (I used a 20cm square tin) and bake on 170 for 50 mins – 1hr.
– cool COMPLETELY on a wire rack
… this cake will make my mini square Lamingtons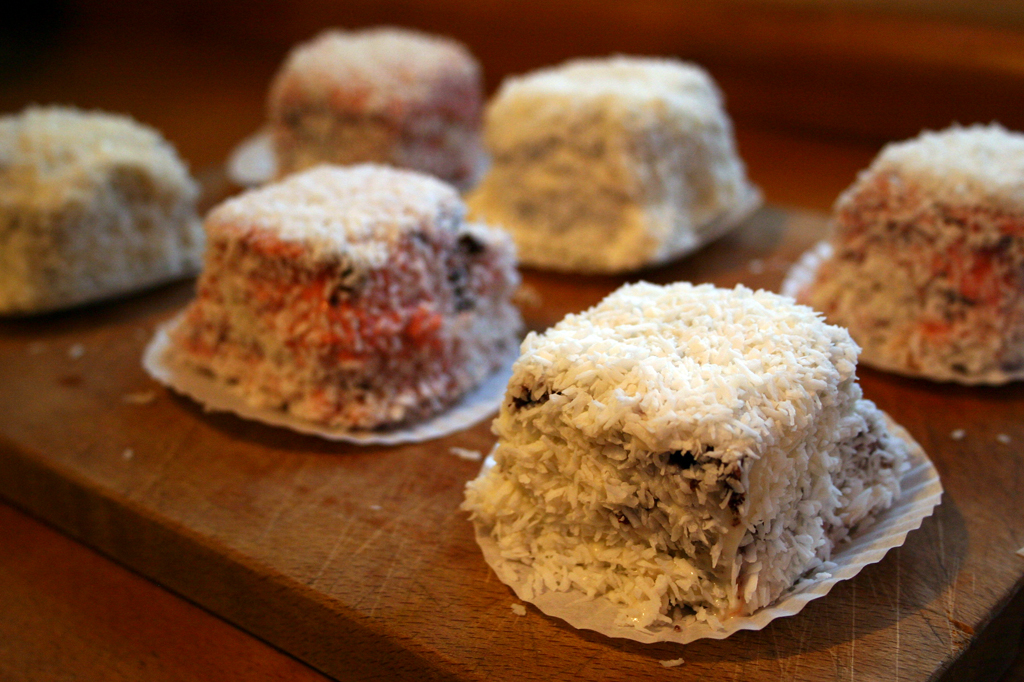 mini beetroot and chocolate cake Lamingtons with cream-cheese frosting
mini victoria sponge Lamingtons with flaked almond coating


victoria sponge Lamington with raspberry jam centre


this is positively the lightest sponge i've ever made!
240g butter
240g caster sugar
240g self raising flour
3 large eggs (separated)
2 tsp vanilla extract
– cream the butter and sugar until light and fluffy, then fold in the vanilla and the egg yolks
– whisk the egg whites till soft peaks and gently fold into the mixture
– pour into a 20cm round cake tin and bake in oven for roughly 25 mins
– cool COMPLETELY on a wire rack
– cut open and spread raspberry jam in the centre
for the icing and coating
450g full fat cream cheese
115g butter
1 heaped teaspoon ground cinnamon
250g icing sugar
5ml vanilla extract
desiccated coconut or flaked almond
– next you build your Lamingtons… it's a case of coating each cube in the frosting and then rolling them in the coconut or flaked almonds… a complete mess will be a guarantee but it's well worth it!… it also means I can enter Mr. P's
Delicious Delicious Delicious
challenge again!
mini beetroot and chocolate cake Lamingtons with cream-cheese frosting
….
as you can imagine this has taken most of the day to complete and i'm thoroughly exhausted… I also baked a challah today as i'm hosting the
Fresh From the Oven
challenge this month… I think I need a cup of tea myself!…. phew!
eat and of course enjoy!