i'm re-posting this as it was always meant to be for the Forever Nigella challenge set by Sarah at Maison Cupcake but I forgot who it was for and lost patience… so here it is again folks (and i'm late as usual!!)…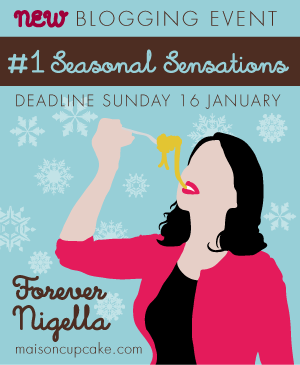 … ahh, Christmas Eve and it's just started to snow!
this is Nigellas cake … well, it's not Nigella's it's mine…
… this is perhaps quite literally the easiest-to-make and most Christmassy non-Christmas cake ever… you could do it quite literally, with your eyes closed and … if you can keep those pesky grabbing hands away from it for long enough… will indeed taste better after a day or two… and as if these weren't reasons enough to make it, the whole process of making this cake will make the house smell so incredible you and all the living creatures within a 5 mile radius will know it's Christmas!…
you can find the recipe on the delightful Nigella website here
eat and of course, enjoy!