… as usual I'm a little bit late for this one (it's always the same old excuses) but now we're well and truly ensconced at the cottage I can finally relax and catch up with all the lovely cooking… and the lovely Julia from A Slice of Cherry Pie set this challenge over a month ago… pretty simple; bake something, take a photo of the snow and then write about it in a new post…
… a weeny bit disappointed that the second big freeze of 2010 hasn't quite reached this part of Lincolnshire… oh it has snowed… but nowhere near as much as some friends and family around the country… we are due for a heavy downpour during the week, so fingers crossed…
… so here's a pic of the entrance to our little village which The Viking took last week…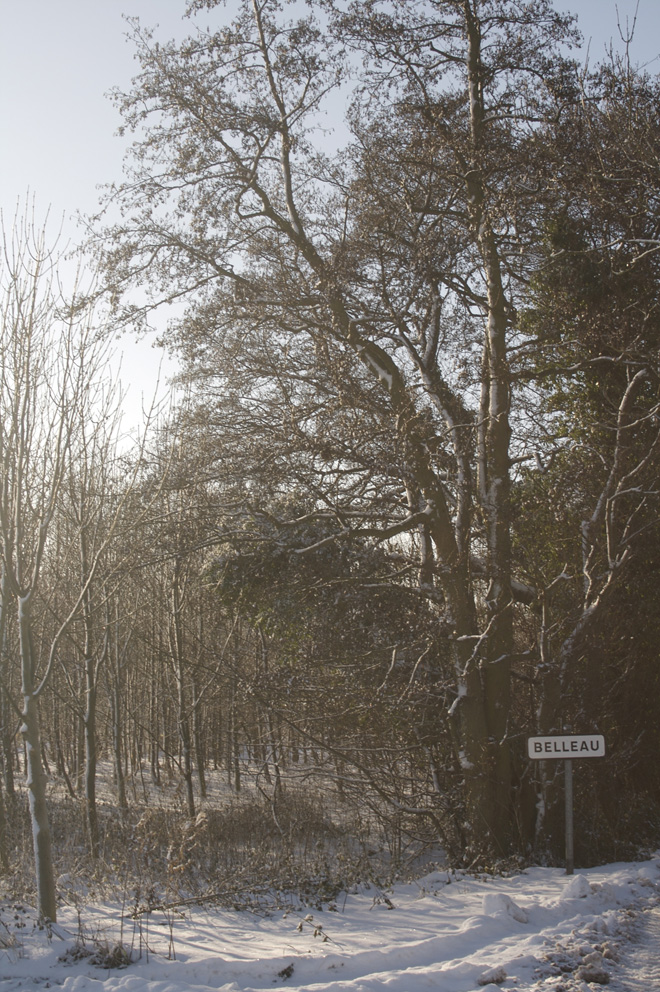 … and here's a pie…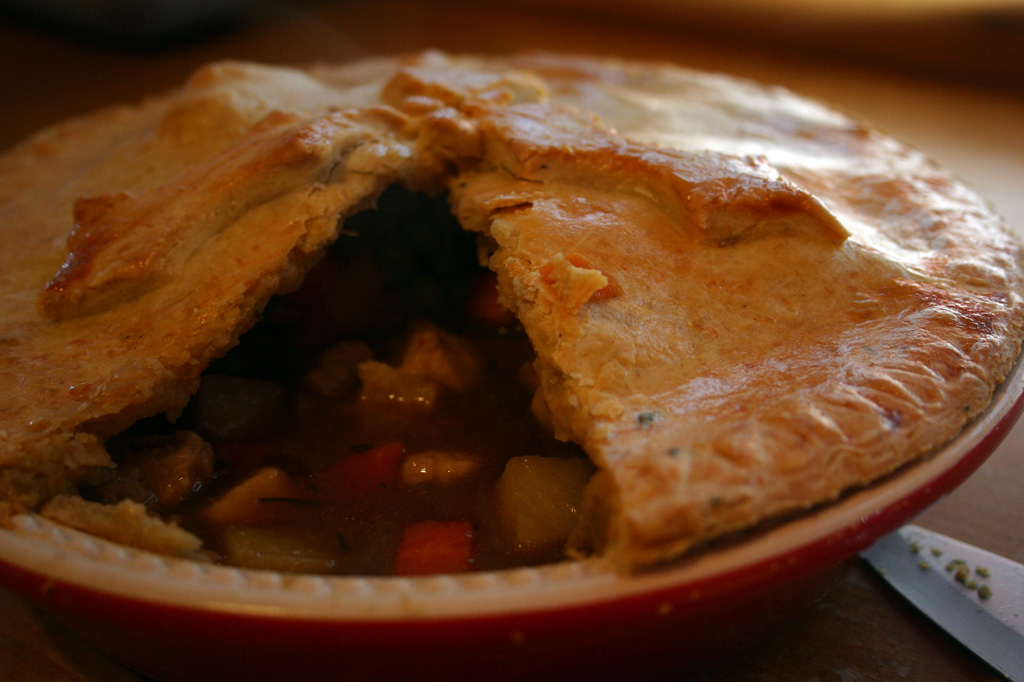 Vegetarian Winter Pie


… we were watching TV this morning and for no apparent reason The Viking said the word 'pie.'  I think he says things randomly so that they enter my subconscious and I'm forced to do something about it… well whatever… it worked pretty well…
I have some chicken thighs in the fridge and I was planning some kind of stew-type thing and working out what I could do for The Big V when it dawned on me that perhaps I could forgo the meat this time and make one lovely, delicious, veggie pie that would make us all happy!… I dug out some Quorn Chicken Style Pieces (available at all good UK supermarkets) and made this very warming winter pie…
… I've made a cheesy herb pastry to add a little zing and I'm very happy with it!
For the Filling


one medium onion – finely diced
2 cloves garlic – crushed
1 medium leek – chopped
1 large carrot – diced
1 medium potato – diced
a handful of mushrooms
a handful of frozen peas
1 bag of  Quorn Chicken Style Pieces
some homemade gravy
a glass of white wine
For the pastry


12oz plain flour
4oz butter or margarine
2oz grated cheese (I've used a strong cheddar)
1 teaspoon mixed herbs (fresh is good but dry will be perfectly fine)
1 egg
some cold water to mix
– first make the pastry… then refrigerate for at least 30mins
– whilst it's in the fridge make the filling… saute the onion and garlic in a large pan of melted butter and oil, once softened add the  Quorn Chicken Style Pieces and saute till brown… if you can't get these or prefer not to use them you could try adding an extra vegetable such as a suede or more mushrooms… or real chicken?
– add the rest of the veg except the peas and saute till soft… you could put the lid on the pan for 5 mins.
– make up a good veggie gravy, with some white wine and add it to the pan and let the whole thing simmer for a while adding a couple of bay leaves.
– add the peas, stir and then turn off the heat and let it cool for an hour letting the flavours build in intensity.
– roll out half the pastry and line the base of your pie dish… this will be the first outing for one of my 40th birthday presents, a Le Creuset special…, then fill the pie and place a pastry lid on top and decorate accordingly… I've gone with holly leaves for a festive flavour.
– bake in a warmish oven till golden brown… let it cool for 10 mins and then serve.
oh the joys of a good pie…
eat and of course, enjoy!