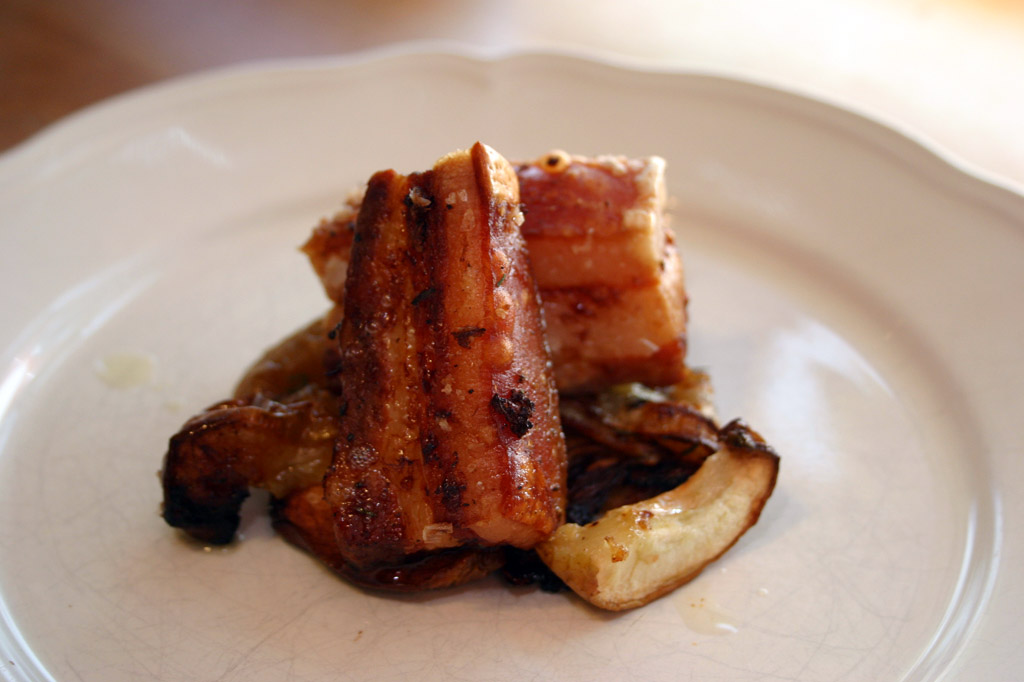 … it's snowing…!
… apparently some weather boffin type person has worked out that this is the first significant early winter snowfall for 17 years… there are parts of the UK under more than 1 inches of snow…! woo hoo!
The Viking has left me alone in the kitchen, travelling down to London for a couple of days and what this means for me is 'meat Thursday'… it's not that he doesn't allow me to eat meat during his presence in the house, it's just that due to his committed vegetarianism I tend to err on the side of chicken and ham and save the blood or fat till he's out of the way… which isn't all that often… so this is a cause for celebration!…
… and so I turn to Pork Belly… the most fatty and succulent of all bellies… a much maligned and misunderstood dish… and to those who don't eat the fat… I yell at the top of my voice "it's supposed to be eaten… it contains all the flavour and if you only eat it on special occasions it wont do you any harm you carrot munching stick-insect!'
… pork belly has actually had a bit of a revival recently in gastropubs up and down the country and I salute that… and I suppose I also have to salute his nibs Jamie Oliver for boosting its popularity… but its neither of these reasons why I love it so much… for that passion I have to thank Alejandro who trained with El Bulli and is one of the worlds leading 'scientific' chefs… I was lucky enough to dine in his beautiful mountain top restaurant a few years ago and eat the most incredible, unctuous, crispy, heady scented pork belly i've ever eaten…
… we were working closely with Glenmorangie whisky, designing event guidelines for them as they had recently been acquired by the LVMH group.  The guidelines were a lead for the international markets on how to promote the newly rebranded whisky… how to put on a launch party, what venues to use, what the staff should wear, what food to serve at the parties…etc etc… we also designed a set of menu's for the guidelines and employed the fabulously talented Alejandro to work with the whisky and create food to compliment the tasting….
…and one of the dishes he designed was this roasted pork belly with apple, ginger and Quinta Ruban Glenmorangie…
… it's the slow roasting, combined with the ginger and orange scents in the whisky that make this dish so rich and succulent.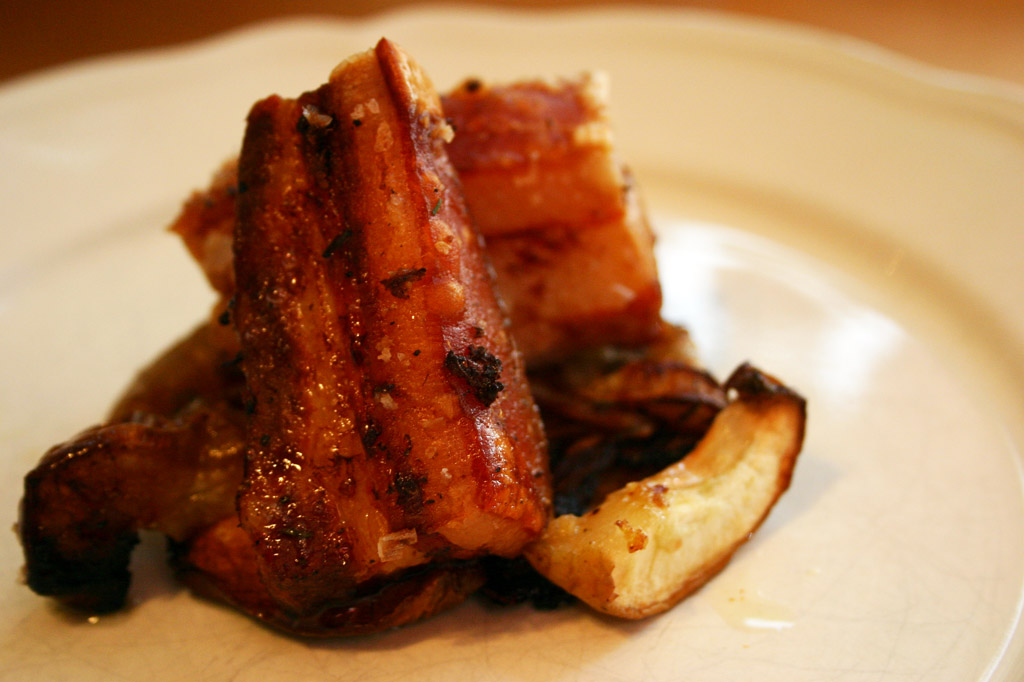 Recipe


1 cut of pork belly (I bought mine ready cut into fingers but you could use a whole slab)
2 cox's apples – cut into wedges
1 medium onion – cut into wedges
fresh ginger – grated
salt and pepper
fresh thyme
a glug of Glenmorangie whisky – Quinta Ruban if you can get it.
– score the pork belly skin and rub with the salt and grated ginger
– place the apples and onions into an oven proof dish, sprinkle with thyme and a little olive oil
– place the pork belly on top of the apples and onions and then slam it into a really hot (200) oven for 30 mins, then turn down the heat (160) for a further 2 hours.
– 30 mins before the end of cooking splash on a generous glug of Glenmorangie… the smell in the house will be unbelievably good!
– serve with something green
eat and of course, enjoy!