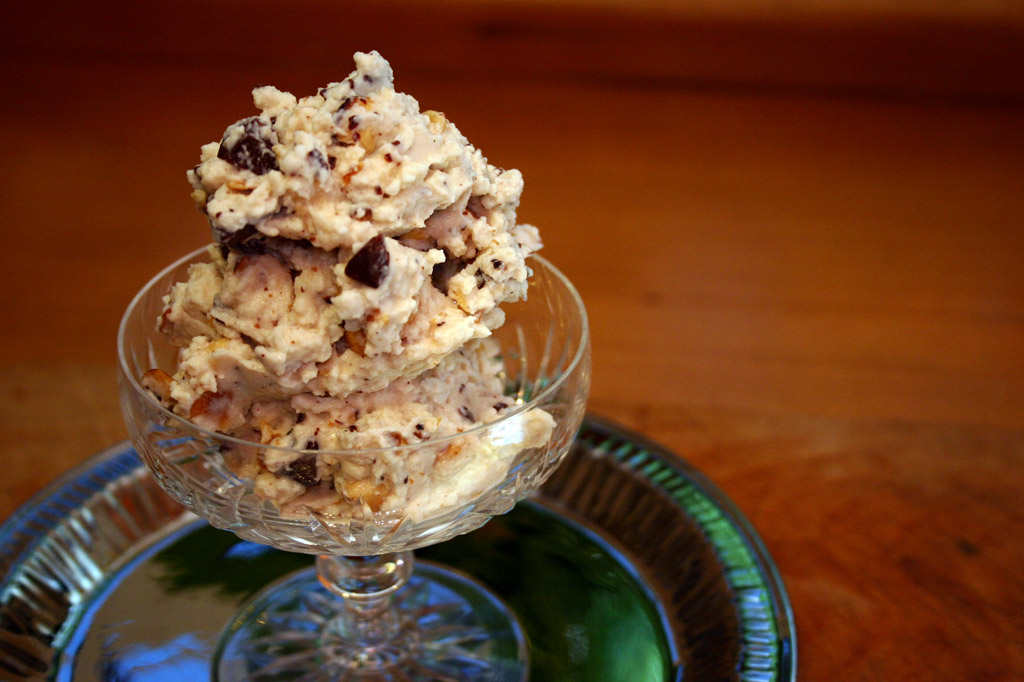 … I had such great plans to make a chocolate and hazelnut cake for the 'we should cocoa' challenge this month… and use pureed chestnuts in it too (just to prove BVG wrong) … but then Tracey bought me an Ice Cream Maker and things kind of changed…
… this is a very very very late entry due to my commitments in London this week, in fact I have missed the deadline completely… but here it is nonetheless…
Ludicrously Chunky Toasted Hazelnut and Chocolate Chunk Ice Cream


1 small packet of hazelnuts
1 large bar of fabulous dark chocolate (I used Green and Blacks 72%)
225ml cream
225ml semi skimmed milk
50g sugar
An ice cream maker is not essential but it does make the whole thing a lot easier so just get your neighbour to buy you one for goodness sake!
– crush the nuts with a rolling pin and then toast them in a dry frying pan till they're toasty (technical term) and they start to give off that stunning aroma that only toasting them can do… be careful not to burn… there's a very fine line between toasty and burnt and it tastes horrid!
– gently warm the milk and melt the sugar in to it (this can be done on the stove or in the microwave) … you do it so that the finished ice cream doesn't have that granulated texture from the un-melted sugar
– let the milk cool in the fridge till cold
– break the chocolate bar into chunky chunks and then combine all the ingredients
– add to the Ice Cream Maker and let it do it's magic baby!
simple, chunky… and bloody tasty!
eat and of course, enjoy!