well… I'm back from the beautiful island of Majorca… we had a wonderful time restoring the batteries and browning our bodies… it wasn't quite the incredible culinary feast but to be honest, I wasn't really expecting it to be.  Don't get me wrong… it's not that Majorca doesn't have a plethora of amazing, tantalising and delicious dishes to tempt me… and whilst i'd love to be able to spend the week eating in the best restaurants and sampling the finest food it's simply not practical when there's day-long sun-bathing to do… marathon scrabble sessions…. swimming in the mill-pond still sea and general lazing around… plus it's bloody expensive!
We did, however; find some hidden gems, meet some wonderful friends who treated us very kindly to the most incredible vegetarian paella we've ever tasted, eat lots of helados, drank lots of coffee, made tortilla till my arms ached, drank lots of coffee, ate the sweetest peaches that made my teeth hurt, drank lots of coffee, ate in what i would consider one of the best restaurants in the world and generally drank lots of coffee…
and this is where I should start… if a drink, on an al fresco table, in a bar, in a hotel, by a beach, on an island, on this planet (keeping up?) could become a grid reference for my life… this cafe con leche would be 0000… that's zero, zero, zero, zero… or for the geo-mapping deficient amongst you… it would be 'home'.
the perfect, strong, hot coffee with warm milk… tastes great in the morning as it gently burns your lip as you take the first sip but tastes incredible after a swim in the sea… the salt still in your mouth dissolved by the hot burnt flavour of the coffee… and I don't even drink coffee back at home… this is a treat…
the viking at es vergeret
my claim earlier in this post that we ate in what I consider to be the best restaurant in the world is not lie… but as i'm sure you're aware, these things are totally subjective… the place is called Es Vergeret and I mean sure… does it serve the freshest grilled squid, plucked from the sea that morning? YES…. does it have the most breathtaking cliff-top views of an azure blue sea? YES… does it have the loveliest, relaxed and friendly staff on the island? YES… is it always quiet, yet somehow feel buzzing with life? YES… is it 30 minutes up a winding mountain road? YES… if ever you're there, it's worth the visit…YES!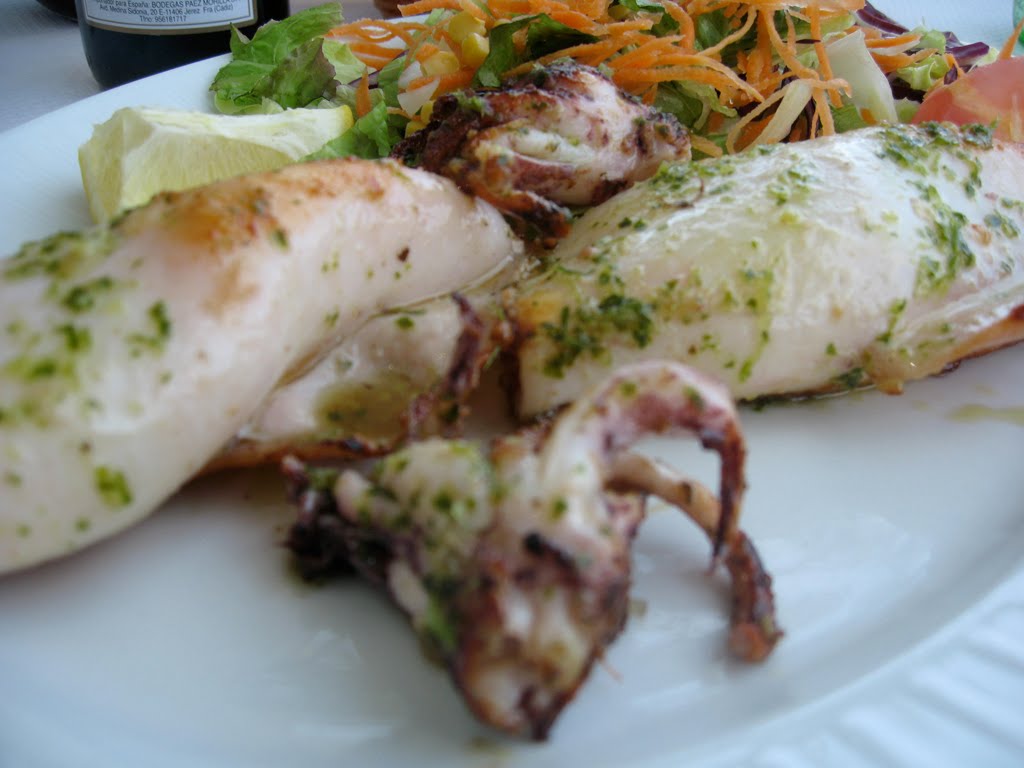 the grilled squid at es vergeret
now I need to unpack… more later x