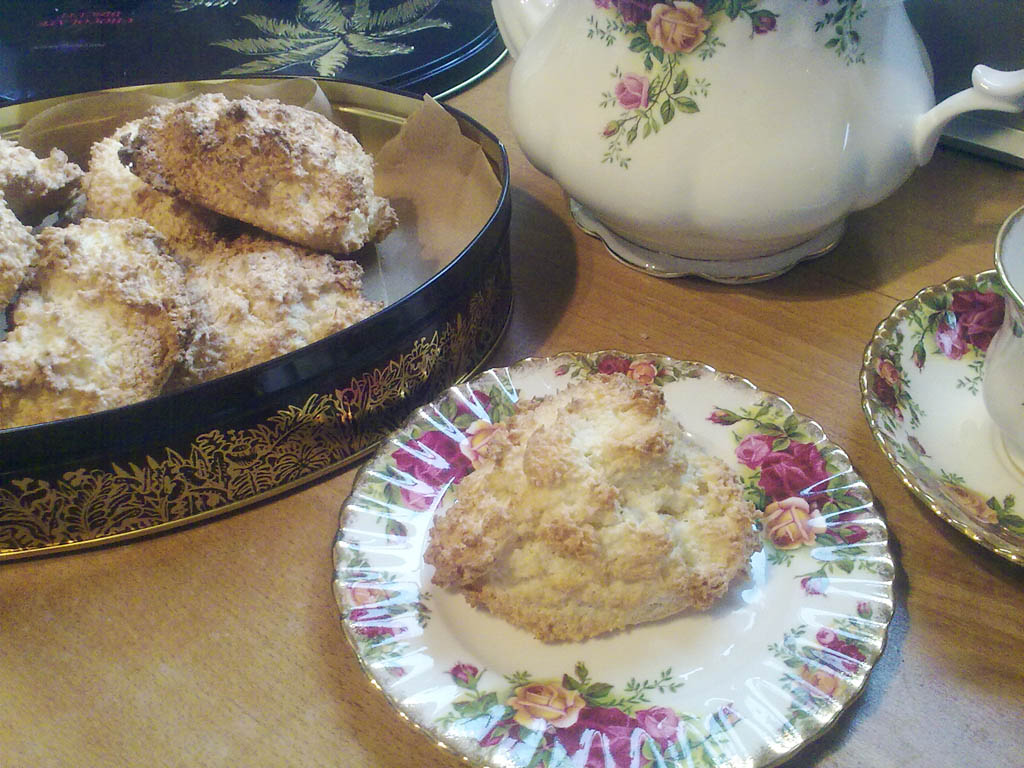 continuing to put to bed the rumour that I am indeed a little old lady wearing an apron in my country kitchen….
gloomy weather back again, miserable news on the television and I need these light fluffy clouds of love…
…plus we sent cakey gifts to clients today and I felt like I needed some of the love!
We have friends coming for tea and these are so easy and quick to make but are so impressive. Plus I had left-over egg-white again from making the rhubarb ice-cream and I hate to waste food.
Ingredients
3 large egg-whites
1/4 teaspoon cream of tartar
150g caster sugar
45g ground almonds
pinch salt
1 teaspoon vanilla extract
375g shredded coconut (or dessiccated if you can't find shredded)
preheat oven to 170.
beat the egg whites until just frothy, then add the cream of tartar and beat again till you have soft peaks.
add the sugar teaspoon at a time until firm peaks are formed and the eggs are nice and glossy.
gently fold in everything else
spoon the mixture onto a baking sheet covered in baking parchment (should get 9 large macaroons,) be generous with the spooning as you want large opulent fluffy cakes…
bake for 20mins… but watch them as they'll turn golden really quickly.  They'll feel soft when you first take them out but as they cool they will solidify slightly and be delightfully chewy.
… the smell that fills the room is a totally tropical hit!  delightful!
eat and of course, enjoy!