In my humble opinion a pudding cake is the best kind of cake there is.  Nothing fancy and designed to be eaten directly out of the dish you made it in. Thick yet light, served slightly warm. An absolute joy to eat.  This all in one plum pudding cake is a great example.
I've been living on the Spanish island of Mallorca for the whole of September.  It's been glorious and the weather, for most, has been spectacular but if I'm honest I'm beginning to miss Autumn.  That's why this dish is so perfect.  It uses the last of the end of summer fruit but is gloriously warming and comforting.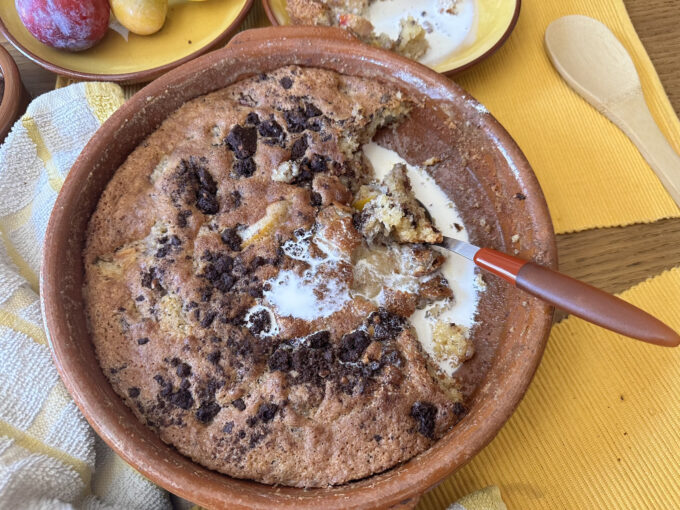 200g salted butter – soft at room temperature
200g white granulated sugar
3 large eggs
150g self-raising flour
50g ground almonds
2 tablespoons cream fraiche or greek yoghurt
4 ripe plums – chopped
6 chocolate and almond cookies – you want the hard and crumbly kind, I used these traditional Mallorcan cookies
I used a 23cm traditional earthenware oven-proof cooking bowl which I made the pudding in and cooked it in.  Any oven-proof dish would work.
Pre-heat the oven to 170C (fan) / 228F
The whole thing can be made in a mixer with the beater paddle but I didn't have one here in my rented Mallorcan kitchen so I went old-school and used a wooden spoon and a fork and it was perfection!
Add the soft butter and sugar to your bowl and beat well for a few minutes until it becomes light and fluffy, add the eggs, flours and cream fraiche and beat it all in well.  A fork will help combine everything nicely.
Add the chopped plums and crumble in 4 of the cookies and stir together well. Crumble the remaining cookies on top.
Bake for 30 mins or until risen and golden.  It might be slightly soft in the middle but this is perfectly fine.  Remove from the oven and cover with a tea towel.  You want to serve it warm not piping hot, so it needs to settle for about 25 minutes.
I love it with cold cream but ice cream would be glorious too.
For more pudding recipes, check these out on Dom in the Kitchen.
Eat and of course, enjoy!