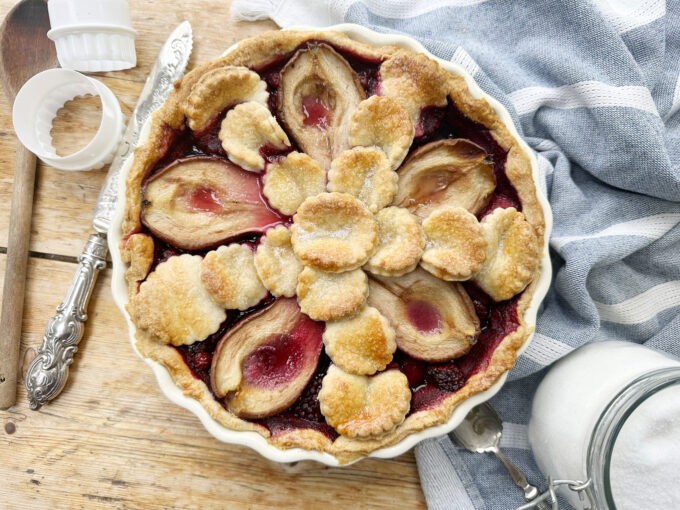 This pear and berry pie is absolutely divine and fingers-crossed it wins me first place in the Aby Village Show which takes place this weekend. I was inspired by this pie by Cassie Best found on the BBC Good Food website which is actually my go-to sites for classic recipes.  If ever I'm thinking 'how do I make…' there will always be an answer there.
I'm back to using frozen fruit again and I have to say, not only is the Morrisons 'Wonky Fruit' Frozen Mixed Berries brilliant but it's also incredibly inexpensive and very tasty.  Well worth checking out in their freezer section.
for the pastry
400g plain flour
200g butter (I use a spreadable butter for convenience)
2 tablespoons icing sugar
2 egg yolks
A little cold water
 FOR THE FILLING
1kg frozen berries
3 conference pairs
The juice and zest of one lemon
2 tablespoons cornflour
1 teaspoon vanilla bean paste
I'm using a 20cm fluted pie dish with a loose bottom.
Make the pastry by placing the flour and butter into a large bowl and rubbing together until they form a light breadcrumb texture.  Sprinkle in the sugar and mix well, then add the egg yolks and a splash of water and combine together with your hand shaped like a claw until a dough ball forms. (You may need a little more water to ensure the ball comes together well.)
Flatten out into a disk, wrap in clingfilm and pop it into the fridge for at least 30 mins.
Meanwhile, add all the ingredients for the filling (apart from the pears) to a bowl and mix well. Halve the pairs and scoop out the core. Set aside whilst you roll out the pastry.
Pre-heat the oven to 180C (fan.)
Divide the pastry into two pieces; one larger piece for the base and one smaller piece for the top.
Flour your work surface and roll out the piece for the base and line your pie dish with it.
Pour the filling into the pie dish and place the pears on top, cut side up. Smoosh together any scraps of pastry into the pastry you've set aside for the top and roll this out.  Cut out fluted disks of pastry and lay them in a pattern onto of the pie.
Brush with egg wash and sprinkle with sugar and then bake for 35-45 mins until the pastry begins to turn a dark golden colour.
For more pie recipes, check these out on Dom in the Kitchen.
Eat and of course, enjoy!