Unless you've been living under a rock you'll know that the 'sando' is the Japanese style sandwich that has gone viral in recent weeks all over social media. This Club Sandwich – 'sando' style takes all the key ingredients of the classic (and what must be my all time favourite sandwich) but done in a sando style. The sando style is essentially over-stuffed and tends to use fluffy white milk-bread and I think the club sandwich which by it's very nature is overstuffed with it's three layers containing bacon, chicken and cheese is the perfect filling.
Jacksons of Yorkshire
I'm working with the amazing folk over at Jacksons of Yorkshire. I'm actually part of the Jacksons Bread Board who are a group of like-minded and self-confessed bread lovers who are working on all kinds of wonderful recipes.  I'll be bringing you a number of gorgeous, seasonal recipes over the next few months and I can't wait to bring a bit of that Jacksons JOY to my readers.
JOY
If you're a connoisseur of the club sandwich you'll know that it's usually made with toasted bread.  Because I'm going for this fluffy 'sando' style I'm using their wonderful JOY Farmhouse Soft White which is part of the same brand as Jacksons of Yorkshire. It's a delightful Farmhouse Loaf with that unmistakable Jacksons taste and is sold in Waitrose and Ocado. It's a source of vitamin d, palm oil free, a source of protein, soya free, dairy free and vegan
However, I'm only toasting the middle layer. I prefer to use my griddle pan for this as I'm using it for the chicken and bacon anyway but a regular toaster or any pan would work.
These ingredients are 'per sandwich'
3 slices of Jacksons Farmhouse Soft White
1 chicken breast
5 slices bacon
half an avocado
2 eggs – hard boiled
cherry tomatoes
lettuce
mayonnaise
dijon mustard
sliced cheddar cheese
Boil your eggs.  I prefer to use room temperature eggs for this and I boil them in a singe layer in a small pan for 10 mins.  Remove them from the heat and plunge them into cold water. Peel and set aside.
Place your chicken breast onto your board and cover with clingfilm.  Bash it flat using a rolling pin.  You want it to be slightly larger than your slice of bread. (It will shrink a little when cooked.) Drizzle both sides with a little olive oil and season with salt and pepper and dried oregano.
Place your griddle pan on a medium heat and pan fry the bacon until nice and crispy.  Set aside.
Pan fry the chicken breast in the same pan for roughly 4 mins on each side.  Set aside on a plate.
Slather both sides of one piece of bread with dijon mustard, then, using the bacon fat in the pan, pan fry this slice of bread.  Set aside.
Time to build the sando.
I'm going to start with the bottom layer of fluffy white bread to which I will slayer generously with mayo, then layer on some lettuce and a tomato followed by the chicken.
Lay the pan-fried slice on top, followed by some squished avocado then the boiled eggs, cut side down. Followed by the bacon and the cheese.
Finally, slather more mayo on the final slice of fluffy bread and lay it mayo side down onto the cheese.
Push gently down on the sandwich, then place it onto a large piece of parchment paper.  Wrap the sandwich tightly before slicing on the diagonal.
Go visit the other Jacksons Bread Board foodies: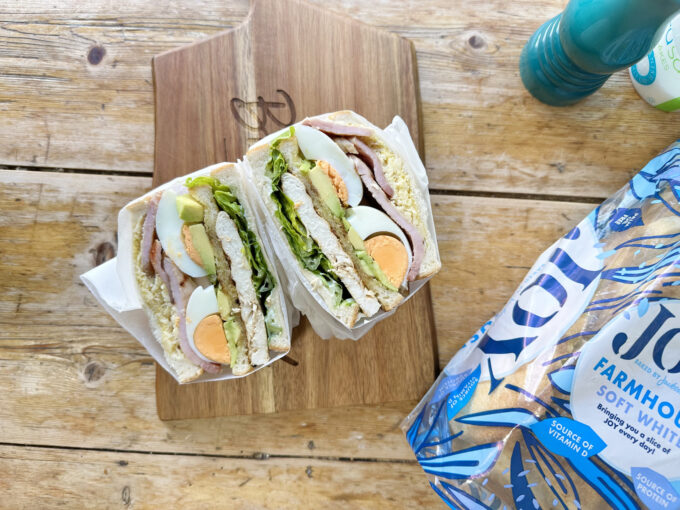 For more sandwich recipes, check these out on Dom in the Kitchen.
Eat and of course, enjoy!