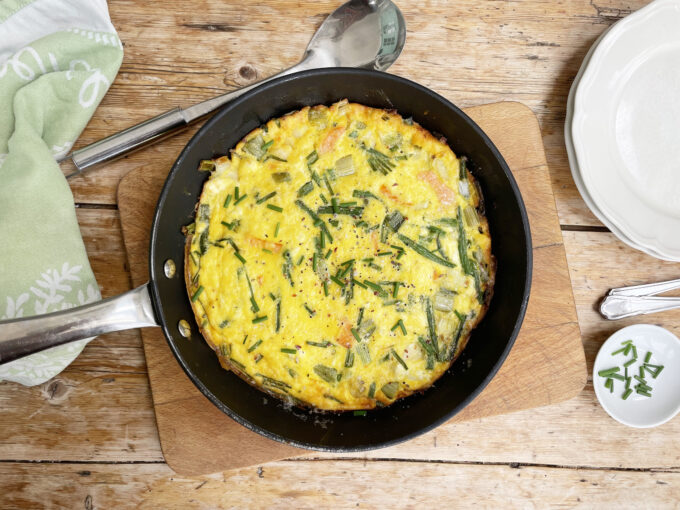 I adore a frittata… it's essentially a crustless quiche or a baked omelette and it really couldn't be simpler to make. Yet it makes a perfect lunch.  There are so many ways to enjoy them with so many ingredients to choose from and I believe that this smoked salmon, green beans and feta frittata is the queen of them all!
Alfred Enderby
I'm using some glorious smoked salmon sent to me by my friends at Alfred Enderby.  They have the last surviving traditional smokehouse in Grimsby and their smoked fish is second to none. They deliver their amazing fish all over the UK too.
Tip: You'll need a pan that can transfer from stove top to oven, so one that has either a removable handle or the handle can go into the oven. Or a skillet. I'm using my xxx
6 -8 large free-range eggs (2 eggs per person / serving)
50ml single cream
100g feta cheese
150g smoked salmon – chopped
1 tablespoon chives – chopped
the zest of one lemon
salt and pepper
olive oil
3 salad or spring onions – chopped
100g green beans
Pre-heat the oven to 170C (Fan)
Crack the eggs into a large bowl and beat in the single cream until frothy. Crumble in the feta, then stir in the smoked salmon, lemon zest and chives.  Season with a little cracked pepper. Set aside.
Place the pan on a medium heat, add a drizzle of olive oil and throw in the spring onions and beans. Allow them to sauté gently in the heat until the peas have defrosted and the onions have started to soften.
Pour over the egg and feta mix and stir everything together in the pan.  Allow the frittata to sit on the gentle heat for about 3 – 5 minutes until it begins to set slightly and pull away and the edges.
Place the pan into the oven for 10 – 15 mins until set and lightly golden on top.
Serve with a sprinkling of chives and plenty of cracked black pepper.
For more egg recipes, check these out on Dom in the Kitchen.
Eat and of course, enjoy!