I'm an absolute nut for my Greek Salad.  It comes a very close second to a caesar as my favourite but much like the caesar, if I'm ordering it in a restaurant I want to know how it's been made.  I'm not saying I'm a food snob but there are certain things that belong in a Greek Salad and certain things that don't.
A classic salad
A classic Greek Salad should be a simple bowl of cucumber, tomato, red onion, feta and Kalamata olives.  It should be served tossed in a light dressing of olive oil, red wine vinegar and dried oregano. And that's it.  I've seen all kinds of additions such as green peppers and salad leaves.  I'm not really a fan of raw green peppers so I tend not to include them but I have added a base layer of fresh rocket leaves just to make it go further.
The very nature of this salad is its chunky quality and all it rally needs extra is some chunky rustic bread to sop up all the gorgeous juices.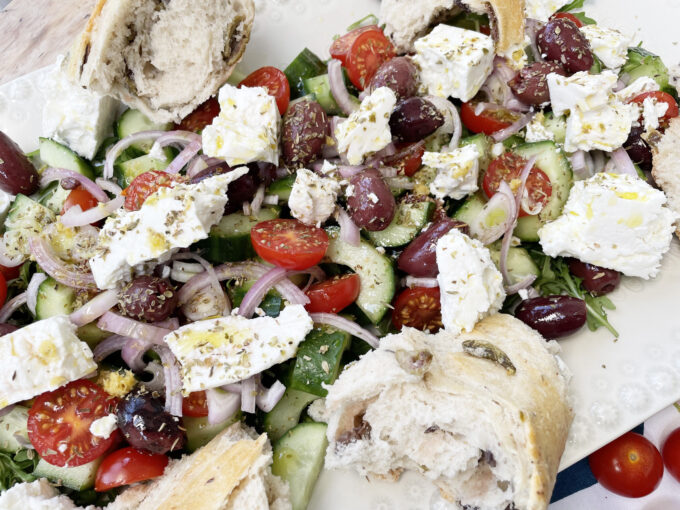 Saying all that, as is my way, I have chosen some alternative versions of the classic ingredients that I think make for a much more sophisticated and prettier looking dish.
1 bag of fresh rocket leaves
1 whole cucumber – stripe peeled, then halved and de-seeded
2 vines of baby plum tomatoes – halved
1 banana shallot – peeled, halved and thinly sliced
a handful of pitted Kalamata olives – i'm using a jar of Odesea which come soaking in their own red wine vinegar
1 block of barrel-aged feta
2 teaspoons dried oregano
2 tablespoons extra virgin olive oil
1 tablespoon red wine vinegar
the juice and zest of one lemon
Build the salad
I'm using my gorgeous Bordallo Pinheiro Fantasy platter from Divertimenti which was sent to me as a PR Sample, but any platter or shallow bowl would work.
Lay the rocket leaves onto the platter and spread them out, then it's a matter of layering the salad.  I start with the chunky cucumber and tomatoes, then the shallots and the feta.  I like to keep it nice and chunky, not too crumbly.
Add the olives and then spoon over some of the wonderful red wine vinegar too.
Sprinkle with a generous amount of dried oregano and the juice and zest of a lemon.
And that's it.  it couldn't be simpler.  I'm serving mine with a lovely olive sourdough and that's lunch sorted!
For more salad recipes, check these out on Dom in the Kitchen.
Eat and of course, enjoy!