Ever since I received a gift of the fabulous Nordicware Bundt Tin from the lovely folk at Divertimenti I have thought about nothing else than making this Easter Carrot Cake Bundt.  I think a bundt cake is the perfect shape for an Easter cake.  It's almost nest-like and its centre can be filled with all kinds of chocolatey treats.
I've gone for a simple carrot cake (cos, you know… bunnies eat carrots) and I've decorated it with a simple cream cheese frosting and some of my all-time favourite chocolate mini eggs.
For the cake
325g plain flour
½ teaspoon bicarbonate of soda
1 teaspoon baking powder
2 teaspoon ground cinnamon
1 teaspoon ground ginger
80g desiccated coconut
280ml lemon olive oil
300g caster sugar
4 large free-range eggs, at room temperature
300g carrots, peeled and grated
A handful of Cadbury's mini eggs
For the cream cheese icing
60g icing sugar
120g full-fat cream cheese, at room temperature
1 tbsp honey
Juice 1 lemon
I used my 2.4 litre bundt tin. Heat the oven to 160°C fan
Generously grease the tin using a pastry brush to get into the corners of the tin. I honestly thing you should forgo butter and use a release spray.  I use this one.
Sift the flour, bicarbonate of soda, baking powder, cinnamon and ginger into a large bowl. Stir in the coconut and set aside.
Place the mini eggs in a sandwich bag and whack a few times with a rolling pin.  You want large chunks and shards. Set aside.
Put the oil and sugar in another large bowl and whisk until pale and thick. (I did this in my stand mixer.) Add the eggs, whisking after each addition, then add all the grated carrot.
Fold in the flour mixture, followed by the crushed mini eggs, then pour the batter into the greased bundt tin and bake for 45 min, or until a skewer inserted into the centre comes out clean. Leave to cool in the tin for 15 min, then turn the cake out onto a wire rack to cool completely.
To make the icing, sift the icing sugar into a medium bowl then add the cream cheese, honey and lemon juice. Beat until smooth and runny, adding a dash more lemon juice if the icing is too thick – it needs to have a pourable consistency but not be so runny that it runs off the cake. Pour over the bundt, then add more mini eggs.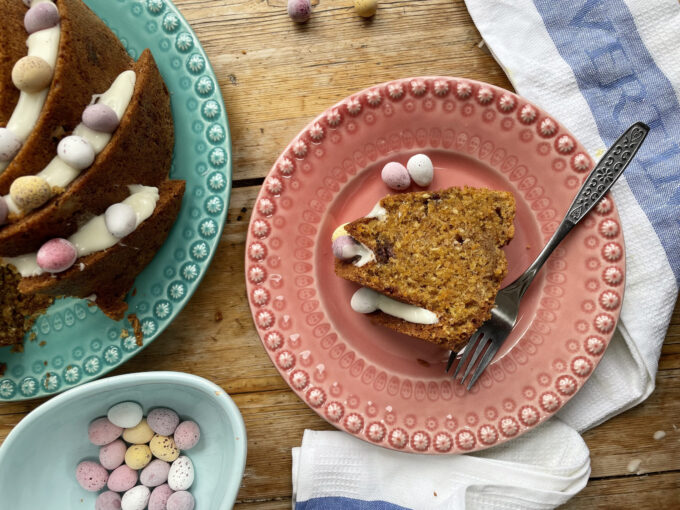 For more Easter baking ideas, check these out on Dom in the Kitchen.
Eat and of course, enjoy!