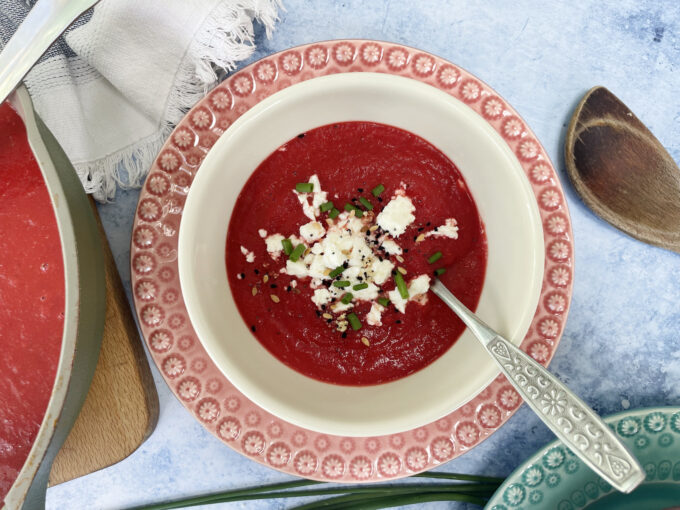 This Beetroot & Feta Soup is the perfect dish for the cooler nights that these late summer days are bringing.  The salty feta complements the sweet beetroot perfectly. One of the many things I love about this soup is that it can be eaten warm or cold.  Fridge cold is preferable.  It just has such a sweet and salty tang that it works so well and a chilled soup.
I also adore the colour of this soup.  It's unmistakably a beetroot red but with the added feta it turns a gorgeous deep pink that has both summer and autumnal vibes.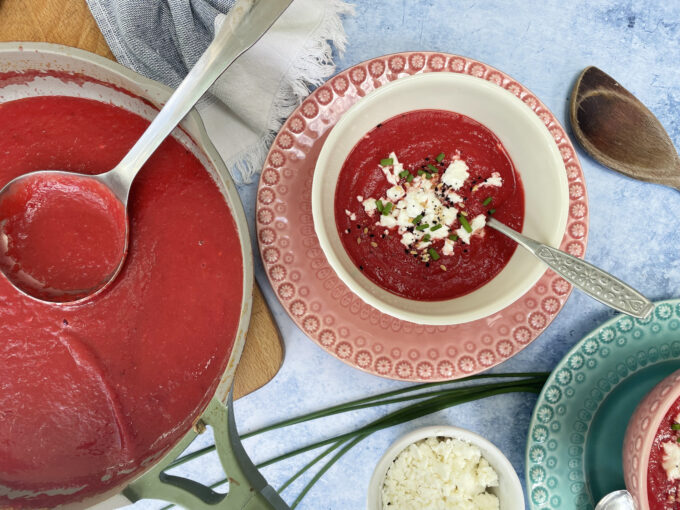 olive oil
2 large salad onions – chopped
3 medium beetroot – peeled and chopped
2 carrots – peeled and chopped
5 new potatoes – chopped
2 cloves of garlic – finely grated
1 litre good quality vegetable stock
1 teaspoon fresh herbs – I used rosemary and thyme
1 tablespoon tomato puree
salt and pepper
1 block of feta cheese – I love the barrel-aged one from Sainsbury's.
In a large deep pan on a medium heat, add some olive oil, then throw in the onions and sauté for about 3 mins until soft.  Then stir in the beetroot, carrots and new potatoes.
Stir in the grated garlic and the fresh herbs, turn the heat down to it's lowest and place a lid on the pot.  Let the vegetables sweat for about 6 mins.
Once the veg have begun to soften, add the tomato puree and the stock and stir well.  Let the whole pot simmer gently for 25 mins until the vegetables are fully soft, then take the pot off the heat and allow the soup to cool for 10 mins.
Stir in half the block of feta and then using a stick blender, whizz to a creamy thick blended soup.
Serve with crumbled feta on top.  If you want to serve it cold, place it in a container and chill for at least 2 hours, if not overnight.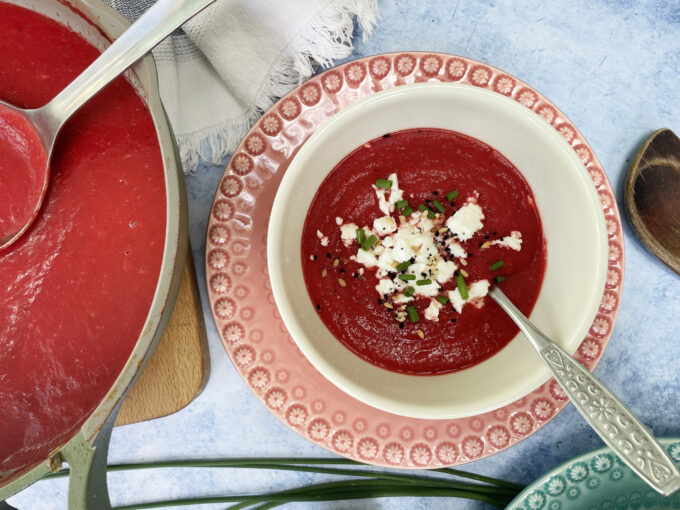 For more soup recipes check these out on Dom in the Kitchen.
Eat and of course, enjoy!