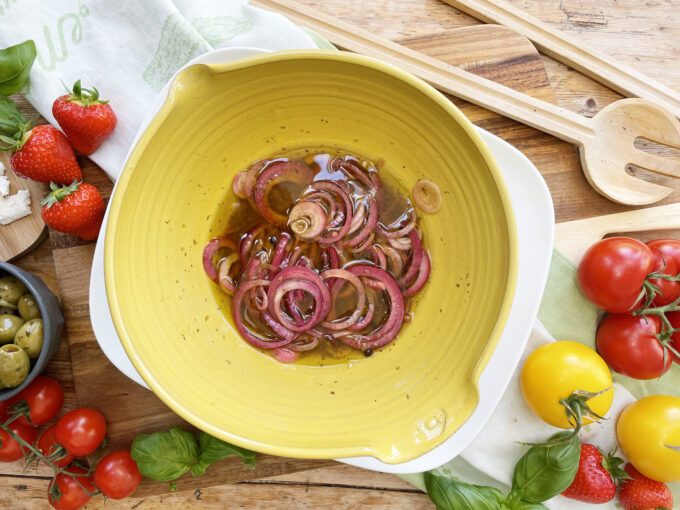 Pickled red onions are everywhere at the moment and I am obsessed.  M&S do a very good version but I really wanted to make my own. Obviously I trawled the internet looking for inspiration and there are a lot of similar style recipes for regular pickled onions.  I then looked over at the amazing No Crumbs Left and Terri's recipe for what she calls 'Marinated Red Onions' really spoke to me.
I love that hers are part pickle, part marinade.  It's the inclusion of olive oil that does this.  They won't keep as long as jarred pickled but quite frankly you don't need them to, they will literally garnish every meal.  So I've riffed a little off her original idea.  Mine are definitely more pickled than marinated but they have that wonderful sweet and sharp mix that I love.
1 red onion – finely sliced
4 tablespoons extra virgin olive oil
2 tablespoons cider vinegar
1 teaspoon balsamic vinegar
1 teaspoon honey
1/2 teaspoon black peppercorns
half a teaspoon dijon mustard
1/2 teaspoon dried oregano
Add all the ingredients to a bowl (or jam jar) and stir well.
Peel and slice your onion finely – a mandolin could do this for you but a steady hand and sharp knife will give ou the results you're after.  Place the onions into the bowl with the liquid and ensure they are submerged well.
Leave for at least 12 hours before using.  They will keep for at least 2 days either in or out of the fridge.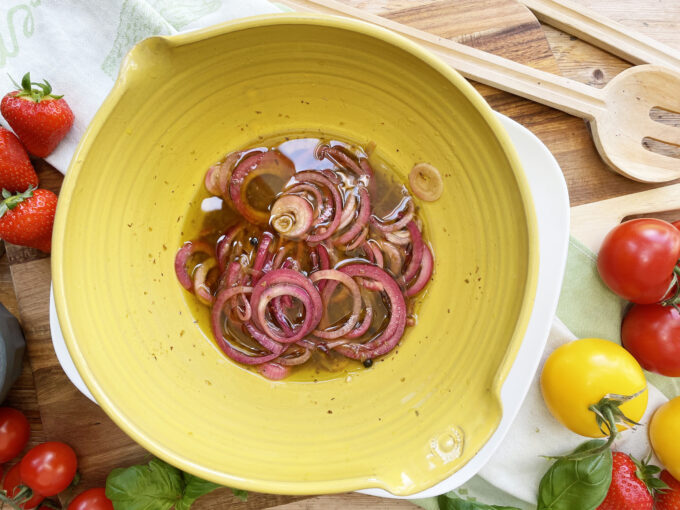 For salad recipes to enjoy these with try these on Dom in the Kitchen.
Eat and of course, enjoy!