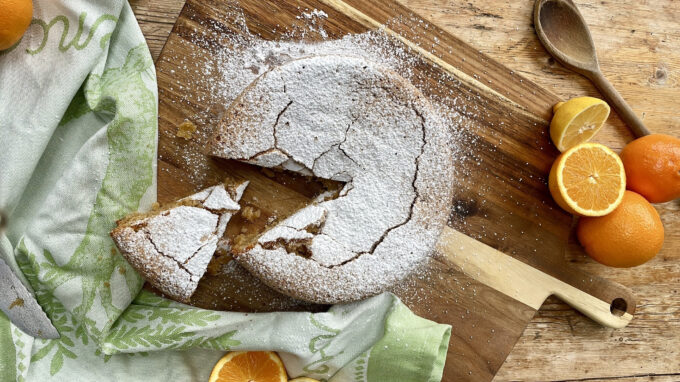 Having just returned from Mallorca I am still buzzing from all the incredible food we ate.  This Mallorcan Almond and Citrus Cake is inspired by that trip. There are the many wonderful and traditional Spanish dishes that you'd expect but they also have lots of local twists to these classics that often include the history of the island and both its European and North African anthropological heritage. One thing we noticed on this trip was the tradition of eating almond cake with coffee.  The almond cake is a very simple, fatless cake that also just happens to be gluten-free.  The ground almonds add a wonderful middle-eastern quality to the cake and the citrus zest celebrates the many hundreds of circus groves that can be found on the island.
4 large free-range eggs (weighing in at 250g)
250g golden caster sugar
250g ground almonds
the zest of one orange
the zest of one lemon
1 teaspoon cinnamon
You will need a 20cm loose-bottomed tin, which you should grease and line with parchment paper.
Place the eggs and sugar into the bowl of a stand-mixer and beat for at least 5 mins or until the mixture become pale and fluffy.  Add the citrus zest, ground almonds and cinnamon and fold in gently until combined. Don't beat it too vigorously at this stage as you don't want to knock the air out of the eggs.
Gently pour the mixture into the cake tin and bake for 30 – 35 mins or until the top of the cake is firm and a skewer inserted, comes out clean.  Leave to cool on a wire rack, then remove from the cake tin and dust the top generously with icing sugar.
TIPS:
Due to the fact that there is no butter or oil used, the cake has a tendency to crack as it cools.  This is perfectly normal, in fact it adds to its rustic appeal and I think looks rather wonderful once drenched in icing sugar.
I'm serving my cake on my wonderful new Acacia Chopping Board from Cole & Mason.
For more Mallorcan inspired recipes, check these out on Dom in the Kitchen.
Eat and of course, enjoy!