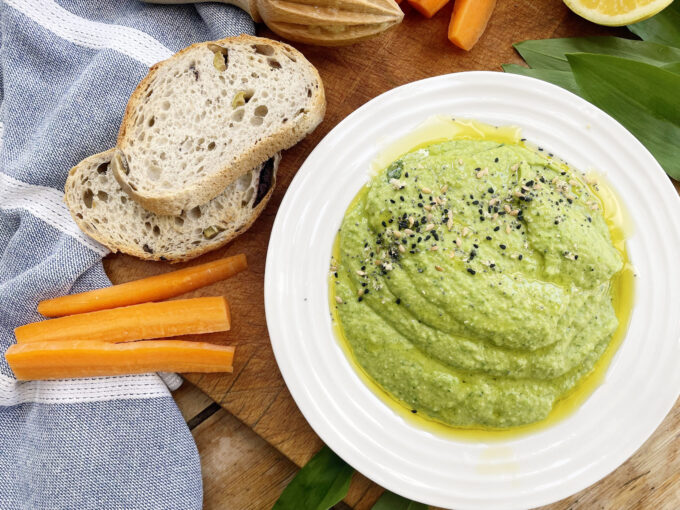 Yup, I've gone hummus crazy and this wild garlic and pea hummus is, in my humble opinion one of the best I've ever made.  The mellow heat of the wild garlic combines so perfectly with the sweetness from the peas.  I'm utterly in love! Also, just look at that colour.
hummus
So, having done a bit of research on hummus, it turns out that there are lots of recipes that vary in a number of intriguing ways.  Using dry chickpeas vs tinned, not using oil in the recipe, using ice, etc etc.  The list goes on and you could get very lost in it all.  I do want to be authentic as I can but I also want it to be quick and easy so I'm going for a recipe insured by the wonderful Yotam Ottolenghi.  He doesn't use any oil in the mx but he does use the aquafaba (cloudy water from the tin) plus an ice cube.
I have to say, it's rather a superior hummus to the previous ones i've made and just as simple.  I used the frozen peas as an ice substitute and it's worked quite nicely.
1 x 400g tin of chickpeas – drained and rinsed
40g (small handful) of wild garlic leaves – finely chopped)
70g frozen peas (must be frozen)
the zest and juice from 1 lemon
3 tablespoons tahini
3 tablespoons of chickpea liquid (aquafaba) from the can
a pinch of salt
a pinch of ground cumin
Pre-heat your oven to 180C (fan)
Wash your wild garlic thoroughly and chop well, then set aside.
Place the wild garlic and chickpeas into a food processor and process for 1 minute until turned to a rough pulp. Add all the remaining ingredients and process until you have a creamier consistency. It will be slightly grainy but that's ok. If it's dry or you want to thin it out and make it creamier, add more tahini or more liquid from the tin, until you like the consistency.
Drench with olive oil and adjust seasonings, adding more salt, cumin, olive oil, or lemon juice if needed. I've dressed mine with some toasted pine nuts (left over from a pesto recipe coming soon) and some wonderful seeded topper mix from the Cornish Sea Salt Company.
For more salad recipes, check these out on Dom in the Kitchen.
Eat and of course, enjoy!