It may feel weird to have a big salad in the winter months but this roast rainbow veg and lentil salad is the result of eating way too much cake and bread without getting enough tasty vegetables into my life.  Can't help it.  I think like most of us this time of year we turn to comfort food but what I've found in this roast veg salad is a little bridge between health and comfort.  It's all my favourite veg, lentils dressed in a sharp and warming vinaigrette and some leaves, just because it's a 'salad.'
The Veg
I've used all my favourite vegetables.  Root veg roast really well and turn gloriously soft and sweet if you take it low and slow.  Be sure to roast your beetroot separately though or all the rest of the veg will turn pink!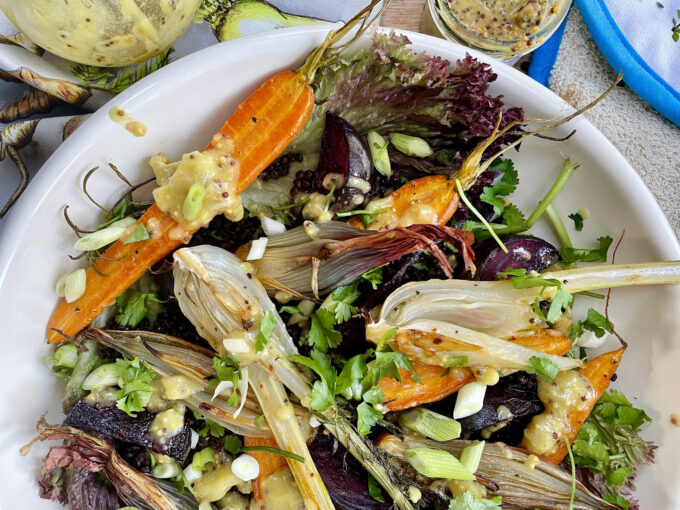 4 large raw beetroot – cut into wedges, unpeeled
olive oil
fresh thyme
2 large carrots – cut lengthways
2 banana shallots – peeled and cut into wedges
1/2 fennel bulb – cut into wedges
1 head of garlic – cut in half through the middle
chilli oil
olive oil
plenty of salt and pepper
1 packet of ready cooked put lentils – I use the amazing Merchant Gourmet ones
a large handful of salad leaves
for the viniagrette
2 tablespoons white wine vinegar
1 teaspoon wholegrain mustard
5 tablespoons olive oil
1 tablespoon lemon olive oil
the juice of half a lemon
a little honey (optional)
Pre-heat the oven to 170C and have 2 roasting tins standing by!
Start with the veg. Lay out the beetroot on one oven tray, drizzle with oil, season well with salt and pepper and some free thyme and toss around with your hands till everything is evenly coated.  Roast for at least 30 mins until the beetroot are tender and sweet. – Set aside.
Next, repeat the same thing with the rest of the veg.  I'm using chilli oil this time but any olive oil will do.  You could change the herbs and seasoning too, depending on what you like.  Again, roast for at least 30 mins until everything is tender.  Set aside.
The vinaigrette
Make the vinaigrette by placing all the ingredients into a jar with a lid.  Squeeze the garlic from the roasted build and add it in too.  Shake vigorously.  Taste to see if you need to add a little honey for sweetness or more lemon to keep it sharp and fresh.
Place the cooked lentils into a bowl and pour over half the vinaigrette and mix well.
Time to build your salad.  I like using a large flatfish bowl, start with the leaves, then the lentils followed by the cooked and cooled veg.  A sprinkling of chopped spring onions and fresh herbs will perk the whole thing up.
For more salad ideas, check these out on Dom in the Kitchen.
Eat and ion course, enjoy!