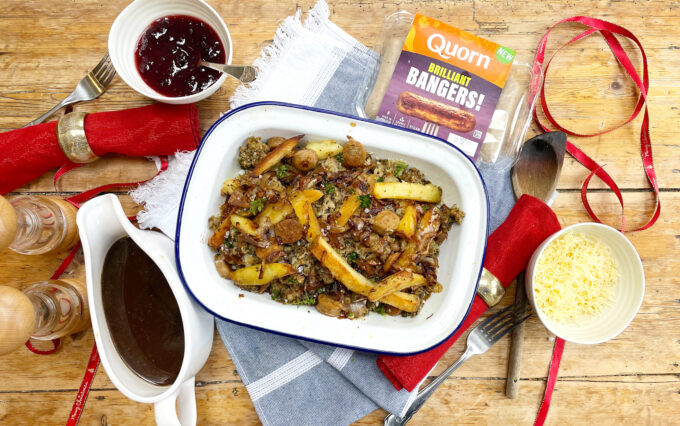 These Festive Loaded Fries are full-on Festive Feasting.  Whether you're making them for a party, for the big day (as an incredible alternative to roast potatoes) or an indulgent snack for yourself to eat in front of your favourite Christmas movie (it's The Muppets Christmas Carol by the way…) every wonderfully indulgent mouthful is a festive banger!
The original recipe was developed as part of a paid partnership with Quorn.  You can find this and more delicious festive recipes on their site.
Recipe
The recipe below makes 1 large tray of loaded fries
4 large white potatoes – I favour a Maris Piper for this
2 banana shallots – finely sliced
6 Quorn Vegan Brilliant Bangers – thickly sliced
Salt and pepper and fresh herbs – I like rosemary and sage for this
1 packet of your favourite vegan stuffing mix
Olive oil
100g vegan cheese – finely grated
1 small jar of cranberry sauce
Method
Pre-heat the oven to 180C (fan)
Make up the stuffing according to the packet instructions – then stir in a good glug of olive oil – set aside to cool.
Cut the potatoes into chunky fries – I like to keep the skin on for added texture
Place the potatoes into some boiling water and par boil them for 5 mins until they begin to get tender but not soft.After 5 mins, drain them well then place the pan back onto a gentle heat to steam off any unwanted moisture.
Pour a dash of oil and seasoning into the pan with the chips, place the lid on and bash them about until the chips are coated well.Lay them onto a baking tray and roast for 20 mins.
After 20 mins, add the sliced Quorn Brilliant Bangers and shimmy everything around in the pan.Tear off little chunks of the stuffing and dot them on top of the fries and bangers.  Keep the little bits of stuffing quite rough at the edges as these will get nice and crispy. Place them back into the oven for a further 15 mins.
After 15 mins your fries, Brilliant Bangers and stuffing pieces should be nicely golden. Take them out of the oven and sprinkle the top with cheese.  Place the tray back in the oven for a further 5 mins until the cheese has melted
Serve with a drizzling of cranberry sauce and your favourite vegan gravy.
Eat and of course, enjoy!