Is there anything more wonderfully comforting than a pie?  I think not, and this leek mushroom and spinach pie with a cheesy sauce, is one of the best. Even if I say so myself! For me, pastry feels like such a treat, even though it's really quite a basic thing. Just flour, water and butter, but those three ingredients can make such a magical meal. So anything wrapped in pastry is always so special.  Especially when you've gone to the effort to make it yourself.
ruff puff
I love this 'ruff puff' pastry recipe.  It's perfect for this leek mushroom and spinach pie with a cheesy sauce. It's actually a breeze to make but you do need plenty of time.  This is the kind of pastry you need to make on a lazy Sunday and then either freeze for later or keep refrigerated until you need it. It will last for at least 48 hours in the fridge, so it means you can make this on a Sunday ready for a fabulous mid-week meal on a Wednesday.  Perfection!.
for the filling
a handful of chestnut mushrooms – thickly chopped
butter and olive oil
rosemary and thyme
salt and pepper – I'm using the wonderful salt and peppery from Cornish Sea Salt
1 large leek – chopped
1/2 a white onion – finely chopped
1 300g bag of baby spinach leaves
for the cheesy white sauce
500ml milk
50g butter
50g flour
1 x round of Boursin cheese – I used the original garlic and herb one
100g strong cheddar – grated
for the pastry
60

g

butter

 – 

grated and then frozen

200

g

butter

 – 

grated and then frozen (I always use lightly salted butter)

350

g

 cold 

plain flour

 (pop it in the freezer the night before you want to make this)

roughly

150

ml

 

ice cold water

mixed with a teaspoon of freshly squeezed lemon juice
As part of my Top 5 Pan series, for this recipe I'm testing the 26cm Anodised Fry Pan from Denby.  I love this pan.  It has a comfortable weight to it and the non-stick surface is perfection!.
The 'ruff puff' Pastry
Place the flour into a large bowl and using your fingertips, quickly rub in the 60g of butter, then add the water / lemon juice mix a tablespoon at a time.  You can stir this with a wooden spoon but I like to use my hand shaped like a claw as I can feel the flour and water begin to form the dough so I know how much liquid to add.  You want to add enough liquid to form a firm dough that isn't too tacky.
Knead the dough fora couple of minutes then wrap in clingfilm and pop in the fridge for about 10 mins.
Flour your work surface and roll the dough out into a long rectangle with the short side nearest you, then sprinkle the bottom 2/3rds of the rectangle with half the grated frozen butter. (Push it down into the dough slightly.)  Fold over the top un-buttered third towards you and then fold the bottom third back over the top so that you have created 6 layers of dough/butter/dough/butter/dough/butter.
Turn the dough 90 degrees and roll it out again into a rectangle and repeat the above with the remaining butter.  Roll it our again after this and fold, then wrap and refrigerate for a good hour.
Repeat the roll and fold process again three more times but don't worry about refrigerating the dough between each fold.  if you work fast you really won't need to.
After the 5th roll and fold, wrap it and pop it into the fridge for at least an hour before using. (You can freeze at this stage.)
The Filling
Start with the mushrooms, which I gently sauté in a pan with a little butter and olive oil.  Season well with salt, pepper and plenty of fresh rosemary.  Sauté until they are golden brown, then remove from the pan and set aside.
In the same pan, add a little more oil and butter and then add the leeks and onions and sauté gently until the soften.  This should take about 8 mins with a little stirring.  Season well and then bung the bag of spinach on top.  Turn the heat to its lowest and let the spinach wilt.  This should take about 5 mins. Then stir it in along with the cooked mushrooms.
The Cheese Sauce
Place the milk, butter and flour into a saucepan on a gentle heat and whisk gently until it thickens.  You must whisk and whisk or you'll get lumps.  It will take roughly 8 mins to thicken.  If it looks like it's turning lumpy simply remove it from the heat and stir.
Stir in the grated cheese and cream cheese and then when it's gloriously glossy tip the cooked vegetables into it and stir it all together.
Time to build the pie
Pre-heat your oven to 170C fan.
I'm using a round 26cm ceramic pie dish but to be honest, any type of pie dish will work.  Butter it well, then divide the pastry into two even halves.  Pop one back into the fridge and roll the other one out so that it's large enough to cover the inside of your pie dish.
Roll out the other half of the pastry in preparation.
Pour the filling into the pastry-lined pie dish. Then lay the second half of the pastry on top.  Seal well all the way around and crimp or decorate the top of the pie to your liking.  Trim the edges of the pie and then use the trimmings to make some pretty shapes to lay on top.
Brush the top of the pie with a little milk and then bake in the oven for 30 – 40 mins until the pie crust is gloriously golden and the filling is piping hot.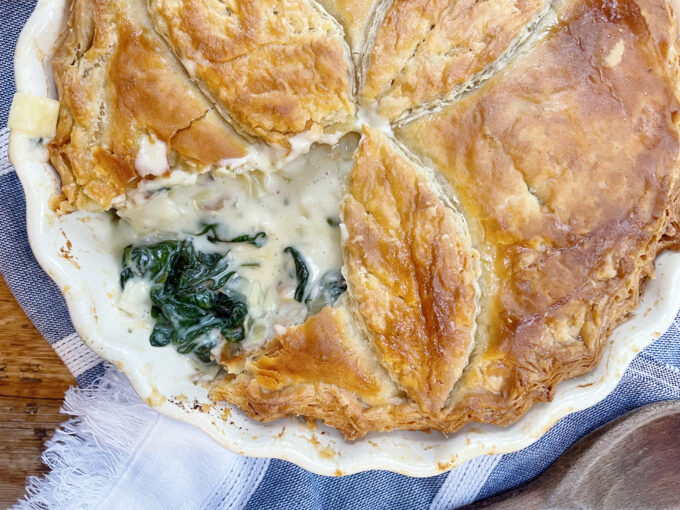 Check out Dom in the Kitchen for more pie recipes.
Eat and of course, enjoy!