What to do with a stale tea loaf that you totally forgot to freeze before going away for a long weekend? The answer is this tea loaf bread and butter pudding. Is there a more comforting dessert than a bread and butter pudding? I think not! It's both naughty but you also feel a little smug making it because you know you're not wasting any food.
Bread and Butter Pudding
It's the most basic of desserts yet delivers on all fronts.  It works if you've just got some regular, shop-bought stale bread but it also works wonders on the more fancy of loaves.  It even works for stale scones or even croissant.  I've used half the swirl tea loaf I made with the wonderful Ahmad Tea. It already had a wonderful brioche-like texture to it and had sugar in it which has beautifully caramelised in the baking.  It's also so soft you could literally snuggle beneath its layers and have a little sleep.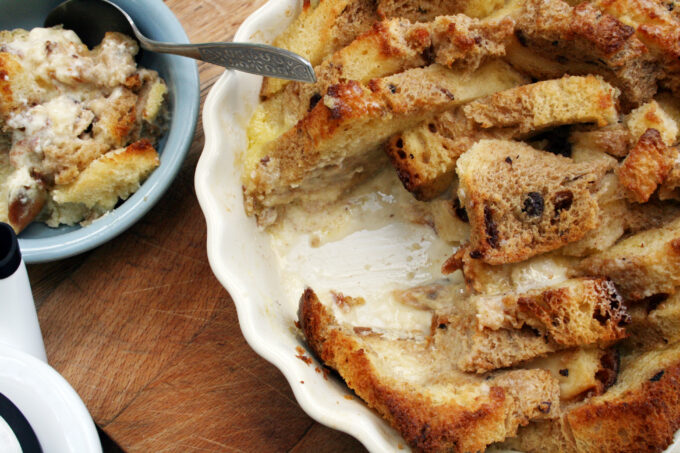 Custard
A basic custard is all that's required here and in fact I don't even bother making a proper one.  because it's going to be baked in the oven the custard will thicken naturally as it bakes.  The normal recipe calls for cream.  I only had some leftover Rodda's Clotted Cream which I added to the milk and let me tell you how amazing it's made it!  It's AMAZING!
For my Tea Loaf Bread and Butter Pudding I used my 20cm round fluted pie dish but any oven-proof dish should work
for the bread and butter
half a loaf of stale bread (3 or 4 days old should do it)
butter – room temperature
1 tablespoon caster sugar
for the custard
2 large eggs
2 tablespoon caster sugar
350ml whole milk
2 teaspoons cinnamon
1 x 227g tub of Rodda's Clotted Cream
Generously butter your baking pan or cake tin and also slice and butter both sides of the bread slices.  Then cut them into triangles. (I like lots of smaller triangles as the tips then get nice and brown in the oven but this is just my aesthetic styling.) Lay the buttered triangles randomly into your oven-proof dish.
Make the custard by gently warming the milk in a pan.  You want it steaming but not scalding.  Stir in the clotted cream until it is fully absorbed.  Stir in the cinnamon.
In a large bowl, whisk the eggs with the sugar until pale (roughly 3 mins.). Pour over half the milk whisking the whole time. Then once this is well mixed, pour the rest in and stir well.
Pour the custard over the bread and let the whole things stand for at least 20 mins whilst you pre-heat the oven to 170C (fan)
Bake for 25 – 35 mins or until the custard is bubbling and thick and the top of the pudding is golden brown.  Let the pudding sit for a few mins before serving.
For more pudding ideas check out these recipes on Dom In The Kitchen.
Eat and of course, enjoy!