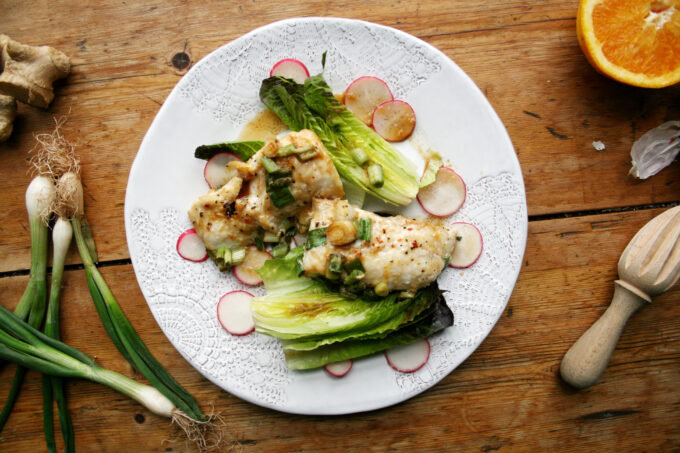 I love this steamed sticky hake with ginger, soy and garlic.  It's one of those super-easy and complete delicious dishes that makes me wonder why I don't eat more fish. I think like many of us we think that cooking fish is complicated or messy but in fact it's as simple and versatile as cooking a chicken breast.  You can be just as creative too.
fish is the dish
I'm not a big fish eater but like with all the food I eat I try and ensure that where possible, the fish I do eat is responsibly fished and locally sourced. Hake is a proper North Sea fish and is a brilliant and far more sustainable fish than cod. I think actually tastes much nicer.  It's thick and juicy and will take on flavours really well which is why it works so well in this dish with its Asian-inspired flavours.
if it swims it slims
I'm also on a bit of a healthy kick at the moment in some misguided delusion that I need to prepare my 'summer body' so fish is always a great low-fat alternative. Plus my Grandma always said "if it swims, it slims!"
Check out some more fish dishes here on my blog and if you want an amazing fish delivery company that will deliver fresh fish to your door anywhere in the UK check out Ish Fish.
This steamed sticky hake with ginger, soy and garlic will serve 2 people as a main.
2 hake fillets – cut into large chunks
1 tablespoon honey
one tablespoon soy sauce
1 thumb-sized chunk of fresh ginger – peeled and finely grated
1 large garlic clove – peeled and finely grated
the juice and zest of a medium orange
5 spring onions – chopped
Pre-heat the oven to 180C fan and lay a large piece of parchment paper over a large piece of foil and place these two layers loosely into a baking tray.
Place the hake fillets into the tray on top of the foil and paper, then scatter the spring onions on top.
Place the honey, soy sauce, ginger, garlic and orange juice and zest into a bowl and mix well, then pour it all over the fish.
Scrunch the foil and paper over the fish to form an air-tight 'tent' making sure you scrunch up the ends too. Then bake in the oven for 10 minutes.  After 10 mins carefully open up the foil and paper tent and bake for a further 5 minutes to ensure the sauce becomes nice and sticky.
Serve on a bed of lettuce wedges and slices of radish, or with noodles!
Eat and of course, enjoy!