…it's almost the weekend again and i've barely had time to cook let alone blog but then it's been one of those weeks, summed up nicely by a client who exclaimed on Monday that it already felt like Wednesday but was horribly disappointed because it was in fact just Monday… I started the week in Brussels which was sadly not a holiday and which was not in any way glamorous but more like going from one wet and foggy part of Europe, into a tunnel and then out into another wet and foggy part of Europe and i've also been to the highly unglamorous Luton – again sadly not to fly away but to check out the foyer of a new client – I know right, my life in the fast lane eh?  I've managed to squeeze in three HIIT sessions which have started at 7:30am each morning and ended two nights in a row drinking margaritas at my favourite bar in the world, Cafe Pacifico.  I am absolutely and resolutely ready for the weekend…

chicken thigh, sausage and red lentil one-pot roast
So I have been playing around on my InstaStory recently and I've really enjoyed it.  I'm trying to produce one Belleau Kitchen Bake-Off once a week on a Sunday where I do a step by step film of the dish of the day.  I've had lots of lovely feedback and I will continue to do them as and when I can.  The InstaStory only stays live for 24 hours so it's a 'catch it if you can' type scenario.  I kinda love this idea but it would also be nice to capture the little films and eventually I will and start producing proper films.  I may even start my own youtube accounts – I know right, just call me a millennial already… anyway, last Sunday I made this roast chicken thigh dish.  It's a classic Belleau Kitchen meal, one that you've seen hundreds of times but never on film.  The dish itself is gloriously simple to make yet delivers bigly in the taste department… just go ahead and make it already… You can make it today and eat it for lunch tomorrow or freeze it for Sunday or meals during the week… and remember my rule about chicken thighs, skin on and bone in is the best, juiciest and tastiest so don't try and be healthy here, all those bits add to the flavour and you can always remove the skin when it's on your plate… if you have to.  I also love that Ottolenghi recently featured a selection of slow-cooked chicken thigh recipes in The Guardian, hailing the chicken thigh as the tastiest part of the chicken, something that I feel I have been championing for quite some time now!
8 free-range chicken thighs – skin on and bone in.
4 sausages, any kind, I used pork and leek – cut into bite size chunks
1 medium white onion – peeled and cut into chunks
2 sticks of celery – roughly chopped
2 carrots – roughly chopped
5 cloves of garlic – un-peeled
a handful of green beans – chopped
a handful of frozen peas
1 punnet of small mushrooms – chopped
1/2 litre good quality vegetable stock
1 glass of white wine
150g red lentils
fresh herbs
salt and pepper
olive oil
pre-heat the oven to 170C
you will need either a large shallow casserole dish with a lid – I love my Denby one – or an oven-proof dish and foil
place all the veg into the bottom of your dish, season well with herbs and salt and pepper, drizzle with a little olive oil and then get your hands in and toss it all together, pour over the wine.
lay the sausages and chicken thighs on top (skin side up) season again, place the lid on and pop it in the oven for one hour
after an hour, take the lid off, take the chicken thighs out and stir in the lentils.  There should be plenty of juice from the chicken thighs but if it's a little dry add some of the stock… place the chicken thighs back on but skin side down this time, lid on and roast for 30 mins, then lid off for 15 mins
after 15 mins, turn the thighs back over so they're skin side up, add a little more stick if it's looking dry, although it really shouldn't and roast for a final 30 mins with the lid off until the thighs are gloriously golden and crispy.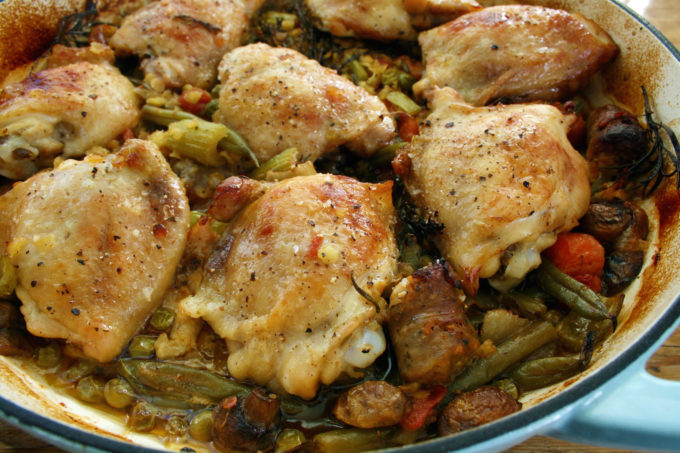 eat and of course, enjoy!