… I fell off the pavement last weekend.  There I was, merrily walking along and my left foot turned in on itself and I heard a very loud twang.  It wasn't that it was particularly painful but that noise and the shock of losing balance brought a tear to my eye and an expletive or twelve to my tongue.  I'm not entirely sure what i've done but it seems fine in the morning and then swells during the day (stop it..) and becomes sore by evening and in a continuing effort to improve my health I even went running on it on Tuesday morning which I think was perhaps a mistake.  The problem is that I can't seem to catch a break.  I get a good two weeks into my personal training regime – which i'm hugely enjoying by the way – and then something goes.  Either I get a cold or my back twinges and now it seems I have something dodgy going on with my hip.  My trainer is brilliant and has incredible patience for my tendency to  break… and before you ask, we're doing all the right things to warm up and ensure i'm not being foolish.  I am getting stronger, month by month but it's been years of laziness and an already broken body that I took to him in the first place.  I keep telling him that i'm like a race-horse… an old race-horse… but he doesn't quite see it and as the saying goes; 'they shoot horses, don't they?'…
cauliflower and butternut squash coconut curry
this is a non slow-cooker version of a coconut and cauliflower curry I made last year which actually didn't come out too well as the cauliflower turned to mush and I like my cauliflower nice and firm… I was meant to make this last weekend but The Viking twisted my arm to make the Yorkshire Pudding plates and so the veg for the curry became the filling for the edible plates… so i'm re-visiting this curry once more.  It was one of those dishes that I made as a comfort meal one weekend back in January which was a hotch-potch of veg I had left in the fridge and the spices that landed on me when I opened the spice cupboard along with some left-over roasted red pepper and tomato dip by Navarino Icons that i've had in the fridge for a little too long… it all came together so beautifully that I thought I'd dedicate some time to remaking it properly.  It's very mild, so feel free  to up the chilli and cumin to add some more spice!
one onion – peeled and roughly chopped
2 inches of celery – chopped
2 carrots – roughly chopped
5 small new potatoes – roughly chopped
1 small cauliflower – pulled into florets
1/2 medium butternut squash – peeled and roughly chopped
a large handful of green beans – chopped
1/2 teaspoon cumin seeds
1/2 teaspoon black mustard seeds
1/2 teaspoon fennel seeds
1 teaspoon ground turmeric
1 teaspoon ground paprika
1/2 teaspoon chilli powder
small tin of chopped tomatoes (or 4 tablespoons of tomato and pepper dip if you have)
large tin of coconut milk
pre-heat the oven to 150C – you will need a large oven-proof and hob-proof casserole dish with a lid
heat some butter and olive oil in a large casserole dish and throw in the onions and celery, stir and let them sweat on  agent heat for about 5 mins until they begin to soften, then add the cumin seeds, mustard seeds and fennel seeds and stir and again gently heat through for another 5 minutes, then add all the veg apart from the beans, stir it all together and place the lid on and let them all sweat together for 10 mins, stirring occasionally… it's not a bad thing if the bottom of the pan gets slightly golden, just ensure the veg don't burn too dark
after 10 mins add the remaining spice powders and stir together along with the chopped tomatoes and coconut milk, place the lid back on and bung it into the warm oven for at least an hour before serving… I find, with all good stews, letting it cool before gently re-heating always adds a deeper flavour.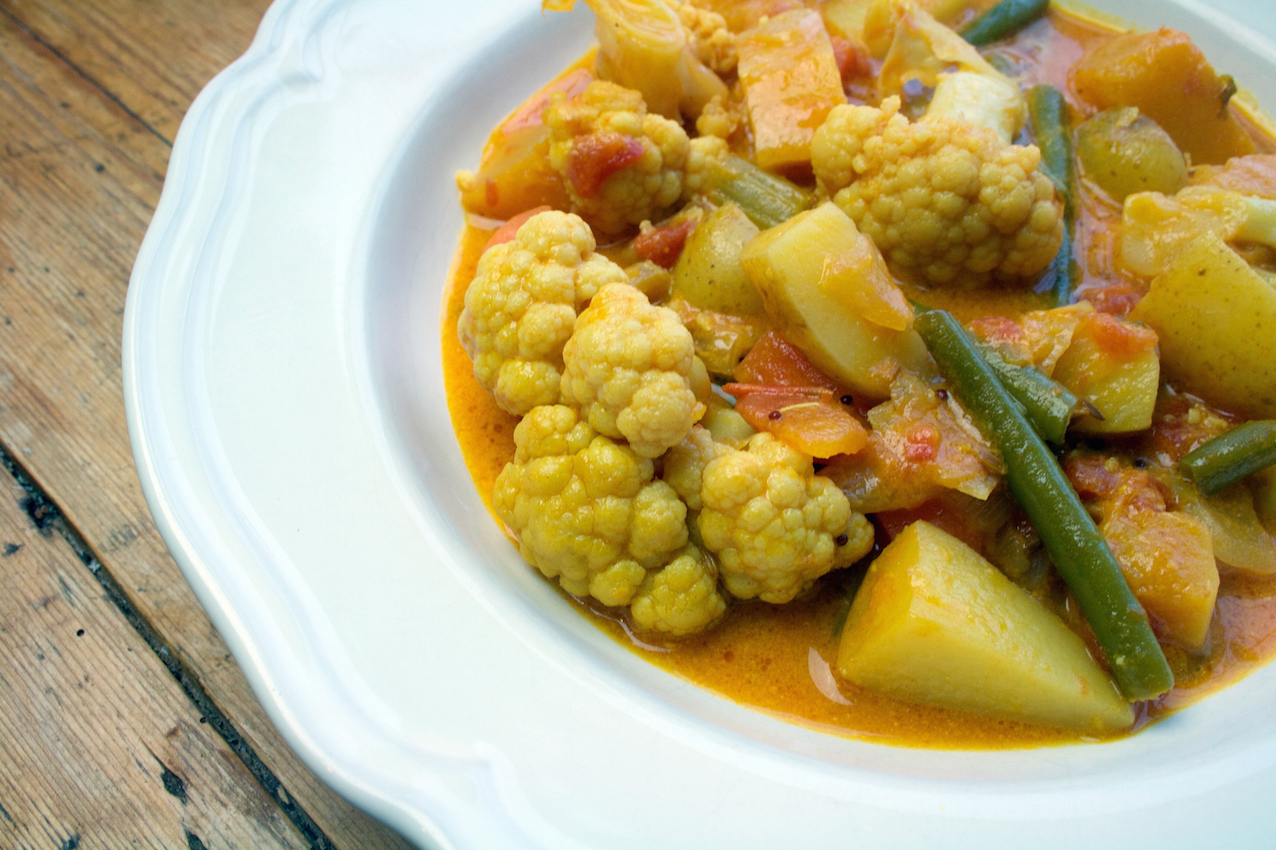 eat and of course enjoy!