… not to sound like a broken record but still no improvement on the back and it is wearing me down slightly.  I can be fine for a while and then I stand up and the pain is unbearable. My chiropractor cays it will get better but quite frankly I think I need a new back!  We're in Dublin this week for work.  I love Dublin, it's such a great city and the food on offer is phenomenal.  There seems to be an inventiveness about the Irish chefs that we're not getting over in London.  I feel all the London chefs are quite 'samey' in their approach and they tend to react to trends which means everything eventually looks and tastes the same whereas over here there are some great original concepts. Of course i'm wildly placing everyone in a box of nonsense based on very little fact but it's just a vibe that I pick up from my culinary journeys through the streets of town…
… back to the UK tonight and a long weekend with plenty of cooking so I promise some less sporadic blogging for the rest of the month!
honey banana blueberry upside down cake
believe it or not this is the first cake i've baked in three weeks… and I even had a slice, which was so incredibly intense, the sugar hit was almost unbearable… almost.  It's a delicious cake and a riff on my mums classic banana loaf which is a breeze to make.  I pop it in the fridge once it's made and eat in in slices from the fridge.  It seems to stay moist for ages that way and there's something about cold cake that is so 'puddingy' which I really love…
225g self raising flour 
115g butter – at room temp 
115g brown sugar 
1 teaspoon cinnamon
3 tablespoons runny honey
1 ripe banana – mashed
1 ripe banana – sliced
100g blueberries
2 large eggs
pre-heat the oven to 170C and line a cake tin
pour the honey into the bottom of the cake tin and lay slices of banana onto it then set aside
In a bowl, mix the flour, butter and sugar into breadcrumbs then add the cinnamon and stir in
beat together the eggs and the other banana and pour this, along with the blueberries into the flour mix and beat together with a wooden spoon.  It should turn into a perfect butternut you may need a drop of milk to help
gently pour into the tin and bake in the oven for 45 mins at 170c 
remove and cool on wire rack before turning over to serve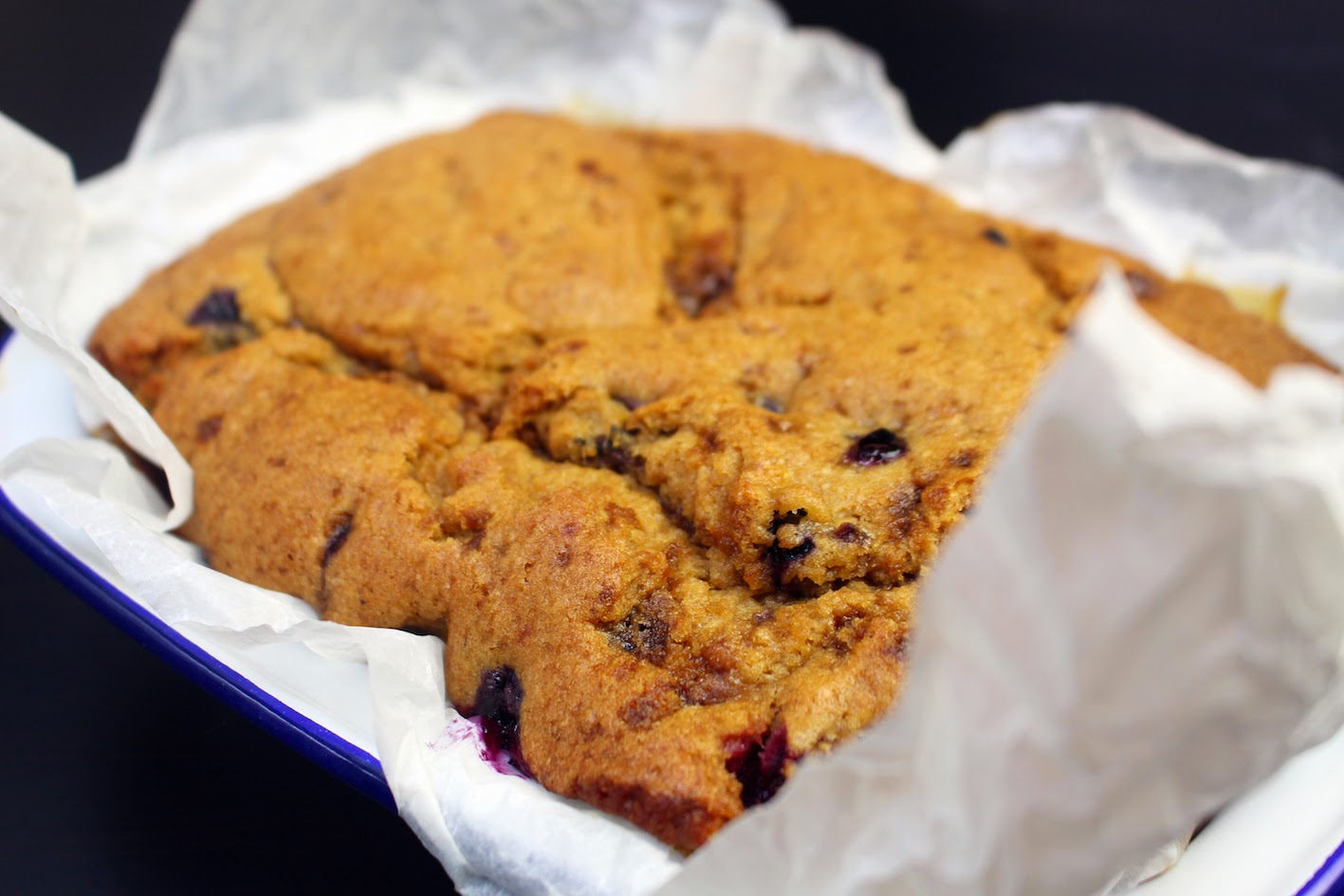 eat and of course, enjoy!