… contrary to the contents of this and many recent blog posts i'm actually on a bit of a health kick at the moment.  With work being so busy recently I've found myself too exhausted at weekends to haul myself down to the gym, oh and the fact that our local gym burnt to the ground last month didn't help… but after running for the bus the other day and finding myself not able to breathe with my heart pounding against my chest it was a little bit of a wakeup call.  Even though i've spent my entire life slightly overweight i've always considered myself fairly fit and active but in the last few years I seem to have let this slip and if I want to continue eating cake and blogging about cake I need to balance this with some decent cardiovascular and a day or two with reduced calorie intake… probably the wrong time of year to start this kind of thing but then i've never been one for convention…

chilli chocolate and clementine marble cake with a chilli chocolate custard
i've always adored marble cake… neither my grandma or my mum made it but I had a girlfriend who's mum made it and it was the best.  Even though it's quite plain I think it's a really glamorous looking cake with the dark chocolate swirls twisting into the lighter vanilla sponge.  It is exceptionally easy to make and is quite robust which means you can play around with the flavours quite a bit and find complimentary additions to each bit.  I've gone for a classic orange flavour from the clementines with a hit of heat from the chilli… it's a great combination.  The chilli chocolate custard is an indulgent extra as the cake is perfectly good without it but the bonus (other than the fact that's it's custard and doesn't need any excuse for its existence) is that it turns the cake into a brilliant pudding which is fabulous served warm from the oven or gets even better after it's chilled in the fridge!
for the marble cake
225g butter, softened
225g caster sugar
4 eggs
225g self-raising flour
3 tablespoon milk
1 teaspoon vanilla extract
2 tablespoons cocoa powder
1/2 teaspoon chilli powder
the zest of one clementine
for the chilli chocolate custard
4 egg yolks
350ml milk
2 tablespoons Total Greek Yoghurt
60g golden caster sugar
2 teaspoons cornflour
2 tablespoons cocoa powder
1/2 teaspoon chilli powder
vanilla extract
pre-heat the oven to 180C and grease and line a 20cm cake tin
to make the cake place the butter, sugar, eggs, flour and milk into a large bowl and beat with an electric mixer for 3 to 4 minutes until beautifully creamy then add the vanilla and mix again
halve the batter into a second bowl and add the cocoa powder and chilli powder to one bowl and mix well… to the other bowl grate in the clementine zest
using tablespoons, dollop alternate spoonfuls of batter into the bottom of the tin ensuring there are no air gaps and keep going with a second layer making sure you alternate the batter, then with a knife or skewer run it through the batters blending them in swirls
bake for 35-40 mins until well risen and firm to the touch – set aside to cool whilst you make the custard
in a large bowl beat the sugar and cornflour with the egg yolks until light and fluffy
heat the milk or cream in a pan and when it's just beginning to simmer take off the heat and whilst whisking the eggs and sugar, gently pour the milk onto the eggs in a steady stream
whisk in the cocoa powder, chilli powder and vanilla then place back on a very low heat and whisk for 5 minutes until it starts to thicken – pour over the cake whilst it's still warm before you serve.
… I am of course entering this gorgeous cake into one of my favourite bloggers challenges –
we should cocoa
… founded by Choclette from the
Chocolate Log Blog
and hosted this month by Shaheen from
Allotment 2 Kitchen
as the theme is chilli!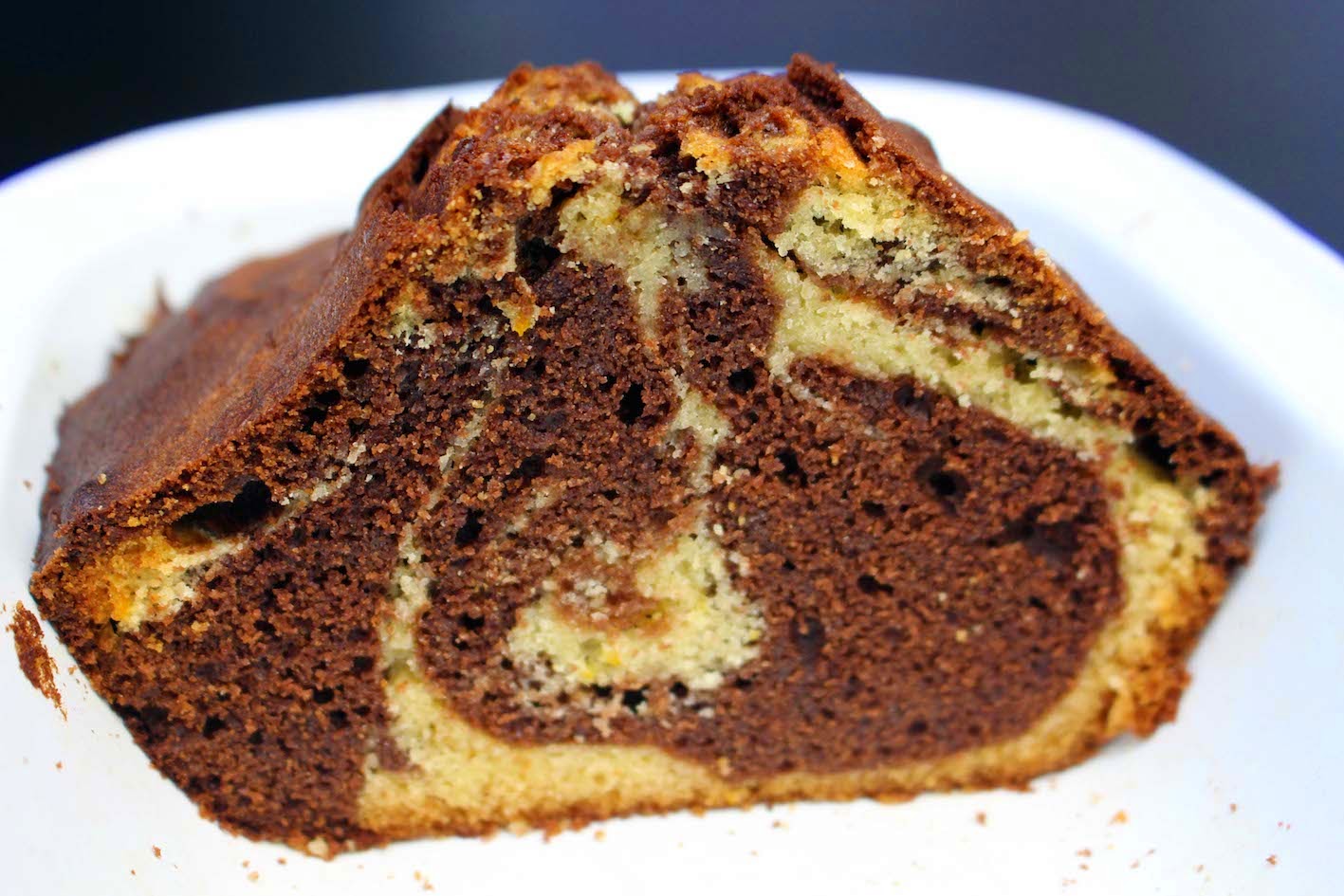 eat and of course, enjoy!