… another warm and sunny weekend in Belleau.  The garden is still producing flowers that should have given up the ghost weeks ago but the warmth of this late September breeze seems to be drawing the beauty out of the landscape.  I think everything's a little bit confused as the swallows are still hanging around and the wasps and late summer bees don't seem to care one bit, we even had a burst of butterfly madness this afternoon… but if the chilly mornings have anything to do with it I think all this warmth will be coming to an end soon… i'm seeing more and more piles of red and orange leaves brushing up against the wood shed and there's that incredible rotting vegetable aroma in the air that to me smells of autumn.  The light is different too, no matter how much sunshine we're getting the days are shorter and this means the window for natural light photography is getting smaller… I love this light, there's a golden essence to it that you only get at this time of year so i'm trying to capture it whilst I can…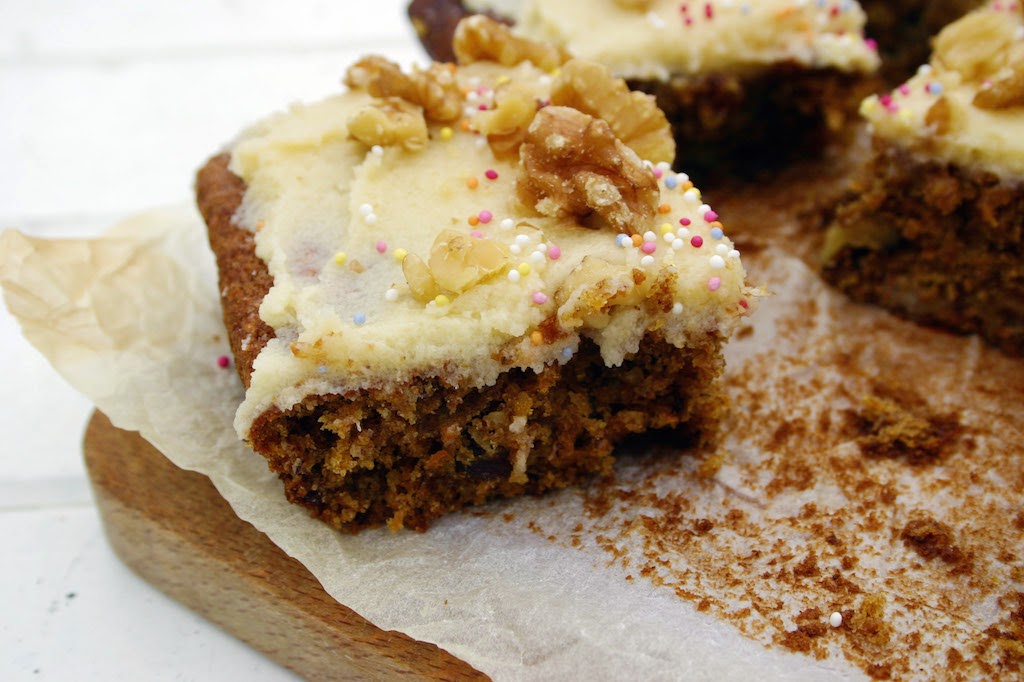 carrot, banana and walnut tray bake with an orange and cognac glaze
it's Bryan's 50th birthday today and I offered to make something sweet for the gang.  As it happens I woke up not feeling 100% myself and my grandma always told me never to bake when you're feeling un well as it will come out in your cooking and so I left it this morning thinking I wouldn't bother but as the day wore on I kept drifting back to the kitchen… I really didn't know what to bake so it was a case of looking what was in the cupboard and fridge and taking inspiration from that, so two carrots and a rather brown looking banana later and we have this tray bake.  I've used my preferred carrot cake recipe and added a few extras including a little bit of cognac in the glaze… well, it is a birthday after all…
for the tray bake
150g finely grated carrots
1 ripened banana – forked to a pulp
175g dark soft brown sugar
2 large eggs
5 fl oz sunflower oil
175g wholemeal self raising flour
3 teaspoon mixed spice
1 teaspoon bicarb
grated zest of 1 orange
110g sultanas
50g desiccated coconut
25g walnuts nuts
2 heaped tablespoons of cocoa and berry flax mix
for the syrup glaze
juice of 1 small orange
3 oz dark brown soft sugar
tablespoon cognac (optional)

for the icing 
150g butter
200g icing sugar
1 teaspoon vanilla extract
whisk the sugar, eggs and oil together in a bowl with an electric hand whisk for about 2-3 minutes, check there's no sugar left un-disolved.
sift the flour, bicarb and mixed spice into the bowl and gently stir it all together, followed by the rest of the cake ingredients
pour the batter into your baking tray and bake for 15-20 mins on 170 till risen and dark gold.
when the tray bake come out of the oven, prick it all over with a toothpick or skewer and drizzle with the syrup glaze which you have simply mixed together into a jug, let the syrup soak through the cakes and once cool remove them from the tins and set aside.
make the icing by beating it all together with an electric whisk and once the cake has completely cooled slather the icing disgracefully over the cake… and then randomly sprinkle with hundreds and thousands of sprinkles because… you know… it's a birthday!
eat and of course, enjoy!