… I was working at an event this week when my client and now dear friend H took me to one side to accuse me of sugar-abuse.  She explained that she was trying to detoxify and had done pretty well, eliminating wine and caffeine, cutting back on fatty food and carbs but every day, as she scrolls through my facebook feed she's been finding herself drooling at my pictures of cakes and scones… the thing is, she explains, is that she had never considered herself a sugar person, in fact cakes had always pretty much passed her by but she realised that being such a huge wine lover and wine being very high in sugar, she had now cut a massive intake of the glorious golden sweet stuff out of her life and my baking was setting her teeth on edge…  I love this… it really makes me giggle and I had ti agree that I have been doing a lot of sweet baking of late… so this duck is for you H…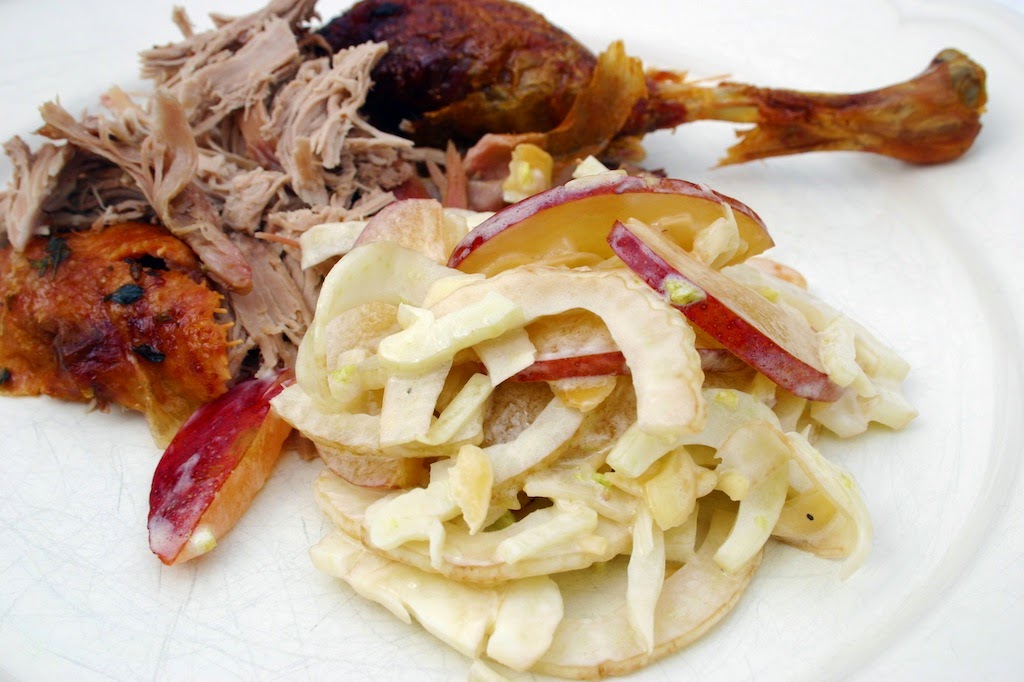 slow roast duck with fennel and plum slaw
i've always wanted to make duck ragu.  Other than the fact that it sounds gorgeous I really have no idea why… it's not as though i've ever eaten it, it's just one of those things that to me, sounds gorgeous.  of course to make duck ragu I need some succulent shredded duck so this recipe for slow roast duck is perfect to get the meat I need.  I'm really not much of a duck cook, in fact I can't quite recall the last time I cooked with duck so when the remarkable duck people at Gressingham asked me if i'd like to try some of their gorgeous duck and develop some recipes for them I was of course delighted but also a little nervous, so this slow roast duck is also a great way to ease ones self into duck cooking and the most simplest of levels and now that i've cracked this I can turn my skills to something a little more adventurous… the plum and fennel slaw is, in my opinion, the perfect bed-fellow for this meal as the tartness of the raw plums cuts through the rich, sweetness of the duck and the fennel adds a glorious aniseed top note that I adore…
1 large whole Gressingham duck
2 large tablespoons of smoked maldon sea salt flakes
4 or 5 twigs of thyme or lemon thyme if you can get it
1 large carrot – roughly chopped
for the slaw
1 large fennel bulb
2 large victoria plums
1 teaspoon cidre vinegar
1 tablespoon mayonnaise
freshly ground pepper
the juice of half a lemon
1 tablespoon extra virgin olive oil
1 tablespoon almond slithers
pre-heat the oven to 180C
place the carrots and the duck gibblets into the bottom of a large oven-proof roasting tin and lay the duck, breast-side up, on top
rub half the salt onto the breast skin and stuff the inside with the thyme, then turn the duck over and rub the underside with salt
place in the oven, breast-side down for one hour, then carefully turn the duck over and roast for a second hour until gorgeously dark golden brown – set aside uncovered for 10 minutes whilst you make the slaw
thinly slice the the fennel bulb and the plums and place them in the bowl, add the rest of the ingredients and mix together before serving
shred the duck using two forks to serve
oh and this is perfect for those of us who are a little bored with our Sunday lunches and fancy trying something a teeny bit left of centre.
I have some more duck recipes to come and i'll be featured on the Gressingham website and in their newsletter soon but if you've ever wondered about the best way to cook duck breast they have a fantastic easy to follow video on their site.
eat and of course, enjoy!