… with our yoyo lifestyle between bucolic cottage and urban apartment we tend to have a bizarre relationship with our two fridges.  There are basic staples in both; ketchup, mayo, random jars of pickles and jams as well as butter and some hard cheese but of course there's always a few stragglers in every fridge and inevitably, squirrelled away at the back of the vegetable drawer is a carrot that's seen better days or an onion that's sprouting a few green shoots and yes, on occasion there's even that month-old cucumber that's turned to water, unopened in it's plastic wrap, slowly leaking green sludge.
I hate food waste, there's enough of it going on in the supermarkets without my home adding to it and The Viking gets furious about anything being thrown out, so this weekend, inspired by Choclette and all my brilliant blogger friends who are living on £1 per day to promote the Live Below The Line challenge i've decided to cook using only what's already in the house…
… to set the scene, we arrived back to an empty cottage having not visited the shops in London last week and therefore turned-up to nothing with nothing and I guess my point is that the cupboard is never truly bare, so the freezer is being emptied and the fridge is being scraped of it's very last vestiges and meals will be made…
…and so i'm writing the above paragraph and thinking that if I was reading it as a punter i'd think I was one of those wankers who waffles on about their middle-class, two-home problems and that I should just shut-the-fuck up about it…
chicken thigh, sausage and wild garlic, fridge & freezer stew
clearing out the freezer was a revelation, offering up stuff that I don't even remember making or freezing and I'm suspect about quite how long you can freeze chicken thighs but I'm still alive… you've also got to be careful because in your endeavour to use everything up you don't want a plate full of brown sludge as though you've mixed all the paint left in the pots… use it up but use it wisely… dear Janice from Farmersgirl Kitchen is hosting the very timely No Waste Food Challenge, usually run by Elizabeth from Elizabeth's Kitchen Diary  this month and so naturally this recipe is going directly over to bed down with the other brilliant entries…
obviously this recipe is made from what I had in my home…use it as a guide for your finds… ensure that all meats from the freezer are fully defrosted first.
3 chicken thighs and 2 drumsticks
2 pork sausages – roughly chopped
2 slices of maple-cured bacon – roughly cut
the centre of a very limp celery bunch – roughly chopped
half a brown fennel bulb – roughly chopped
2 carrots – roughly chopped
6 or 7 small potatoes – cut into quarters
a handful of mixed lentils that have been in the cupboard for an un-told number of years
some frozen stock (makes about a pint)
2 teaspoons bisto roast onion gravy
1 glass of wine that really should have been drank over Easter
a selection of fresh herbs from the garden
pre-heat the oven to 180C
place all the veg (apart from the peas and wild garlic) into your baking tray and lay the meat on top, sprinkle with the lentils, fresh herbs, seasoning and wine and then cover with a lid or foil and bake for 30mins – then take the lid or foil off and roast for another 15mins to add a little colour
remove from oven and pour over the stock, add the peas and wild garlic, place the foil or lid back on and bake for a further 20 mins
remove from oven and set aside for 10 mins before you serve
… you can of course make this dish using frozen veggie sausages or Quorn chicken pieces – cook as below from frozen and drizzle with plenty of olive oil.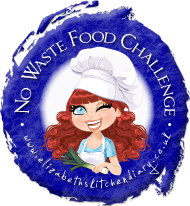 eat and of course, enjoy!… and look out for my £1 chocolate cake coming on Monday…