…as any aspiring food writer will tell you, seeing your recipes in print is a thrilling and magical thing that can both make you feel rather special and a little nervous at the same time… thrilling for obvious reasons but nervous because it means that people will actually be able to make your recipes… of course being a food blogger, anyone can see and try my recipes but to actually have them in print is another story and so when InstantPrint asked if i'd like to be part of their Cook Club Campaign and have one of my recipes printed onto recipe cards to be part of a collection of Best British Bloggers, I of course was delighted… the only pre-requesite for being part of the club was that once we'd received the recipe box filled with recipes we'd cook one of them ourselves… naturally I chose my beloved chicken thighs as my recipe and I've chosen to cook this yummy granola by Karen from Lavender and Lovage…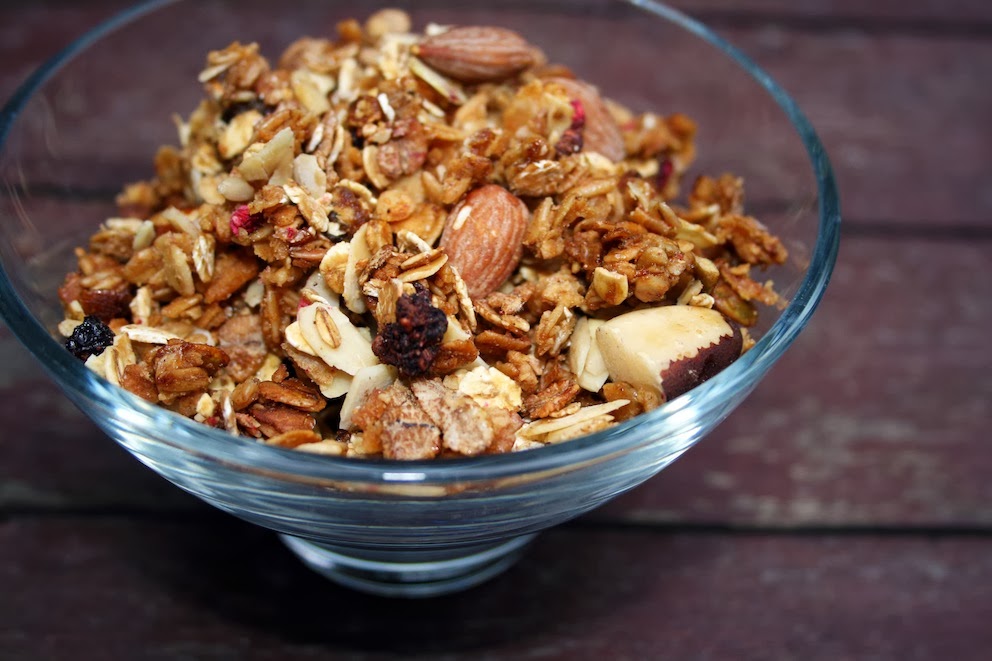 the recipe cards come in this gorgeous metal recipe box
Lavender and Lovage Presents Maple, Almond, Pecan Granola with Blueberries
A decadent home-made breakfast cereal that is packed full of oats, nuts, seeds and fruit. Karen used organic and Fair Trade ingredients in this recipe and added some Canadian maple syrup as a treat in place of honey, although honey can be used. (I also had some Maple syrup) Karen also uses American dried organic wild blueberries, but i'm using cranberries for a little Christmas sparkle.
125mls maple syrup (or honey if preferred)
2 teaspoons vanilla extract
100g mixed seeds and grains (such as pumpkin, sesame or sunflower)
100g pecans (or walnuts or brazil nuts if preferred)
100g dried coconut flakes (not, desiccated coconut if possible, dried coconut flakes can be found in delicatessens and organic shops)
1 teaspoon sea salt (I use Maldon)
2 teaspoons ground mixed spice (or ground cinnamon if you prefer)
Pre-heat oven to 180C/350F/Gas mark 4. Line two or three large roasting tins or trays with baking paper.
Pour the maple syrup or honey into a large bowl and then add the sugar, oil and vanilla extract. Mix well before adding the oats, mixed seeds, almonds – both whole and flaked, pecans or walnuts, coconut flakes, sea salt and mixed spice or cinnamon.
Mix all of the ingredients together – the best way is to use your hands – so that all of the dry ingredients are coated in the maple syrup and oil mixture.
Spoon the mixture over the paper lined roasting tins/trays so that is evenly spread and in a single layer. Bake in the oven for 10 to 15 minutes, making sure you check on it after 5 minutes and stir it well. You may also need to swap the trays around half way through baking too.
After 10 to 15 minutes, the granola should be a light golden brown – remove it from the oven and allow to cool completely before adding the dried blueberries and stirring them though to combine.
Decant the granola into airtight jars or tins, I used Kilner jars with rubber rings and use within 3 to 4 weeks.
i'd like to thank Karen from
Lavender and Lovage
for the recipe, a digital version of which can be found
here
on her blog… i'd also like to thank her for taking the photo's of the recipe cards and box as I had stupidly left my box at the cottage… Karen has cooked my chicken thighs and that blog post can be seen
here
…