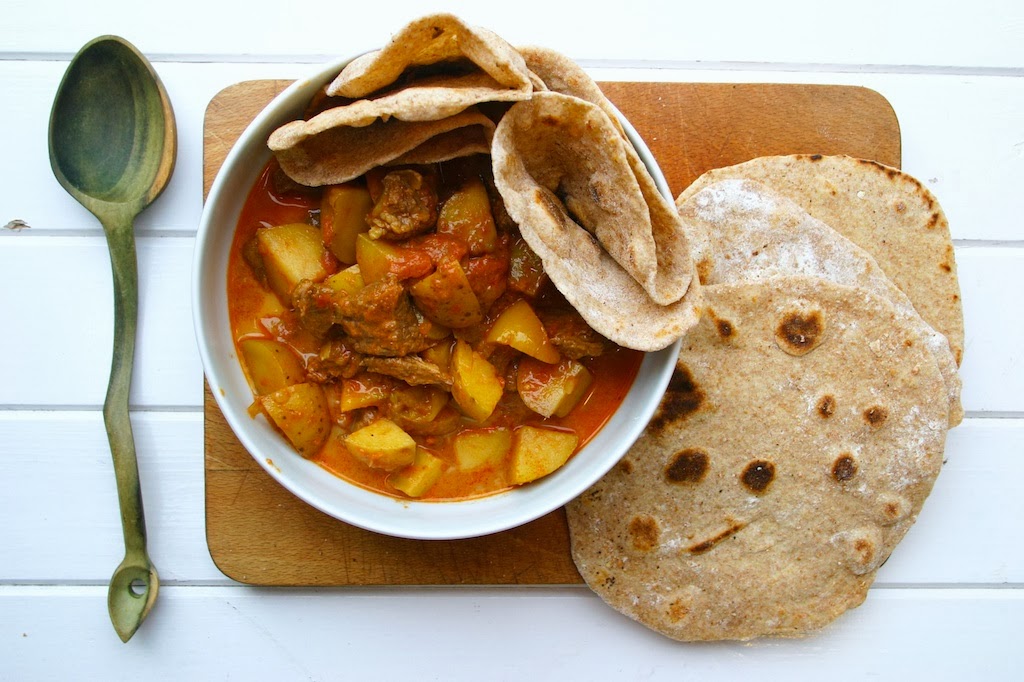 …finally! Cold weather!… after all this warmth I feel totally drained, sapped of energy like a shrivelled up prune and whilst I may need reminding of this when i'm complaining about the cold in a month or so until then I am so happy w'ere finally over the yard arm of that stupid late summer heat and at long last into something more suitable to my bones… something more respectable to autumn and October… I can, with impunity, start planning halloween cakes and bonfire night treats, pull on old warm jumpers and make big bowls of stew…



slow cooked beef and potato curry with homemade chapati
i've waxed lyrically about this before but I believe a good basic curry is a great thing to have in your repertoire and as a nation of curry lovers its amazing how many home-cooks are a little afraid of 'doing it themselves'… much of the time its simply because, like me for many years, many people don't have the array of spices at home but once you have the basics – and lets face it they're not exactly bank-breaking – it's then simply about having the confidence to throw them into the pan with a few other delicious but basic ingredients…
…I was recently sent a selection of some rather nice almond milk by the good people at Blue Diamond… i've never really thought about non-dairy milk but since my tummy issues earlier in the year i've been trying lots of alternative foods… the Almond Breeze chocolate milk was gorgeous but not appropriate for adding to a curry whereas their Almond Breeze Original was a perfect addition to make it a little creamier and actually feels like a natural bedfellow…
for the curry
1 large onion – finely chopped
2 cloves of garlic – crushed
200g chopped braising steak
4 medium potatoes
1 x 400g tin of chopped tomatoes
100ml good veg stock
4 or 5 cardamom pods
1 teaspoon paprika
1 teaspoon ground cumin
1 teaspoon ground ginger
1 teaspoon fennel seeds
1 teaspoon dried chilli flakes
1 teaspoon turmeric
½ teaspoon cinnamon
salt and pepper
100ml almond milk
for the chapatti
250g wholemeal flour
200ml cold water
a little salt
1 tablespoon olive oil
extra flour for rolling
start by dry frying the cardamom pods in a small pan for about 5 minutes and then crush them with a pestle and mortar and add them to the other spices.
melt a large knob of butter and some olive oil in a large pan with a lid or a casserole dish
add the onions and gently sauté until beginning to turn translucent, then add the garlic and gently heat through.
Next add all the spices and stir them into the onions and let them cook through, this will help them deliver lots of incredible layers to the finished dish
next add the meat and the potatoes and the tinned tomatoes and stir through, then pour in the stock, pop the lid on and turn it down to the lowest setting and let it bubble away for at least 3 hours.
To make the chapatti place all the ingredients into a large bowl and bring together to form a dough, knead for at least 5 mins until soft then set aside for 10 mins to let it rest.
When you're ready to eat, divide the dough into 8 balls and roll each one out into a flat round shape using plenty of flour, then heat a large frying pan and bake each chapatti for roughly 2 mins on each side until they darken in places and puff up a little… before serving stir in 100ml of almond milk
eat and of course enjoy!