… now that we've finally got a permanent place of our own again in London I've been thinking about which cookery books I should take down with me and which I should leave up at the cottage… it's really hard as part of me feels I should take the inspirational books with me but another part of me thinks I should take just the practical books… I just know that there'll be a crucial moment where i'll be wishing I had something somewhere I don't… we were leaving in a hurry for London yesterday morning and The Viking shouted to me that I should just grab a book and run for the car as we were going to be late… it was like one of those 'life flashing before the eyes' moments as the titles of all my dear cookbooks flickered across my mind… what should I take… which of my book-babies would I leave behind… and of course this inspired me for the theme of this months random recipes…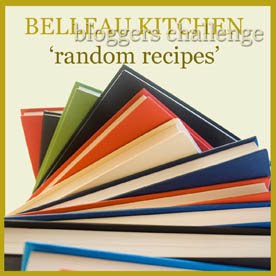 … if you had 10 seconds to grab one book, which one would it be…
… you probably won't be surprised to learn that I chose Delia Smith's Complete Cookery Course… it's not my favourite book by far, this challenge is not necessarily about favourites but it's my 'go-to' book for whenever i'm stuck for how to do something or for a recipe for something that's so obvious I really should know how to cook… so that's what I grabbed and randomly opening it on page 229 is a recipe for Baked Aubergines with Tomatoes… as it happens I have a fridge drawer full of aubergines… one of those random impulse purchases… so i'm good to go… how about you?
so here's how you take part:
1. get a friend to count to 10 and in that time you have to run into your kitchen and grab the first book you feel is worthy of keeping
2. take that book off the shelf and open it at a random page
3. cook the recipe on this page or if it's something you've cooked before then turn to the very next page and cook that dish… and don't cheat… do it with a friend in the room who will make you stick to it…
it's a challenge after all and you're only cheating yourself… this is specifically designed to take you out of your comfort zone…!
4. you may change the recipe for dietary or monetary or seasonal availability reasons only
5. post it up on your blog, with a link to this page and then email me with a link at dominic(@)belleaukitchen.co.uk so I know you've joined in, you can also attach the badge to show people you're taking part.
6. tweet your entry including the hashtag #randomrecipes and I will retweet all I see
7. challenge deadline is Aug 29th.
… go on then, what are you waiting for… start counting to 30…